Mattingly has his flaws, but LA's front office bears responsibility, too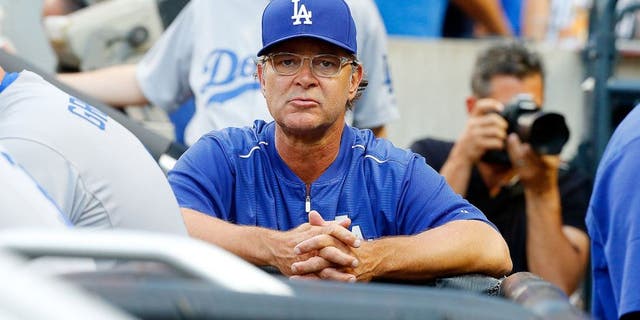 NEWYou can now listen to Fox News articles!
If the Dodgers want to fire Don Mattingly, fine. The new front office inherited Mattingly. Inherited managers rarely last. And Mattingly never was an especially skilled tactician to begin
Here's the problem:
Mattingly didn't put together the Dodgers' offense, which ranked only eighth in the National League in runs and could not take advantage of a seemingly vulnerable Jacob deGrom early in Game 5 of the Division Series.
Mattingly didn't put together the Dodgers' bullpen, which got off to an impressive start but often inspired little confidence beyond Kenley Jansen, J.P. Howell and, in the final two months, Chris Hatcher and Yimi Garcia.
Mattingly didn't put together the Dodgers' rotation, which consisted essentially of only three quality starters, the third of whom – lefty Brett Anderson -- crumbled in Game 3 of the DS after greatly exceeding the team's expectations.
The new Dodgers' front office did all of those things.
The new front office celebrated a career-high 31 starts from Anderson, but regretted getting only four from oft-injured righty Brandon McCarthy, to whom it awarded a four-year, $48 million free-agent contract.
The new front office made a head-scratching trade at the deadline, acquiring four pitchers from the Braves -- Alex Wood, Mat Latos, Luis Avilan and Jim Johnson - who made a negligible or even negative impact.
Finally, the new front office drove many of Mattingly's lineup and pitching decisions through analytics, though the precise extent of management's influence is not known.
Even the best front offices, like the best managers, make mistakes. Andrew Friedman, Farhan Zaidi and Co. spent considerable time putting the Dodgers in better position for the future, clearing bad money, acquiring young talent. The team, led by youngsters such as shortstop Corey Seager and, if they develop, outfielder Joc Pederson and left-hander Julio Urias, eventually could turn into a monster.
That it failed to happen this season is not Mattingly's fault. It is not entirely the front office's fault, given that it could accomplish only so much in its first year. But let's not overlook Mattingly's strengths -- his even personality, his ability to manage egos and hold together a diverse group of players. And let's not pretend that he was the problem, not after he led the Dodgers to three straight postseason appearances for the first time in club history.
The noble thing for the new front office to do would be to keep Mattingly, but no one should expect nobility, not after the way the season ended for everyone's favorite $300 million showpiece.
If the Dodgers want to fire Mattingly, fine -- that's how the game works, and Friedman and Co. likely would prefer someone more aligned with their philosophies.
Just know where the greater responsibility lies. And it isn't in the manager's office.