Marlins All-Star Giancarlo Stanton feeling just 'OK' after rehab game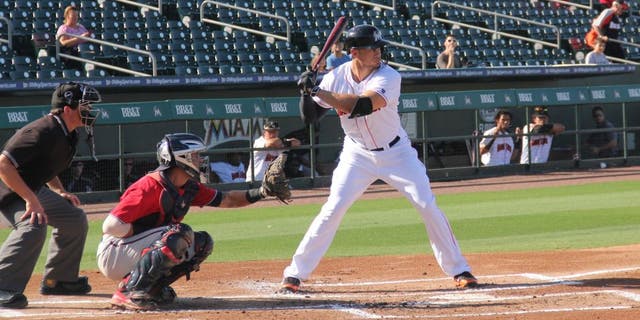 NEWYou can now listen to Fox News articles!
JUPITER, Fla. -- Miami Marlins All-Star slugger Giancarlo Stanton called his first rehab assignment with Single-A Jupiter on Tuesday just "OK."
Stanton, who underwent surgery on a left hamate fracture on June 28, went 0 for 2 with one walk as the third batter in the Hammerheads lineup. He also played five innings of defense.
"It didn't feel 100 percent, so that would make it just alright," Stanton said. "It just didn't feel fully how it should."
The 25-year-old right fielder popped out to third on a 2-1 pitch in his first at-bat against Fort Myers Miracle right-hander Kohl Stewart. After falling behind 0-2 in his next plate appearance, he took four straight balls and walked in the third. Stanton struck out looking at a 90 mph fastball on the outside corner on a 2-2 offering in the fifth.
Stanton has missed 57 games, with the Marlins going 23-34 in his absence. He began feeling the pain two days prior to the procedure on his final swings of a loss to the Los Angeles Dodgers at Marlins Park.
At the time of the injury, Stanton was batting .265 with a major league-leading 27 homers and 67 RBI -- sitting out just one of Miami's first 75 contests. He was voted in as an All-Star for the first time but could not participate. Stanton also would go on to be named National League Player of the Month for June.
"It was good to finally get out there," Stanton said. "Not fun watching for two months, but it was good. Brought back some memories of being here. It's cool."
While Stanton's wrist didn't feel 100 percent, the true test will come on Wednesday morning to see how it responded to the workload. He didn't know whether he would play Wednesday's matinee game but intended on finishing up his rehab this week.
Until Tuesday, Stanton had been following a hitting progression. Of late, that consisted of facing the pitching machine. Seeing live pitching for the first time signified the next step.
"That was good," Stanton said. "The machine will give you the miles per hour. but it won't give you the arm action and the natural inconsistencies. That was definitely good."
Whether he does return to the Marlins on Friday when the ballclub opens a homestand against the New York Mets depends on the next couple of days. Stanton isn't concerned about the rhythm of seeing live pitching rather how his wrist reacts to it.
"(My) expectation was (it's) not going to feel 100 percent, but it's a little different," Stanton said. "I'm used to my rehab (that) has been getting ready to hit, hit and sit down. It's different to hit, wait three innings, hit, wait three innings. It's a new dynamic. You just got to let it see how it reacts."
You can follow Christina De Nicola on Twitter @CDeNicola13 or email her at cdenicola13@gmail.com.