Marlen Esparza, Six Time USA Boxing Champ, Wants to Make History at 2012 Olympics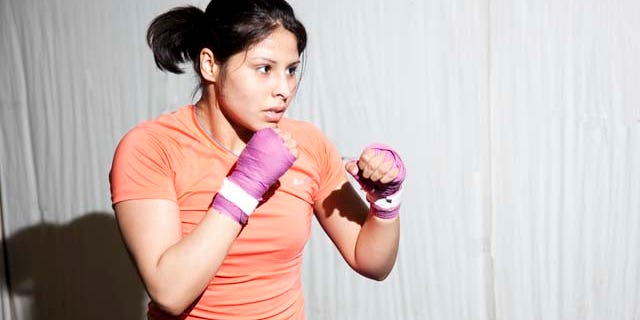 Marlen Esparza was still a slip of a girl, fresh from a growth spurt that had chiseled the once-chubby child into a skinny 11-year-old, when she first walked into a Houston-area boxing gym.
Stuck in the newcomer's corner, she looked on with envy as Rudy Silva trained a group of young men, their punches sharp, their bodies honed, their minds focused. They are real boxers, thought Esparza.
And the young girl, whose cocky attitude and tendency to fight in class had landed her in an alternative school, was determined to be just like them. So, she marched up to Silva and asked him to train her.
Silva, a former four-time Houston Golden Gloves champ with a reputation for building boxers into champions, glanced at Esparza and replied: I only train men and I only train experienced fighters. Go back to the beginner's group.
The next day, Esparza again marched up to Silva, and he again turned her away.
But Silva kept an eye on her. He watched Esparza swing hard in drills. He watched her pour every ounce of her small frame into punches. He watched her withstand workouts that wore down experienced boxers.
"It hit me inside. I thought, 'This girl is tough. This girl has got heart,'" said Silva, who quickly conceded and promised to train Esparza under two conditions: He would push her as relentlessly as he did the male fighters, and she had to work to become a champion outside the ring, as well as inside the ropes.
After that, said Silva, "We never looked back."
Today, Marlen Esparza is a household name in boxing circles.
The 5-foot-3, 112-pound fleet-footed flyweight is winner of six straight USA Boxing national championships, and a favorite to make history at the 2012 Olympics as part of the first U.S. women's boxing team.
Esparza, who turns 22 in late July, is also fast becoming a role model for Latina girls and aspiring female boxers, who often approach her for autographs and advice.
They admire her single-minded focus. They emulate her hard-charging technique. And they relate to her story of growing up in a modest Mexican-American home, where boxing was often the center of family life.
"Boxing has made me who I am, completely who I am," said Esparza, who still lives with her welder father and younger brother in the three-bedroom Southeast Houston house in which she was raised. "It shaped me."
It also transformed Esparza from a belligerent kid who talked back to teachers and thought she "ruled the world" to a soft-spoken young woman who does not like confrontation outside the ring.
"Boxing made me more humble," said Esparza, who took Silva's conditions to heart and soon worked her way out of the alternative school and onto the honor roll. "I realized I had to work for what I wanted."
And work she does. Esparza is up at 6 a.m. every morning for a run, then a grueling strength training or swim workout, followed by a high-protein lunch and light nap. Every evening, she trundles to the Elite Boxing Club, Silva's no-frills gym, for three hours of shadow boxing, punching drills, sparring and rope-jumping.
Inside the gym, Esparza is a blur of energy and focus, oblivious to the lack of air conditioning, the whir of the industrial fan, the grunts and groans of other young boxers-in-training, the traffic roaring by on Interstate 10.
Alone in the training ring, under a display of the American, Mexican, and Cuban flags, Esparza flicks punches with lightning speed, her feet skipping lightly across the worn purple mat, her concentration undisturbed by the din around her.
"I'm the only person there. It's tunnel vision to the max. I'm totally concentrating on myself. I'm feeling my legs, how I'm moving," said Esparza, describing her mindset. "I'm not just thinking about punches. I'm thinking of an actual opponent in front of me. I make an imaginary scenario of me fighting somebody."
In many of those scenarios, Esparza envisions herself losing – her way of girding herself for real fights.
"You're not always going to be winning. It doesn't work out like that. Sometimes, you fall behind and have to figure a way back," said Esparza. "I'm trying to prepare myself mentally for a situation that I will be in eventually. I want my brain prepared to step it up mentally."
That steely determination not only helped Esparza get to the top of the women's boxing world, it has also helped her navigate real-life obstacle courses.
Boxing provided a distraction that got her through the rocky period of her parents' divorce, said Esparza. Just 14 at the time, Esparza chose to stay with her father because he could help her more with boxing. However, in recent years, she has made an effort to know her mother better.
Esparza's ability to dig in and tunnel towards a goal also helped her graduate in the top three percent of her high school, where she was elected class president. She was also accepted to Rice University, Texas A&M University, and the University of Texas – although she has put college on hold until after the Olympics.
"The nationals are like high school; the Olympics are like final exams in college," said Esparza, whose next challenge will be at the Olympic boxing trials early next year. "You're fighting girls who beat everyone else at home just like you did. They have just as much credentials as you, just as much experience as you."
For now, the 2012 Games are her singular focus. Even her sixth national title win and the resulting rush of media attention did not detract from the boxer and her coach from the final bell, said Silva.
"After we won, we hugged and were happy. We might have told each other 'good job,' but we are trying to stay focused," said Silva. "The goal we set 10 years ago is not over yet. We're not finished doing what we set out to do."
Monica Rhor is a freelance journalist based in Houston. Follow her on Twitter: @monicarhor.
Follow us on twitter.com/foxnewslatino
Like us at facebook.com/foxnewslatino