Man United forward Anthony Martial leaves Wembley on crutches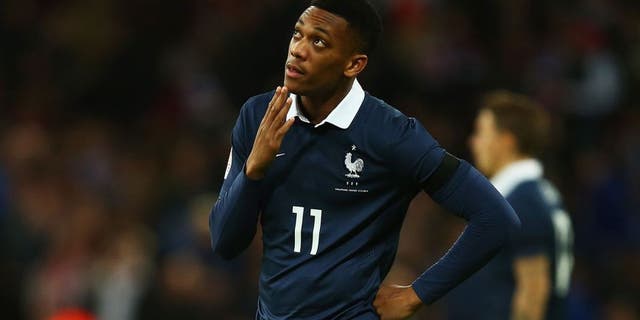 Manchester United were hit by another injury scare after Anthony Martial left Wembley on crutches following France's 2-0 defeat to England.
United midfielder Michael Carrick was carried off on a stretcher during England's 2-0 defeat to Spain last week with an ankle injury, and on Tuesday they suffered another blow when Martial injured his left foot.
Martial was replaced by Antoine Griezmann in the 67th minute of the defeat to England in London because of the injury.
The £36million ($54.8M) forward was seen limping through the player interview area on crutches following the match, with his left foot heavily bandaged.
Martial has scored five goals since his big-money move from Monaco and with United already short of strikers, they cannot afford to lose the Frenchman for a long time.
"He's in quite a bit of pain after the match as a result of a play inside the area," France manager Didier Deschamps said of the 19-year-old striker.
"It's a knock to the top of his foot."