Man accused of killing Adrian Peterson's son to stand trial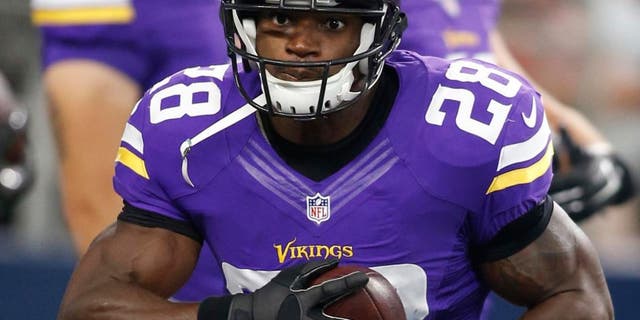 SIOUX FALLS, S.D. -- A man accused of killing the 2-year-old son of Minnesota Vikings running back Adrian Peterson two years ago is set to stand trial in South Dakota.
Joseph Patterson pleaded not guilty to second-degree murder and other charges in the 2013 death of Tyrese Robert Ruffin, who was the son of his girlfriend and Peterson. Opening statements are scheduled to begin Monday in Canton, about 20 miles southeast of Sioux Falls.
Here's a closer look at the case:
OCTOBER 2013 INCIDENT
Investigators allege that Patterson assaulted Tyrese on Oct. 9, 2013, while the two were alone in a Sioux Falls apartment. An autopsy concluded that the boy's head sustained four blows, causing his brain to bleed, and doctors determined that the injuries could not have been accidental.
Patterson, 29, has denied that he hurt the boy. He said Tyrese choked on a strawberry fruit snack and that he called 911 to report that the toddler wasn't breathing. Tyrese was taken to a hospital and died two days later.
Peterson said he learned that Tyrese was his son only a couple of months before his death. The NFL star said he had been planning to meet the boy, and he rushed to Sioux Falls when he heard Tyrese was hospitalized. Peterson is not expected to attend the trial.
ROAD TO TRIAL
Patterson was freed on a $750,000 bond, but it was revoked when he was arrested on aggravated assault and kidnapping charges in an alleged attack on Tyrese's mother, Ashley Doohen, in June 2014.
Authorities say Patterson went to Doohen's apartment, twice choked her and once caused her to become unconscious. She eventually was able to call a relative, and her parents contacted police. Prosecutors say Patterson held Doohen at the apartment for more than an hour and injured her.
Patterson was released on bond again after the new charges were filed but his bond was revoked in January because authorities say he violated the terms by harassing Doohen over the phone.
WHAT JURORS WILL HEAR
Doohen, police officers and investigators, an emergency dispatcher and medical experts are among the people expected to testify.
Court records show that the defense team intends to dispute the state's theory that Tyrese died from abusive head trauma.
Defense attorney Timothy Rensch didn't respond to phone messages seeking comment about the case, but he has said in court that evidence at the apartment where the incident occurred supports Patterson's version of events.
POTENTIAL CONSEQUENCES
Patterson faces a mandatory sentence of life in prison if convicted of second-degree murder, the most serious charge. He still will have to face another trial for the alleged attack against Doohen.