Making the Grade: Passes/Fails from UFC 192: Cormier vs. Gustafsson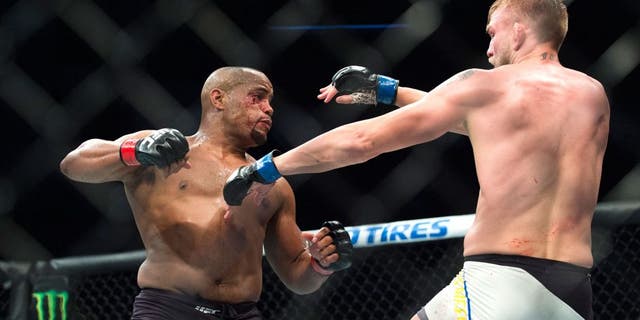 Daniel Cormier and Alexander Gustafsson put on a five-round classic at UFC 192 as the two light heavyweights battled it out in a war of attrition for 25 minutes that ended in a razor-close split decision.
Ultimately, Cormier got the win likely by gutting out a hard-fought fifth round that made the difference on at least one judge's scorecard and now he can proudly say he is the reigning and defending UFC light-heavyweight champion.
In other action, Ryan Bader picked up the biggest win of his career with a shutout performance over former 205-pound champion Rashad Evans in the co-main event.
Bader employed a stiff jab to cause Evans' eye to swell and nearly shut as the former "Ultimate Fighter" winner picked up his fifth win in a row while marching that much closer to a title shot.
But the results are already out there so we like to dig a little deeper on the card to see what passed and what failed on Saturday night in Houston. This is Making the Grade for UFC 192: Cormier vs. Gustafsson.
PASSES
Fight of the Year
There's no way to predict how a fight is going to go until it actually happens. Many times the most highly anticipated fights with guaranteed fireworks end up fizzling out without any explosions at all.
It was impossible to know going into the UFC 192 main event that Daniel Cormier and Alexander Gustafsson would push each other back and forth over five rounds with gut-check moments by both fighters on repeated occasions. Cormier slammed Gustafsson to the ground like a rag doll in Round 1. Gustafsson earned a knockdown on Cormier with a well-placed knee and follow-up punch in Round 3.
Rounds 2 and 4 were just dog fights with Cormier and Gustafsson throwing defense out the window and just leveling unbelievable shots at each other, leaving each of them a little bit broken and a lot bloodier than when they walked into the Octagon.
When it was over, Cormier got the nod by split decision and he should celebrate the win because pulling out a tough victory like the one he had on Saturday night is the true sign of a champion. Gustafsson unfortunately falls short yet again in his second UFC title fight, but he left little doubt that he deserved to be there and chances are he'll be back again before too much longer.
Cormier and Gustafsson deserve a ton of praise and should be remembered at the end of the year when awards are being handed out for the best fight in 2015.
Finish Him!
UFC 192 was stacked from top to bottom and that was never more evident than the preliminary fights that aired between FS1 and UFC Fight Pass on Saturday night with seven total bouts and five of them ending by knockout or submission.
Heavyweight Derrick Lewis got the night going with a big comeback victory in front of his hometown crowd as he proved once again that he might be a little one dimensional in his approach, but when you can punch down on an opponent like you're trying to drive your fist through the canvas, the technique doesn't necessarily need to be pretty.
Sage Northcutt (more on him in a moment) tore through Francisco Trevino in less than a minute and then Rose Namajunas pulled off the ultra-rare standing rear naked choke submission that ended when her opponent Angela Hill tried to tap out before she passed out and fell to the canvas.
Adriano Martins kept the party going with a huge counter-strike knockout over highly touted Russian prospect Islam Makhachev and the finishes were capped off by Albert Tumenov stalking Alan Jouban across the cage like he owed him money before unloading a barrage of punches and kicks that left the part-time male model face down on the mat.
While the main card ended in all decisions, the prelims started the fire and burned bright with some of the best finishes of the year.
Believe the Hype
Almost every debuting fighter in the UFC admits to feeling a few Octagon jitters ahead of their first fight, but imagine going through that at just 19.
That's what Sage Northcutt did on Saturday night, when he debuted on the UFC 192 prelims and he did it in front of his hometown crowd! Northcutt is a highly touted prospect so immediately there were a lot of eyeballs on him from the moment he signed with the UFC.
Northcutt certainly did his part to live up to the praise with a scorching first-round finish over UFC veteran Francisco Trevino in just 57 seconds. Hype can be a help or a hindrance to fighters, but there's no doubt one fight into his UFC career that Northcutt is doing his part to prove everybody right that he could be a huge star in the making.
Of course fighting a journeyman like Trevino isn't a marquee victory for every lightweight in the UFC, but for a 19-year-old kid in his debut, it's definitely good enough!
FAILS
Officially Not a Good Weekend
Speaking of Francisco Trevino, the UFC veteran has a terrible weekend that started on Friday when he stepped on the scale and weighed 160 pounds -- four pounds over the lightweight limit for his fight with Sage Northcutt.
Then came Saturday night, when he faced the highly touted teenager and proceeded to last all of 57 seconds into the first round before he was laying prone on the ground while eating a barrage of shots from Northcutt.
Referee Herb Dean stopped the fight and Trevino popped right back up in protest because he thought the action was stopped too early. Regardless of the stoppage, Trevino's next move where he put his hands on Dean out of anger will probably land him in some seriously hot water with the state athletic commission as well as the UFC.
Things couldn't have gone much worse for Trevino over a span of 48 hours, but even in that frustrated state of defeat, there's never going to be a time when touching a referee is going to end well for a fighter in the long run. Considering that was Trevino's second loss in a row, the UFC might even cut ties with him rather than dole out discipline based on his actions.
EPIC FAIL
The Weight is Finally Over
There were a lot of great moments at UFC 192 but possibly the most disappointing part of the entire week in Houston was hearing that Johny Hendricks wouldn't be able to make weight and his fight with Tyron Woodley was cancelled. Hendricks was reportedly about 25 pounds overweight when he arrived into town on Tuesday and while he promised that he was on point as late as Thursday, his body shut down when he actually started to drop the pounds.
It was an unfortunate turn of events for everybody involved, including Hendricks' opponent Tyron Woodley, who left the event with a paycheck in his pocket and a possible title shot in the future, but there's no doubt he wanted to win his way into a championship, not get there because his opponent couldn't make weight.
As for Hendricks, this is the latest in a long line of issues he's had cutting weight down to 170 pounds. Hendricks is probably the second-best welterweight in the world -- arguably as good as the champion considering how close their two fights have been scored -- but it's his own body that's robbing him of a chance to compete for that belt again.
Hopefully after this latest incident, Hendricks considers a real lifestyle switch in the months and weeks leading up to his fight and whether that means working with a nutritionist or just being stricter with his diet in the offseason, something has to change. UFC president Dana White mentioned the possibility of Hendricks moving up to middleweight, but he would be woefully undersized, especially in height and reach, compared to some of the biggest fighters at 185 pounds like Chris Weidman or Luke Rockhold.
The fact is Hendricks is a welterweight, but he just needs to start eating like one or his future with the UFC might be in trouble.