Mailbag: Are the SEC and Big Ten leaving the Power 5 in the dust?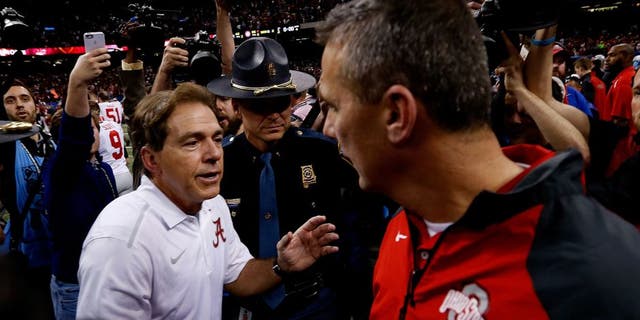 NEWYou can now listen to Fox News articles!
There was a time not long ago when writing about college football required an unofficial degree in subscriber fees and market sizes. The TV rights landscape has mostly stabilized, but the Big Ten's impending negotiations (its current deal ends next year) long loomed as a potentially major storyline.
Well ... that day is here.
We often hear about the "Power 5" conferences but with the Big Ten's new TV deal aren't the B1G and SEC in a class of their own at this point? At what point should the Pac-12, ACC, and Big 12 start getting worried about the gulf in funding?
-- Nicholas Nelson, Paradise, CA
In terms of revenue generated, yes, the Big Ten and SEC will soon be in a classification to themselves. Sports Business Journal recently reported that Jim Delany's conference is close to finalizing a deal with FOX worth $250 million a year for half of the league's Tier-I rights, which includes 25 football games. (Note: Though I work for FOX, I am not privy to any details.) To put that in perspective, the Pac-12 on average receives roughly the same amount for its entire Tier-I inventory. The Big 12's is $203 million annually.
Between that deal, whatever ESPN or another network pays for the other half as well as Big Ten Network revenue, the league will soon distribute in the neighborhood of $40-$45 million a year to each of its full members. And that does not even include CFP, bowl and NCAA tournament money. Meanwhile, the SEC will likely start approaching $40 million per school in a few years as its own network grows. By comparison, as of last year, the ACC, Big 12 and Pac-12 were in the $20-$25 million range, with no obvious new revenue stream in sight for at least the rest of this decade.
So there's certainly a gap, but I'd contend there's also a point of diminishing returns. Is there anything, for example, that Oregon, Oklahoma or Florida State is currently lacking for financially that puts them at a competitive disadvantage to Ohio State, Michigan or Tennessee? Is there something Northwestern, Purdue or Vanderbilt is suddenly going to be able to afford that threatens Washington State, Iowa State or Wake Forest? How many more machines can you put in a weight room? How much more steak can you put on a training table?
In the Big Ten's case, the big winners will be the non-revenue sports. Those teams will be able to hoard the nation's best coaches, travel more comfortably, build better facilities, etc. That's where the chasm could grow. Even then, though, it's not suddenly going to get warmer in March for Midwestern baseball teams. Olympic swimmers aren't going to stop training at California schools. Success in college sports involves far more elements than money.
But all of this is contingent on college athletics maintaining its same general model. If and when that game-changing court decision eventually drops and colleges are suddenly free to start bidding on recruits and compensating athletes above cost of attendance, then yeah, the Big Ten and SEC will be in a better position than most. But then, the Power 5 as a whole will likely endure a more drastic splintering than just between the respective conferences; it's going to come within each conference as well.
Can you think of another program (Miami?) that lost as many future NFL draft picks in one offseason as Ohio State did, and how did that program fare the following season?
-- David Filipi, Columbus, Ohio
Conveniently, Cleveland.com's Bill Landis has already researched these very questions. All credit goes to him for the answers I'm about to give you.
First of all, if the various mock drafts are accurate, the Buckeyes will likely produce at least five first-round picks (DE Joey Bosa, RB Ezekiel Elliott, T Taylor Decker, LB Darron Lee and CB Eli Apple) with an outside shot at one or two more (WR Michael Thomas and/or S Vonn Bell). Miami holds the record for first-rounders with six in 2004. And Ohio State itself holds the seven-round record for overall picks at 14, also set in 2004. The Buckeyes could match that this year if LB Joshua Perry, DT Adolphus Washington, QB Cardale Jones, DB Tyvis Powell, WR Braxton Miller, TE Nick Vannett and WR Jalin Marshall all get selected.
Landis found that since 2000, the 10 schools to lose double-digit draft picks in one year collectively saw their record drop from .878 with those guys to .775 with their replacements. That's essentially just one fewer win per year. Of those 10, though, four -- 2002 Tennessee, 2004 Ohio State, 2005 Oklahoma and 2009 USC -- fell from a top-5 finish the year before to 8-5/9-4 territory. The common thread with those programs, as well as 2015 Florida State (13-1 to 10-3), is that they had several consecutive big draft classes. Nick Saban-era Alabama excluded, the weight of reloading year after year after year is bound to cause at least a temporary dip at some point.
Ohio State under Urban Meyer hasn't dealt with that yet, but it will. An 8-5 dropoff this year seems unlikely just because it's hard to find five teams on the Buckeyes' schedule that could beat them. But coming back and winning 12 games again with that much turnover would be a remarkable feat.
What does a school have to gain by naming a starting quarterback after spring? For example, why would Texas A&M name Trevor Knight the starter after camp? As a coach I see no conceivable benefit.
-- John Engel, Toronto, Ontario
That's an interesting question because I feel like this used to be much more common. Coaches wanted to lock down their starter sooner than later to alleviate the uncertainty. But more and more I hear the opposite -- many coaches prefer the mystery extend into August because it pushes the contenders to keep competing with the highest possible intensity. There's also the increasing danger that the guy(s) who lose the job will then transfer before the season. That's more apt when it's two younger guys in or near the same class.
But the coaches who do announce a starter after spring generally cite one important benefit: That guy becomes the offense's undisputed leader heading into summer, when the coaches aren't around. Players take their cue from the starting quarterback, who's usually the one to organize "voluntary" workouts, push the receivers to get in extra throwing, teach the offense to incoming freshmen, etc.
In Knight's case, it was also fairly obvious he would be the guy, what with his three seasons in the Big 12, 15 career starts and Sugar Bowl MVP performance. Junior Jake Hubenak, who started last year's Music City Bowl, was a JUCO transfer who came in to a program that at the time already had five-star recruits Kyle Allen and Kyler Murray. Coaches were never counting on him to be more than an emergency backup. Even so, he'll have another chance to contend for the job next year when Knight graduates.
I've long felt that a team's offensive line determines the success of the offense. What teams have the best, or worst, returning O-lines?
Thanks,

-- Bret, Tallahassee
That's absolutely correct, though here's one thing I've noticed in recent years: While lack of returning O-line experience is often the downfall of an otherwise promising offense, returning most or all starters in no guarantee either. Case in point: Ohio State last season, and Florida State the year before. Both teams returned four starters, yet both units disappointed for much of the season. Even one starting spot turning over can completely change a unit's chemistry since each guy's performances is so intertwined with the others. Also, the effect of losing a really good blocking fullback, tight end or even inside receiver is generally overlooked.
In other words, take everything I'm about to write with a grain of salt.
Michigan returns four starters, all of them juniors and seniors, from a unit that ranked among the nation's worst two years ago, improved considerably in Jim Harbaugh's first season and could now be among the sport's best. Tight end Jake Butt and fullback Henry Poggi return, too. USC, led by Chad Wheeler and Zach Banner, has as much experience as anyone. Tennessee returns four starters, including All-SEC guard Dylan Wiesman. Florida State's unit struggled through a rebuilding season in 2015 but now boasts five returning starters. North Carolina brings back four but lost standout guard Landon Turner.
Conversely, Oklahoma and Baylor are two prime examples of offenses that appear loaded on paper -- the Sooners with QB Baker Mayfield and RBs Samaje Perine and Joe Mixon, the Bears with QBs Seth Russell and Jarrett Stidham and RB Shock Linwood -- but have huge questions on the O-line. Oklahoma must replace first team All-Big 12 blockers Ty Darlington and Nila Kasitati, while Bayor lost All-American tackle Spencer Drango and three other starters. Arguably the only team to lose more star power on its line is Michigan State, now replacing likely first round tackle Jack Conklin and All-American center Jack Allen.
With Harbaugh's first season exceeding expectations, what can U if M fans realistically expect for year two? It seems that they still have questions at quarterback and along the o-line. Are they capable of contending for the B1G title this year or are they still behind MSU and OSU?
-- Ryan Naessens, Saginaw, Mich.
Lest we forget, Michigan was a dropped punt snap away from possibly taking a 7-0 Big Ten record into the Ohio State game. So yes, with a veteran team that's had a second year in Harbaugh's system, I absolutely expect the Wolverines to contend for the Big Ten championship, and with that a playoff spot. Michigan should have a strong running game with De'Veon Smith, Drake Johnson and Ty Isaac. And new defensive coordinator Don Brown has some nice building blocks in linebacker/DB Jabrill Peppers, CB Jourdan Lewis and incoming DT Rashan Gary.
Quarterback is certainly a question, but after watching Harbaugh bring along the underappreciated Jake Rudock last season, I expect him to do much the same with whoever wins the job, most likely Houston transfer John O'Korn. And that guy will have three reliable targets in Butt, Jehu Chesson and Amara Darboh.
The biggest roadblock for Michigan hasn't changed; that's Ohio State. The Buckeyes are still more talented than the Wolverines (and most anyone else), and while Urban Meyer's incredibly inexperienced team will presumably be vulnerable early, the Wolverines don't get them until the 12th game, at the Horseshoe. That's tough. And certainly road games at Michigan State and Iowa won't be cakewalks. But this team should have more margin for error than last year's, which needed heroic escapes at Minnesota and Indiana. I'd be very surprised if it's not playing for the division title when it gets to Columbus.
Is it just me, or is the ACC Coastal undergoing a bit of a renaissance? Of the top seven recruiting classes in the ACC so far, the Middling Coastal owns five. Costal teams hired some hot coaches with national cred, not just MAC also-rans. Do you see this modern version of the Big East actually growing into something?
-- Kerry Ryan, Denver, CO
For all you confused readers, the Coastal is the one that's not Florida State/Clemson. I still get it wrong more than a decade later.
I agree wholeheartedly, and that starts first and foremost with the recent hires in that division. I feel confident saying that Miami (Mark Richt) and Virginia (Bronco Mendenhall) made considerable upgrades. Virginia Tech replaced a legend (Frank Beamer) with one of the most coveted guys on the market (Justin Fuente). Go back a year before that and Pitt got a good one in Pat Narduzzi. Rounding it out, Larry Fedora is coming off a division title at North Carolina and David Cutcliffe has taken Duke to four straight bowl games. Georgia Tech is coming off a dud season, but even there, Paul Johnson is only a year removed from the Orange Bowl. He seems to fare best as soon as people count him out.
If and when a couple of these programs get humming, it will be a major boon for ... the Atlantic. Right now that division boasts two likely-to-be-regular playoff contenders, FSU and Clemson, that need all the opportunities they can get on their schedules to impress the committee. That of course includes the ACC championship game. Last year Clemson played a North Carolina team that padded its record with two FCS wins and clearly did not impress the committee. In 2013 Florida State played a 10-win Duke team that barely cracked the Top 20. In 2012 the Coastal did not produce a single team with more than eight wins. (Two, Miami and UNC, were serving postseason bans.)
Both those teams and the conference need championship games that pit two worthy adversaries more often than not. They need that game to be must-see TV if people are going to start taking the conference more seriously. Remember, Miami and Virginia Tech were Top 10 programs for much of the 'aughts, and there's no reason they can't be again. Neither division is likely to ever enjoy SEC West or Big Ten East type depth just because of all the marginal programs, but the public is generally willing to overlook that if there's four or five Top 25 teams between them.
Where would you draft Keenan Reynolds? Is he really the next Julian Edelman, or is it just a convenient draft comparison that's only surface deep?
-- Adam Nettina, Ellicott City, Md
Reynolds was a great college player and a great story, but I'd be surprised if he's higher than someone's sixth- or seventh-round flyer. Part of that is his unique situation as a soon-to-be Naval officer who will be fulfilling a five-year service commitment. It used to be a deal-breaker, but last year the Patriots drafted Navy long snapper Joe Cardona in the fifth round. He played all season while also working one day a week at Naval Academy Prep School in Newport, Rhode Island, before moving to a full-time job in the offseason. Reynolds will need some similar special dispensation, which may depend on which team takes him.
He's obviously a tremendous athlete who is fully capable of successfully transitioning to running back or receiver. But there are a whole lot of other guys in this draft who are 5-11 and can run, the difference being, they played one of those positions in college. Other converted QBs like Edelman, Antwaan Randle El and Denard Robinson have shown it's possible, but they're the exceptions. It's probably going to take a franchise like the Patriots that don't have a lot of glaring holes to fill and can afford to take a flyer on a guy who may well become a valuable playmaker but if not, they still have other options at those positions.
Speaking of which -- enjoy the draft the next few days. It's always fun seeing the guys we watched so closely in college take the next step.