Los Angeles police stepping up security around Dodgers players' homes during World Series, report says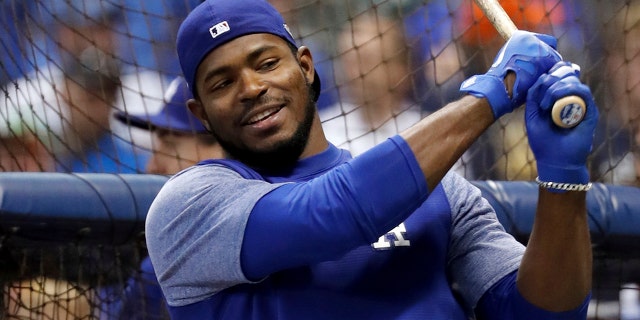 The Los Angeles Dodgers hope to be safe at home while in Boston for Game 1 of the World Series Tuesday night -- and not just for calls on the field.
The LA Police Department reportedly pitched a plan to protect the homes of several Los Angeles Dodgers players and staffers during the World Series, the project coming a year after Dodgers star Yasiel Puig had his home burglarized during last year's Fall Classic.
LAPD officials have reached out to Major League Baseball security, players' agents, assistants and other personnel to help protect the homes, law enforcement sources told TMZ.
Police were reportedly working with players to make sure their home security systems were up to par to prevent break-ins and burglaries. Some additional security officers were asked to watch some of the houses, TMZ reported.
EVERYTHING YOU NEED TO KNOW ABOUT THE 2018 WORLD SERIES
Puig has been the target of a few break-ins already. Aside from a break-in during Game 7 of the 2017 World Series, which was being played at Dodger Stadium, Puig's home was nearly broken into for the fifth time in September when a person jumped the fence surrounding the house and went toward the residence, TMZ reported. A person inside the home told the intruder they were going to call the police and the intruder fled.
Burglars also hit the home of Los Angeles Rams wide receiver Robert Woods while he was playing a game at the Los Angeles Memorial Coliseum earlier this year. Though arrests were made, police remain worried unidentified suspects or copycats could strike again.