Long road for Crawford finally reaches Montreal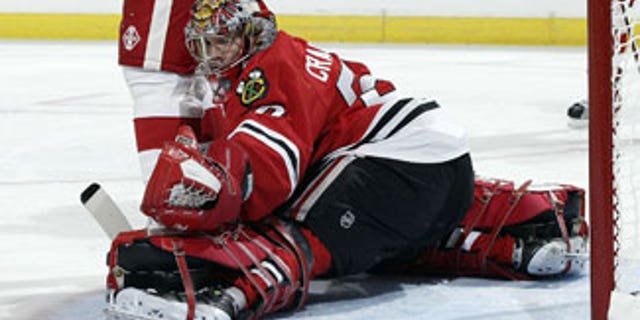 MONTREAL -- Corey Crawford wasn't sure this day would ever come.
A native of Chateauguay, just across the St-Lawrence River from Montreal, the Chicago Blackhawks standout rookie goalie grew up idolizing Patrick Roy and the Canadiens.
Except as the years went by, Crawford -- a second-round pick in the 2003 Entry Draft -- watched as the Blackhawks turned to the free agent market to sign first Nikolai Khabibulin in 2004, then Cristobal Huet in 2008 and finally Marty Turco last summer.
In the meantime Crawford patiently waited his turn in the AHL, playing only eight games for the Blackhawks coming into training camp this year.
Now, as a rather grizzled 26-year-old rookie, Crawford comes back home to finally play against the team he grew up cheering for when the Blackhawks and Canadiens face off Tuesday night, and he'll do so as the team's clear No. 1 goalie.
"I'm excited, a little nervous," Crawford said after Tuesday's morning skate. "I've got a lot of people coming to see the game, and we're also fighting for a spot in the playoffs. So it's important for us to get some points tonight."
Crawford was given the reins by Blackhawks coach Joel Quenneville around mid-November, and Tuesday night he'll be making his 24th straight start and his 48th in 57 games, the typical workload of a true top goalie.
"Corey's been real solid for us," Quenneville said. "He's been really consistent, he's a big goalie, I really like his demeanor and his approach going into games. He's got the ball right now and he's handling it really well."
That is a pretty big understatement, what with Crawford's 2.27 goals-against average sitting seventh in the League, his .918 save percentage placing him 16th and his 31 wins 13th. Needless to say, among rookie goalies, Crawford is at the top of the class.
If this were any other season he would likely be a slam-dunk pick to win the Calder Trophy, but with the rookie campaigns of Carolina's Jeff Skinner, San Jose's Logan Couture and the Islanders' Michael Grabner attracting all the attention Crawford risks being excluded from even being a finalist and getting that end-of-season trip to Las Vegas.
Still, for a guy who has waited this long and come so far so quickly, just being in the conversation is enough for Crawford.
"It's pretty incredible," Crawford said. "I was hoping to play 20 games this year. It would be quite the accomplishment. There are a lot of other rookies who have had good seasons, but I'm just lucky to play on a good team like we have here."
Crawford will have about 20 people sitting among the sellout Bell Centre crowd of 21,273 on Tuesday night, and the refreshing thing about it is that they all bought their own tickets.
"They were smart, they bought them about two months in advance," Crawford said. "I don't know if I'd have been able to get 20 tickets."
Funny thing is that when his family and friends bought those tickets, they did so with no assurance Crawford would even be starting this game.
Now, there is absolutely no doubt he will be carrying the torch for the Blackhawks right into the playoffs -- assuming they get there.
That is what makes Tuesday's match-up against Montreal all the more intriguing, as neither team has qualified for the postseason, though the Canadiens can punch their ticket with a win against Chicago.
And starting against Crawford in the Montreal net will be Carey Price, who will set a new franchise record when he appears in his 71st game of the season, his 69th start.
As hard as it is to imagine, Price is three years younger than Crawford and has already basically run the gamut of all the highs and lows a goalie can go through in an entire career.
To drive that point home, Price will receive the Molson Cup prior to the game as the Canadiens' player of the year, voted on by the fans for the first time. The balloting wasn't even close, with Price's 27,630 votes more than doubling the second place finisher Tomas Plekanec.
Many of those fans had already given up on Price before the season began, with some of them booing his first preseason start back on September 22 after he allowed four goals on the first eight shots he saw.
Price is only 23 years old. At the same age, Crawford was still dreaming of being in his position. But now that he's arrived, there's no doubt Crawford feels it was worth the wait.
"I wasn't sure this day would come," Crawford said. "I spent a lot of time in the AHL, but I just kept working hard and finally my dream came true. It's fun to be here right now."