Logano outlasts Martin for MIS win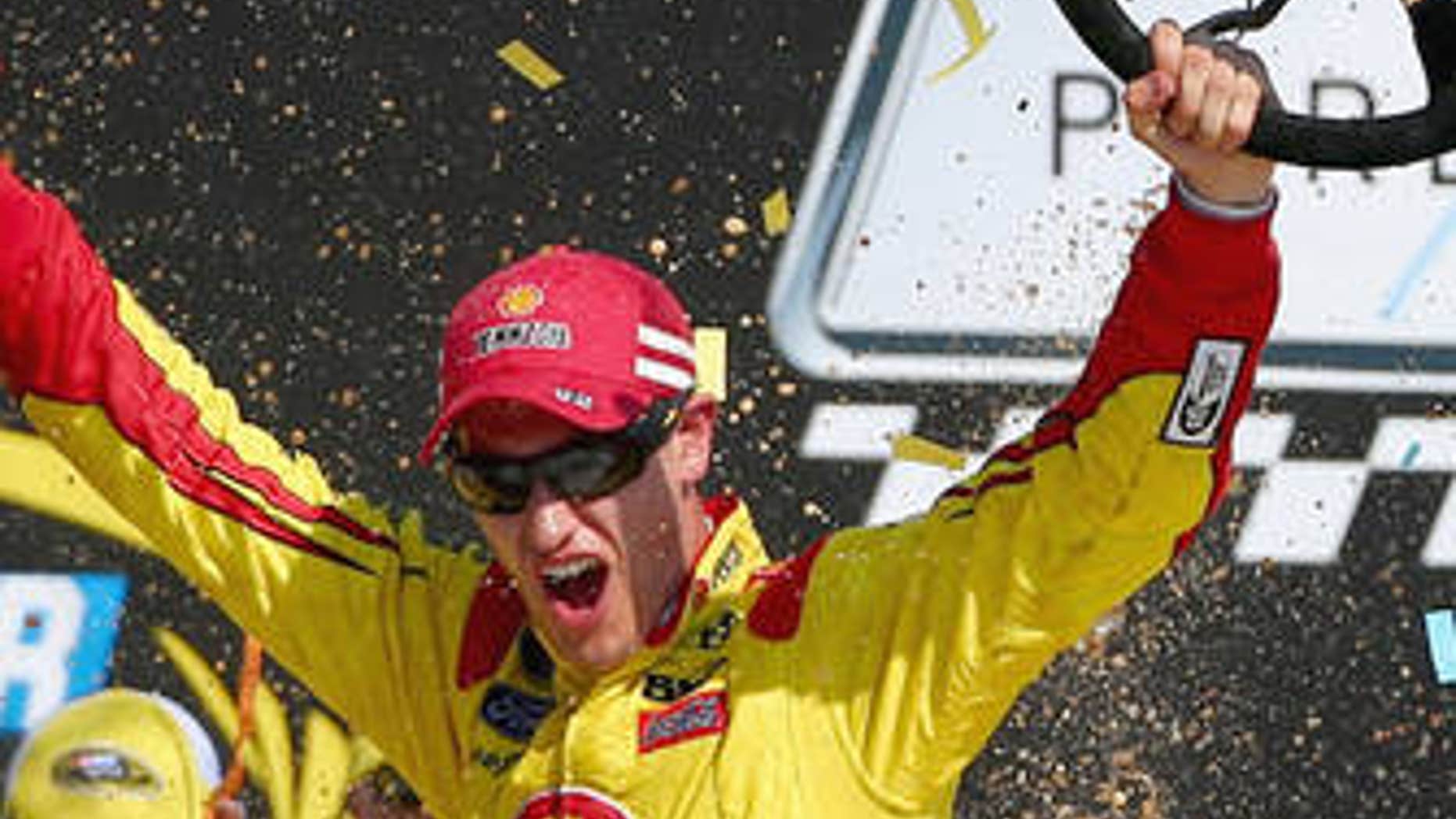 At NASCAR's fastest track, only one thing really mattered in Sunday's Pure Michigan 400: Being out front and getting clean air on the nose of your car -- well, that and having enough gasoline to keep it there.
And that's exactly how Joey Logano scored a huge victory at Michigan International Speedway in a race that saw plenty of on-track chaos and half a dozen contenders fall by the wayside once they lost critical track position.
Logano inherited the lead with three laps to go when Mark Martin ran out of fuel, and held on to win his first race of the season, his first with Penske Racing and elevate himself into serious discussion for a wild-card slot in the Chase for the Sprint Cup. Logano held off Kevin Harvick's Richard Childress Racing Chevrolet by 0.555 seconds to record his third career victory in 170 NASCAR Sprint Cup starts.
Kurt Busch finished third in his Furniture Row Racing Chevrolet, followed by Harvick's teammate Paul Menard and Clint Bowyer in a Michael Waltrip Racing Toyota.
"We needed this for our Chase hopes," said Logano, who unofficially is just seven points behind Martin Truex Jr. in the race for the second wild-card spot. "We're not out of it yet. We've got another great racetrack after this coming up for us."
Of course, it didn't hurt that Logano won in Ford's backyard and at a track that his team owner, Roger Penske, once owned. "This is just so frickin' cool right now," said Logano.
"We bet on Joey when we hired him," said Penske. "And he certainly has been showing the speed and the skill. ... For us to get this victory is just amazing."
All told, six different drivers led at least 17 laps, but passing for the lead under green-flag conditions was nearly impossible, as clean air made all the difference. "Getting that clean air meant so much," said Logano, who broke a 44-race winless streak with his victory.
Logano started from the pole in his Penske Racing Ford. A total of 25 cars qualified at more than 200 miles per hour, and early on, the high speeds were treacherous, with three caution flags in the first 15 laps.
Five-time series champion Jimmie Johnson had a short day, the engine expiring in his Hendrick Motorsports Chevrolet after completing just 58 laps. Johnson's teammate Dale Earnhardt Jr. was looking good, however, running out front for only the sixth time in 23 races so far this year. But a bad restart on Lap 76 dropped him from second to seventh in a single lap. He would never be a factor again. And that allowed to Kurt Busch to assert himself as the race moved to the middle stages, at least until a debris caution on Lap 106.
Under the yellow, six drivers took just two tires, with Greg Biffle emerging in the lead. Busch took four and came out eighth, buried in the pack. After going more than half the race without leading a single lap, Biffle all of a sudden took off like a shot once he had clean air on the nose of his Roush Fenway Racing Ford.
By Lap 130, Biffle had a lead of 2.300 seconds over Logano, with Jeff Burton third. Then, more drama.
On Lap 136, Earnhardt blew a right-front tire and hit the wall, sending the leaders down pit road again. This time, Penske teammates Logano and Keselowski led the race off pit road over Biffle. Bobby Labonte crashed on Lap 149, and when he did, the top seven cars stayed out.
Nine laps later, Kyle Busch, last week's winner, wadded his car up in Turn 2, so several of the drivers who pitted under Labonte's caution stayed out this time. That handed the lead to Keselowski, Martin, David Ragan and Aric Almirola, with fifth-place Logano the first car in the lead pack to pit.
When Kyle Busch spun a second time on Lap 175, Keselowski had to pit again, giving the lead to Martin, ahead of Harvick, Logano and Kurt Busch.
In clean air, Martin did what every other leader had done earlier in the day -- he pulled away from the field, although whether he had enough fuel was certainly questionable. And with three laps to go, Martin did indeed run out of fuel, elevating Logano to the lead, half a second ahead of Harvick.
And that was it, as Logano scored a huge victory.