Liverpool, Real Madrid set to clash in Champions League title game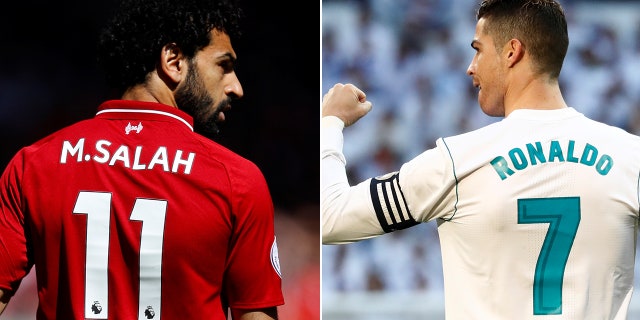 NEWYou can now listen to Fox News articles!
The kings of European soccer will be crowned Saturday as upstart Liverpool looks to dethrone defending champ Real Madrid in the UEFA Champions League final to be played in Kiev, Ukraine.
The clash is set to pair two attacking minded teams with a combined 70 goals scored in the tournament's 12 matches preceding the final, according to UEFA's website.
Liverpool, who play in England's Premier League, boast two goal-scoring powerhouses in Egypt's Mohamed Salah and Brazil's Roberto Firmino. Both have found the back of the net 11 times during the tournament.
Real Madrid, who play in Spain's La Liga, are led by Portuguese star Christiano Ronaldo in the attack. Ronaldo, a four-time Champions League winner, leads this year's tournament with 15 goals.
Neither team has any players suspended for the match, but Liverpool manager Jurgen Klopps will be missing three players due to injury: midfielder Alex Oxlade-Chamberlain; and defenders Joel Matip and Joe Gomez.
While Madrid remain the favorites, both managers spoke of their mindset ahead of the match at pregame news conference.
"We are Liverpool," Klopp told reporters. "Not only are we a really good football team, it's in the club's DNA to go for the big things. Nobody expected us to be here but we are because we are Liverpool. We had the most exceptional run to the final, scoring the most goals."
Meanwhile, Madrid manager Zinedine Zidane tempered expectations.
"People can say many things, but we know it is not like that," the former France great said. "It is 50/50, like all finals. We must play a great game to win it. In the dressing room, we do not feel like favorites."
Madrid, record-setting 12-time winners, has appeared in the final four of the past five years. A win Saturday would see them victors three consecutive years, the first team to do so since Germany's Bayern Munich won the then-called European Cup final from 1974-76.
Liverpool, which has five medals, last appeared in a Champions League final in a 2007 loss to AC Milan.
The match is set to kick off 2:45 p.m. EDT on FOX.
The Associated Press contributed to this report.