Lewis Hamilton wins Austrian GP after last-lap contact with Rosberg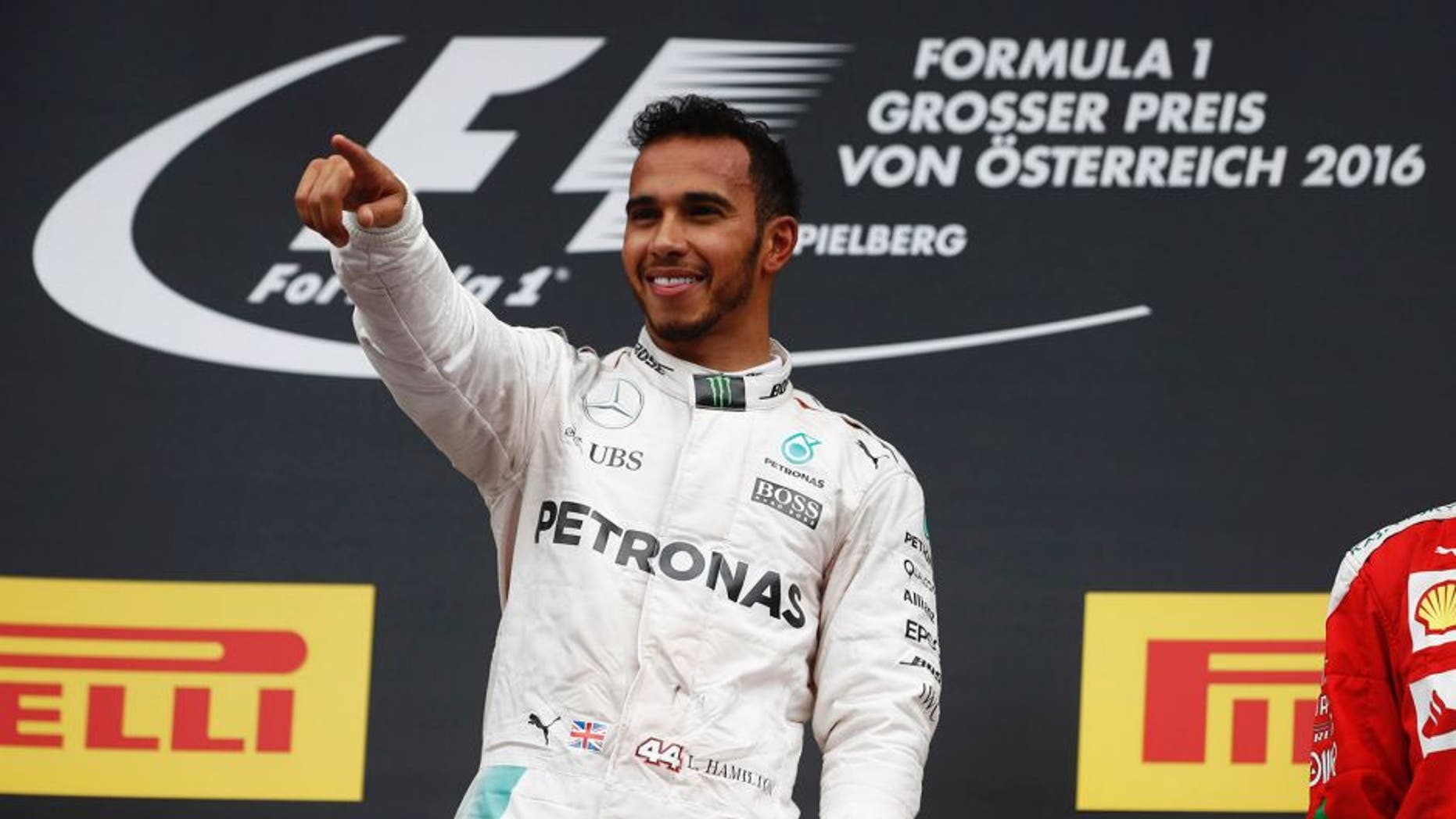 Mercedes' Lewis Hamilton won Sunday's Austrian GP at the Red Bull Ring in Spielberg, Austria, after contact with his teammate Nico Rosberg.
Hamilton went to the outside of Rosberg in the run down to Turn 2 on the final lap. Rosberg edged Hamilton to the outside of the track and the two made contact, with Rosberg coming off worse. Hamilton went on to win while Max Verstappen and Kimi Raikkonen rounded out the podium. Rosberg finished in fourth.
Hamilton led the field away for the first of 71 laps on Sunday, while McLaren's Jenson Button moved up into second position from third on the grid. Due to a rain-impacted qualifying session, Force India's Nico Hulkenberg also found himself up front early but both he and Button dropped back in the early stages.
Ferrari's Kimi Raikkonen was up into second position when the first round of stops began but, after staying out longer than the others, he found himself mired back in sixth place once the first round of stops were over.
At that point, Sebastian Vettel led the field but had yet to pit. Meanwhile, Rosberg had moved up into second position, after an early stop had enabled him to move up several spots. Back in third, Hamilton led the Red Bull teammates and Raikkonen behind.
Vettel's lead was short-lived, however, as on Lap 27, his right-rear tire exploded from the lead on the front straight. This brought out the Safety Car and promoted Rosberg to the top spot.
When the Safety Car pulled in, Rosberg began to stretch his lead out over his Mercedes teammate Hamilton. However, Hamilton closed back in ahead of their final stops.
Hamilton was the first to pit, but he had a slow stop and reemerged on soft tires. Meanwhile, Rosberg pit one lap later and had a fast stop and reemerged on the supersoft tires. Hamilton made it clear over the radio that he was not pleased with the tire choice.
However, Verstappen was now the race leader having not pit since Lap 15. The Mercedes teammates soon ran him down by Rosberg got by much quicker than Hamilton, which looked like it would spoil any chances left Hamilton had for battling for the win.
However, Hamilton ran Rosberg down and made his move on the final lap, and the rest is history.
Rosberg is under investigation for the collision and for continuing to drive with damage on his car. There are reports that Rosberg may have had a brake problem.
Hamilton was booed on the podium, to which he reacted, "that's not my problem, that's their problem.
"I'm here to win."
Unofficial race results:
1. Lewis Hamilton - Mercedes
2. Max Verstappen - Red Bull
3. Kimi Raikkonen - Ferrari
4. Nico Rosberg - Mercedes
5. Daniel Ricciardo - Red Bull
6. Jenson Button - McLaren
7. Romain Grosjean - Haas
8. Carlos Sainz - Toro Rosso
9. Valtteri Bottas - Williams
10. Pascal Wehrlein - Manor
11. Esteban Gutierrez - Haas
12. Jolyon Palmer - Renault
13. Felipe Nasr - Sauber
14. Kevin Magnussen - Renault
15. Marcus Ericsson - Sauber
16. Rio Haryanto - Manor
17. Sergio Perez - Force India (DNF)
18. Fernando Alonso - McLaren (DNF)
19. Nico Hulkenberg - Force India (DNF)
20. Felipe Massa - Williams (DNF)
21. Sebastian Vettel - Ferrari (DNF)
22. Daniil Kvyat - Toro Rosso (DNF)