Lewis Hamilton reflects on 'humbling experience' after British GP win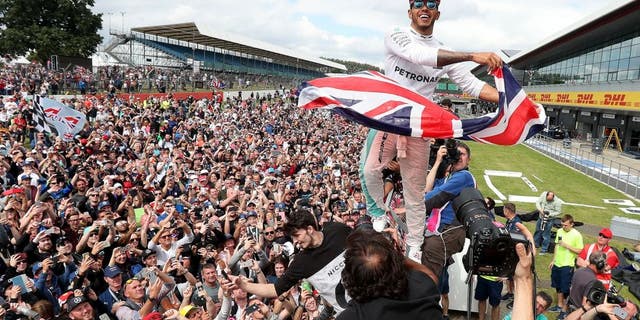 NEWYou can now listen to Fox News articles!
The home crowd got the result they wanted when Lewis Hamilton scored his third straight win in the British GP, and the fourth here in his career.
Hamilton dominated the race and never came under threat from teammate Nico Rosberg.
"Ever since 2007 I've felt this incredible energy from these fans here," said Hamilton. "The best fans in the world, without a doubt, and the best crowd we have anywhere. I really feel like I've grown with them over the years and obviously, naturally, when you have success that speeds up the bond, that connection you have, they really do make a huge difference.
"When it was wet, every time I made it through certain corners I could see in the corner of my eye the fans right there with me. And obviously the last few laps I could see them, every time, every year, and every time I came through Brooklands, Turn 7, I can see them up shouting and that just spurred me on all the way. So a huge thank you to them.
"I'm very honored and it's a very humbling experience to be here in this sport, particularly in a time of difficulty in the world, and to see so much love out there. I think when you see… there are people out there from all walks, from all different places, poor, wealthy, going through difficult times, and on this day we come together and I think that's as beautiful thing and I hope people see this on TV and I hope they tell their friends and they feel that to."
Lewis surprised everyone by indulging in a spot of crowd surfing after picking up his trophy.
"That wasn't planned, no. Every time we do a podium, straight after the podium, apart from standing there holding the trophy up and the bottle, there's no real way of connecting with people otherwise. Usually we just come back and here and it's the same old same old so I was going to give them a hard time and I put the trophy down and I ran down and I could see the crowd there and I just wanted to connect with them in some way and then as I got there I was like, I wanted to go over the top.
"I was hoping that I would crowd-surf further in and then I would have to say 'take me back' but I got right to the edge and I stayed there for like a second and then they pushed me back on. But very very cool to see the support here, as I said, it is just phenomenal."
Lewis said that he thought the race could have started without the safety car.
"I personally think we could have started on the grid -- but for sure there were patches all over the place and it would have been tricky -- but that's what motor racing's about. But then we did stay for sure out far too long. It was pretty much intermediates by the time they let us go. It would have been fun. There was more water on the track when we started in 2008 when we started from the grid, that's why I say that."
Hamilton had one scare when he came close to hitting the safety car: "I'd glazed my rear brakes and they were really low on temperature so I was trying to pick them up. The Safety Car's so slow, you can't imagine. I'm sure he's going as fast as possible but our car is so fast, and you can't see really that well even behind the Safety Car. There's a lot of spray but yeah, I braked and the thing wasn't stopping. So I nearly hit the Safety Car. It's a first. Fortunately, I didn't."