Leo Messi Scores Twice For Barcelona In Less Than 30 Minutes In First Game Back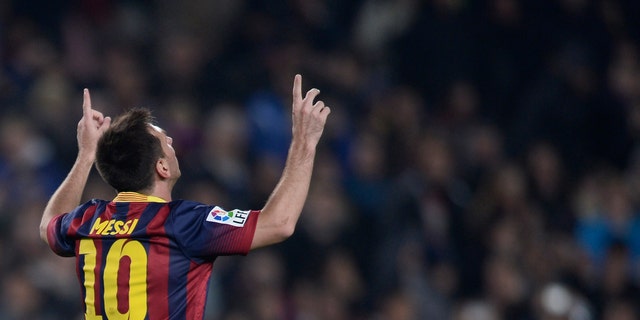 Lionel Messi scored twice in his return from a two-month layoff caused by a leg injury, helping Barcelona beat Getafe, 4-0, Wednesday night in the first leg of the Copa del Rey's fifth round.
Sidelined since Nov. 10 by a torn left hamstring, the Argentinian forward replaced Andrés Iniesta in the 64th minute and immediately made a few runs that left little doubt as to the fitness of his leg.
Messi scored in the 87th off a pass from Martín Montoya and during stoppage time he added his 16th goal in 17 games this season.
"I felt good in training and even if they checked me thoroughly, once you get on the field it's totally different," Messi said. "Physically I felt good. I didn't feel any discomfort in my muscle."
"I played through injury," Messi said of the buildup to his 59-day absence. "But I did well to get through all of this. And now I'm motivated to make this a great year."
The four-time FIFA player of the year has missed 12 matches this season because of leg injuries.
"Messi's career is like a movie script," Barcelona coach Gerardo Martino said. "When you think he's down, he scores goals within just two or three minutes. His game was like a summary of his entire career here."
Cesc Fabregas put Barcelona ahead in the seventh minute and converted a penalty kick in the 61st, giving him 11 goals this season.
Messi's return comes just in time for Barcelona's showdown against La Liga co-leader Atlético Madrid on Saturday.
The second leg of the total-goals series is at Getafe on Jan. 16.
Based on reporting by the Associated Press.
Follow us on twitter.com/foxnewslatino
Like us at facebook.com/foxnewslatino