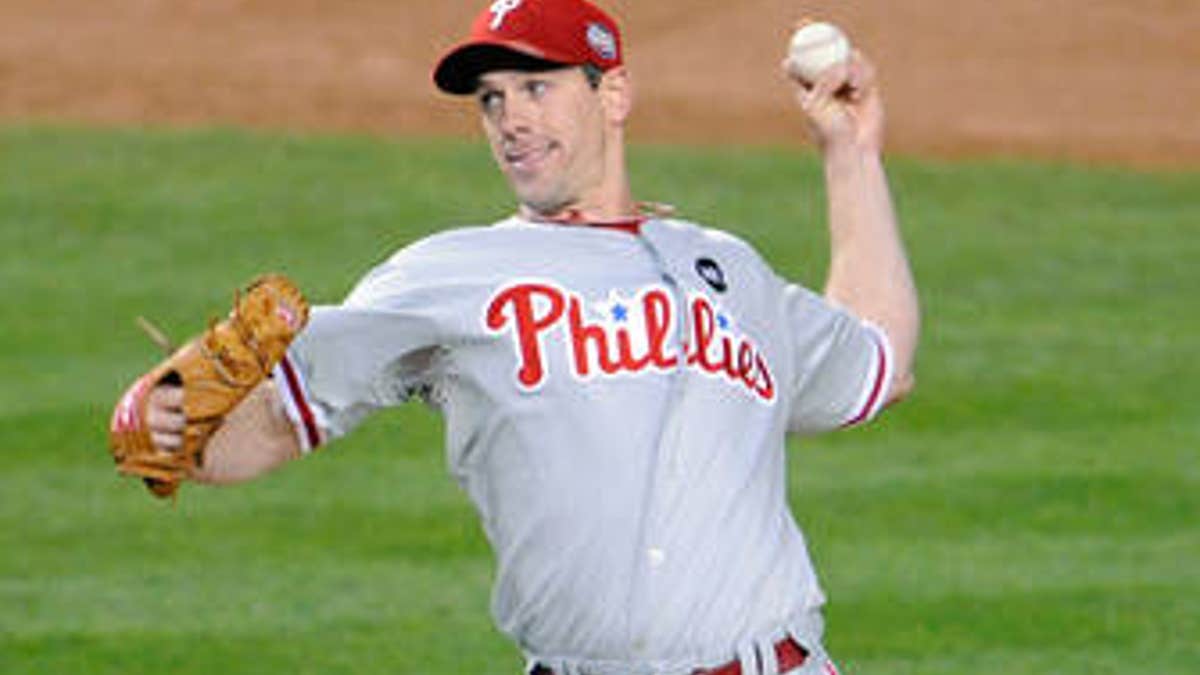 What is it about this pitcher, and this team, at this time of year?
Dec. 14, 2009: The Philadelphia Phillies, Seattle Mariners and Toronto Blue Jays agree to a three-team blockbuster that sends Roy Halladay to Philadelphia and Cliff Lee to Seattle.
Dec. 14, 2010: Lee ends one of the more breathlessly chronicled plotlines in recent baseball history by reaching agreement with the Phillies, almost exactly at the stroke of midnight.
Dec. 14, 2011: For their next trick, Lee and the Phillies secede from Major League Baseball and start the U.S. Baseball League, with its headquarters in Benton, Ark. At the press conference, Lee's agent, Darek Braunecker, looks out over the crowd and says, "You know what? This doesn't quite compare to last year."
What could?
I'll be honest. I was jaw-on-the-keyboard flabbergasted by what transpired late Monday and early Tuesday. I haven't been this surprised by baseball since . . . uh . . . the last time I saw Cliff Lee pitch. The Giants. Edgar Renteria. Remember?
Actually, in one sense, the show-stopping news took us back to that night at Rangers Ballpark. Since Nov. 1, the vast majority of executives, agents, writers, bloggers and fans had operated under the assumption that Lee would end up with the Rangers or Yankees. We reasoned through two scenarios, knowing one would come true.
Instead, flush them both.
Today, the offseason starts anew.
The Yankees still don't have the top-of-the-rotation pitcher they so desperately need. They don't even have a commitment from Andy Pettitte about whether he intends to pitch in 2011. Pettitte, the wily pro, may take one look at the current New York rotation -- the one with A.J. Burnett slotted at No. 3 -- and decide that tossing batting practice to his kids sounds like a better way to spend his summer.
The Rangers need a big arm, too. The presumption within the industry is that they will work doggedly to trade for Kansas City ace Zack Greinke. They have the prospects to do it. But the Royals have leverage. Multiple teams are interested. This could take awhile.
So, chaos reigns in the major leagues. The Phillies are to thank (or blame). And like I said after watching "The Sixth Sense": Yeah, I should've seen that coming.
It's simple, really: Lee and the Phillies can't quit each other.
Their last split wasn't pretty. Immediately after last December's three-team trade, Phillies general manager Ruben Amaro Jr. had to explain why he couldn't keep Halladay and Lee in a rotation for the ages.
The explanation went something like this: We have to be mindful of our payroll. We need to maintain a stockpile of prospects. It's important to plan for the future, too.
It sounded like a rationalization then. Even more so now.
Never far below the surface, there was the perception that Halladay, desperate to pitch in his first postseason, would be easier (read: cheaper) to sign for the long term.
Halladay signed a three-year, $60 million contract as a condition of the trade last December. Otherwise, he would have become a free agent this offseason. (And imagine what the playoff no-hitter would have done to his market value.) Lee, by comparison, just agreed to a $120 million deal over five years.
So, the Phillies were right: Lee will be twice as expensive as Halladay, in guaranteed dollars.
But one year ago, Lee's camp was miffed. They had been discussing an extension with the Phillies, when Amaro acquired a more accomplished pitcher who was willing to work for less money.
"What's kind of been conveyed is something along the lines that Cliff was making exorbitant demands that made it impossible for him to stay in Philadelphia," Braunecker told Paul Hagen of the Philadelphia Daily News last December. "I wouldn't want people to say that he was greedy . . . Cliff's desire all along was to work out a deal long term. He loved it there. It was his desire and intent to stay. Then things changed that were beyond our control."
On Monday night, things were in Cliff Lee's control. That is, you see, the very definition of free agency. And apparently, Braunecker wasn't full of malarkey when he said Lee's interest was to stick around Philly for the long term.
Maybe Lee knew he was destined to sign with the Phillies, as a way to avoid the New York crowds and Texas heat. And maybe Amaro knew it was OK if Jayson Werth signed with the Washington Nationals, as long as he locked up what could become one of the great pitching rotations in baseball history.
Amaro watched his mighty hitters fall to the Giants in the National League Championship Series two months ago, and he had to know that it wasn't a fluke. The San Francisco pitching staff was excellent -- and young. In order to win the pennant, Amaro had to find a way to beat them, pitch for pitch. Guess he figured that a postseason rotation of Halladay, Lee, Roy Oswalt and Cole Hamels will suffice.
Now, it's time for 29 teams to respond. General managers will fire up their computers this morning and ask the universal question: Do we have enough pitching to beat the Phillies? If the answer is no, then pick up the phone. Apologies to the Braves, Reds, Tigers and Angels: The game has changed. Find more pitching.
It's funny. I figured that the Lee signing might signal the end of the Big Intrigue this offseason. Instead, this was just the 13.1 mile marker. Don't cramp up now. We're in for the full marathon.