LeBron says Cavaliers will continue to push the pace in Game 3 vs. Warriors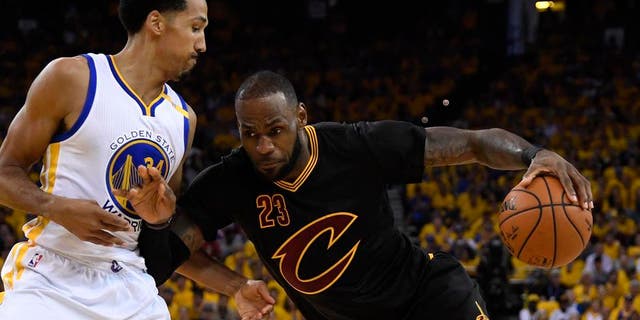 NEWYou can now listen to Fox News articles!
The Cavaliers were run off the floor by the Warriors in the first two games of the NBA Finals, losing each contest by double-digits. Golden State scored a ridiculous 132 in the second game of the series, and if not for the fact that they turned the ball over 20 times in that one, the beating could have been a whole lot worse.
Cleveland has prided itself on trying to push the pace against these Warriors, despite the humiliating results. And that's a strategy that will continue in Game 3 on Wednesday, confirmed by both LeBron James and Ty Lue at media availability on Tuesday.
"That's not our game," James said, when asked about the possibility of trying to slow the game down. "We don't play slowdown basketball."
"We're not going to change our game because of who we're playing," Lue said. "And I'm confident that we can play that way, and we did it last year. A lot of people said we couldn't. But that's our game. That's who we are. And we're not going to change just cause we're playing Golden State."
The Cavaliers might like to believe they're an uptempo team, but a brief check of the season's statistics tell a different story. Cleveland ranked just 16th in pace during the regular season, and were only as high as seventh during the playoffs. The Warriors, meanwhile, finished fourth and second, respectively.
The strategy isn't going to change in Game 3, and we'll find out soon enough whether that's genius or stubbornness on the part of the brain trust in Cleveland. LeBron's comments Tuesday kind of make it sound like the latter, which could lead to the same debilitating result.
"We play at our pace," James said. "We play our game. We got to this point playing our way. We have won a lot of games playing the way we play, so we're not going to change."