LeBron James reaction to J.R. Smith's flub becomes epic meme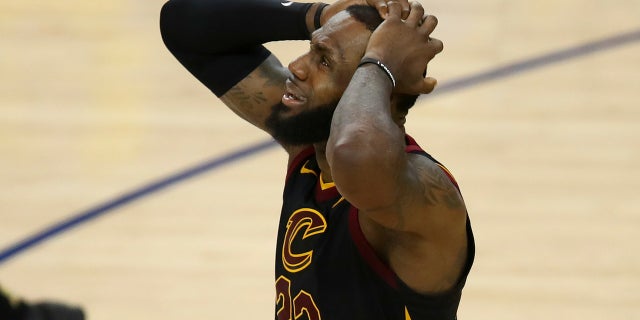 NEWYou can now listen to Fox News articles!
One person's pain is another person's pleasure.
Social media users were turning LeBron James' frustrated reaction to his teammate J.R. Smith's mental meltdown during Game 1 of the NBA Championship on Thursday into internet gold.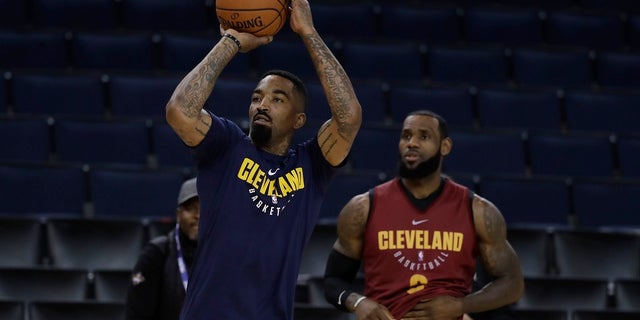 James, the Cleveland Cavaliers superstar, was captured throwing up his arms in disbelief when Smith secured the rebound just seconds before the clock ran down, but instead of trying to put a shot up, he dribbled the ball instead.
Smith claimed he thought his team was up against the Golden State Warriors when he ran out the clock. The game went into overtime and the Cavaliers lost despite James' extremely impressive 51 points.
LEBRON JAMES STORMS OUT AFTER QUESTIONS ABOUT JR SMITH BLUNDER
The image of James gesturing to Smith after his error has created a social media stir. A number of memes have been created using James' distressed reaction to describe a number of other frustrating situations.
"We just left a rest stop! Why didn't you go then?" one social media user wrote under the not-so-candid snap.
"When your mom is yelling at you for something your sibling did," another social media user wrote.
"This must be what parenting is like," a person tweeted.
"When you leave all the doors open but your dog poops in the house anyway," another tweet read.
One person wrote: "A glimpse into Messi's World Cup."
James abruptly ended his press conference with reporters after the game over questions about Smith.
James gave the reporter a few non-answers, but quickly grew tired of hearing the same type of questions. So he walked out of the press conference, telling the media "be better tomorrow."
The Cavaliers and Warriors will meet again for Game 2 on Sunday.
Fox News' Ryan Gaydos contributed to this report.