Lace 'em up, Mona Lisa: New Vikings stadium to include 500 works of art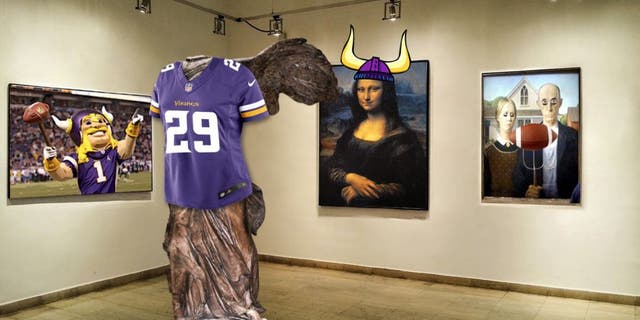 NEWYou can now listen to Fox News articles!
MINNEAPOLIS -- When the Minnesota Vikings' new stadium opens next year, it will have an art collection that might be the envy of some museums.
U.S. Bank Stadium will feature about 500 artworks, including roughly 200 commissioned paintings, sculptures, digital and installation pieces, plus 300 photos.
The Vikings and the family of the team's owner, Zygi Wilf, are paying for all of the art, which is expected to cost "several million" said Tanya Dreesen, a team vice president.
"This is a privately funded collection," Dreesen said. "We are excited to make everybody aware that we are paying these artists. It's putting artists to work, quite frankly, and their work will be displayed in public areas and our clubs and suites."
The collection's pieces were created by 34 Minnesota artists, from nationally known talent to recent art school graduates. They even include ceramic art by former Vikings star Carl Eller.
"I'm really excited about it and was very happy to be selected," said Eller, a Hall of Fame defensive end who turned to ceramics as a hobby and shows his creations at art fairs, according to the Star Tribune.
The artists were picked from more than 1,100 applicants by Sports & The Arts, a California-based company specializing in stadium projects. All projects will be new designs specific to the stadium.
"We were overwhelmed by the number of submissions, and they're very good artists, so I think the Vikings' stadium will top everything we've done before," said Camille Speca, a SATA partner. The company's previous clients include Yankee Stadium in New York City, the San Francisco 49ers' Levi's Stadium and the Marlins' ballpark in Miami.