Kyrie: Cavs 'itching to play' as they await opponent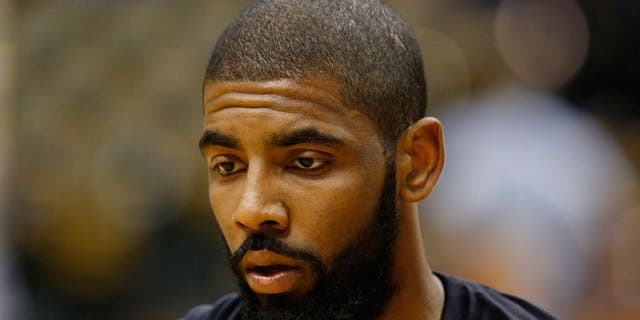 INDEPENDENCE, Ohio (AP) -- Kyrie Irving misses the sounds, the sights, the stress of the NBA playoffs.
The All-Star point guard isn't the only one.
"We're itching to play," Irving said.
The Cavaliers are still waiting.
Coverage of the Eastern Conference Finals begins Wednesday with Cavs Live pregame at 8 p.m.
With Washington and Boston headed to a Game 7 on Monday, Cleveland's break since sweeping Toronto in the second round just grew a little longer. By the time the Cavaliers take the floor for Game 1 of the Eastern Conference finals next Wednesday, it will have been nine days between games -- the longest layoff since LeBron James took them to the postseason back in 2006.
For Irving and his teammates, the break has grown boring and somewhat burdensome, testing their patience and willpower. Coach Tyronn Lue has resisted the temptation to let his players scrimmage 5 on 5, instead limiting their workouts to glorified walk-throughs.
Irving said the unbeaten-in-the-postseason Cavs are ready to run.
"We're not necessarily shooting the ball, we're just running through plays, some guys get a little bit antsy and mad and they want to go to the basket and finish plays," he said. "Just get everything firing again because you miss the contact, you miss getting hit and being able to be there for your teammate and get hype and go in transition. Just the little nuances that make this game so beautiful and competitive and you love it.
"When you're not playing it, as of right now, you try to do anything to keep you sharp."
Lue has been doing everything he can to keep his players focused and energized during the long layoff. On Saturday, the team worked on some defensive rotations in preparation for either the Wizards or Celtics, both of whom have star guards and high-scoring backcourts.
"You got to keep them engaged and show them new things," Lue said. "I've got to trick them at times, but they've been pretty locked in and we've just got to continue to do what we do. It is what it is, and we just got to continue to work on what we need to get better at and then whoever we play we just got to be ready."
Lue's decision not to scrimmage was initially met with some resistance, but the players now understand his logic better after backup center Walter "Edy" Tavares broke his right hand during an organized pickup game between Cleveland's reserves before Thursday's practice.
While Tavares' injury won't tilt the balance of power in the East, his loss does deprive Lue of another big man for depth in case of injury or foul trouble. It's also the latest setback for a Cleveland backup center. Earlier this season, Chris "Birdman" Anderson and Andrew Bogut suffered season-ending injuries and Larry Sanders, signed after sitting out two seasons, was released on the eve of the playoffs.
The 7-foot-3 Tavares signed on the final day of the regular season and scored 10 points with six rebounds and six blocks in his debut. He may not have played in the postseason, but he was another body for practice and insurance in case Tristan Thompson or Channing Frye got hurt.
Irving said seeing Tavares go down was a quick reminder that it's better to be safe than sorry while waiting for the next round.
"I understand how important it is," Irving said. "I was about to come out and play 5 on 5 and the incident (Tavares getting hurt) happened three seconds later as T-Lue comes out of the door. Nah, I'm not for scrimmaging right now until the game."
The Cavaliers have been passing the time with some intense conditioning sessions on a VersaClimber, an aerobic contraption Irving calls "a beast." They've worked on their shooting and each day has ended with the players doing yoga while the lights inside Cleveland Clinic Courts are turned off.
Soon enough, Irving and his teammates will return to the bright glare of the postseason.
Until Cleveland knows its next opponent, James has abstained from talking to the media, a decision his coach didn't know about.
"I didn't know that," Lue said. "No wonder he has been wanting to have practice every day, he didn't have to talk. Oh, OK. That makes sense."