Kyle Busch on JGR's slow Cup start: 'We're just not there yet'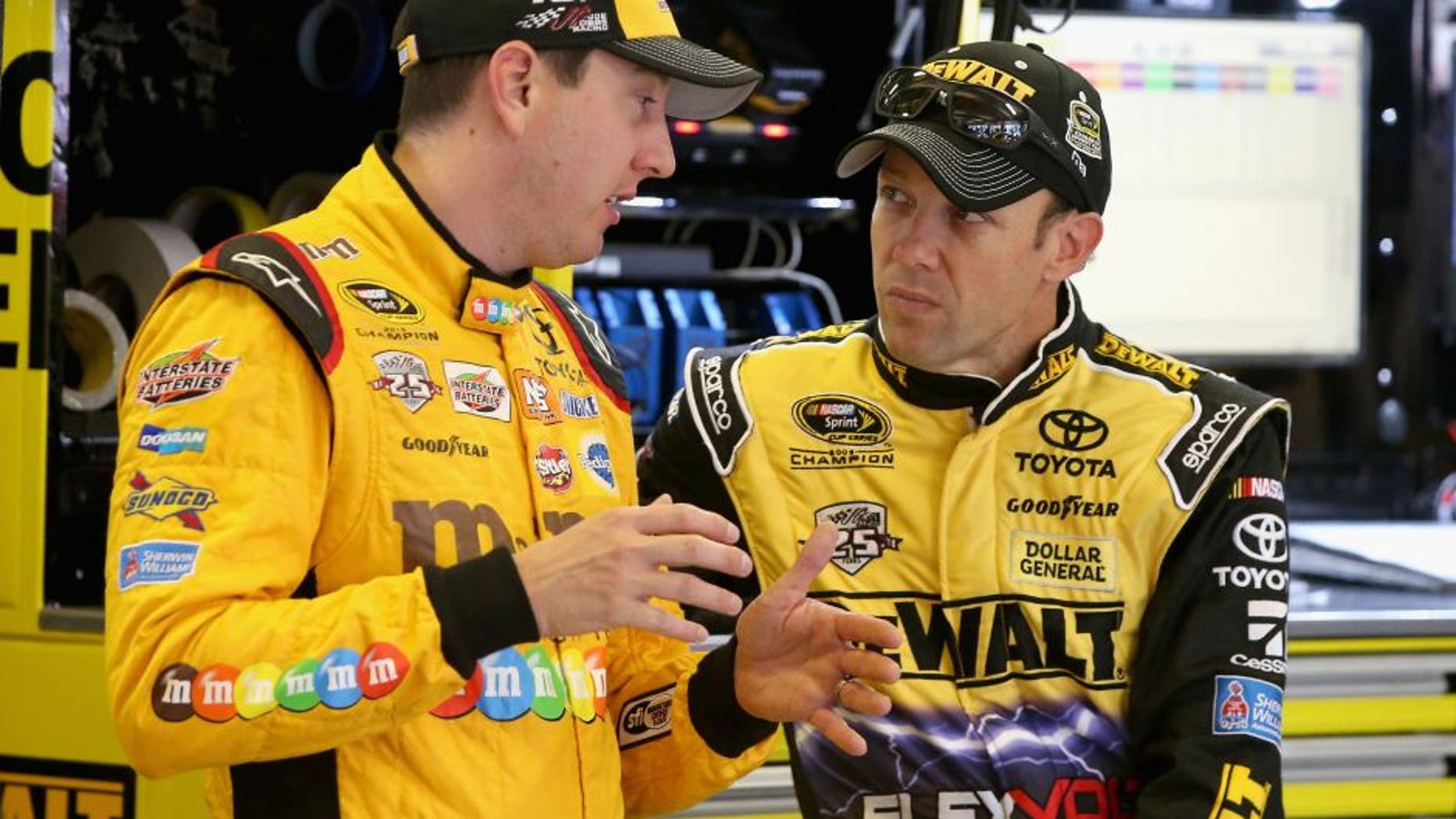 LAS VEGAS -- Through the first two races of this Monster Energy NASCAR Cup Series season, Joe Gibbs Racing has zero wins and only one top-five and top-10 finish among its four very capable drivers.
Not only that, but in their eight combined starts, the JGR drivers have failed to finish half of their races.
That is not what anyone has come to expect from JGR, least of all JGR itself.
But as the JGR stable of drivers that includes Kyle Busch, Matt Kenseth, Denny Hamlin and Daniel Suarez prepares for this Sunday's Kobalt 400 at Las Vegas Motor Speedway, is it a cause for real concern? Or does the slow start to the 2017 season just require a bit of patience?
Kenseth, for one, is voting for patience.
"Well, I mean, man, you're only two weeks in," Kenseth said. "And really, it's hard to count Daytona. For everybody, it's so easy to get caught up in a wreck there."
That is exactly what happened to Kenseth and Kyle Busch on the same lap at Daytona, when Busch's car lost a tire and he lost control of his No. 18 JGR Toyota -- taking himself and his teammate out just past halfway in the 200-lap race. Suarez, the rookie in an otherwise veteran JGR bunch, also wrecked out of the race later on Lap 141. Hamlin's DNF came at Atlanta when a rear-end mechanical failure put him out of the 325-lap race on Lap 182.
Kenseth chalks that up to bad luck and the general unpredictable nature of restrictor-plate racing on a superspeedway like Daytona.
"Our wreck at Daytona, I really didn't have anything to do with that," he said. "We were just in the wrong place at the wrong time, so there's just nothing you can do about that. I don't put a lot of stock in where you leave in the points standings after Daytona. I just never have because it doesn't really have much to do with the rest of the season."
Throw in Hamlin's DNF at Atlanta when a rear-end mechanical failure put him out of the 325-lap race on Lap 182, and you have the mess that has become the collective start of JGR's 2017 season. Their only really great finish was the third Kenseth managed at Atlanta despite being set back in the field twice by pit-road speeding penalties.
"Last week (at Atlanta), Denny had mechanical failure. ... I thought we ran pretty well really the whole day," Kenseth said. "We just had those speeding penalties that cost us."
Kyle Busch said some of JGR's early struggles were to be expected with NASCAR's new rules.
"I don't think that this was a surprise to anyone that the lower downforce package was going to hinder some teams," Busch said. "We all knew it and expected it and we worked on it through the offseason as best we could to get ready and prepare. But there's some other groups that maybe have done a better job of preparing for it than we have.
"You know, we've just got to go to work on some fundamentals and some things that will get our race cars feeling better, feeling better alone, feeling better in traffic, being able to pass cars, having the speed that we need to have. It seems like we can have the speed for one or two laps."
But he also votes for patience. In time, he said he's sure his No. 18 Toyota team and JGR as a whole will get it right.
"We're trying, and we're trying some different things each week in order to try to get better to find something that I like that we can move forward with through the year," Busch said. "Sometimes you start slow and you've got to build up to it, and other times you're right on it right from the start. We're just not there yet."