Konerko hits 2-run shot for 1st home run of season in White Sox' 4-3 loss to Diamondbacks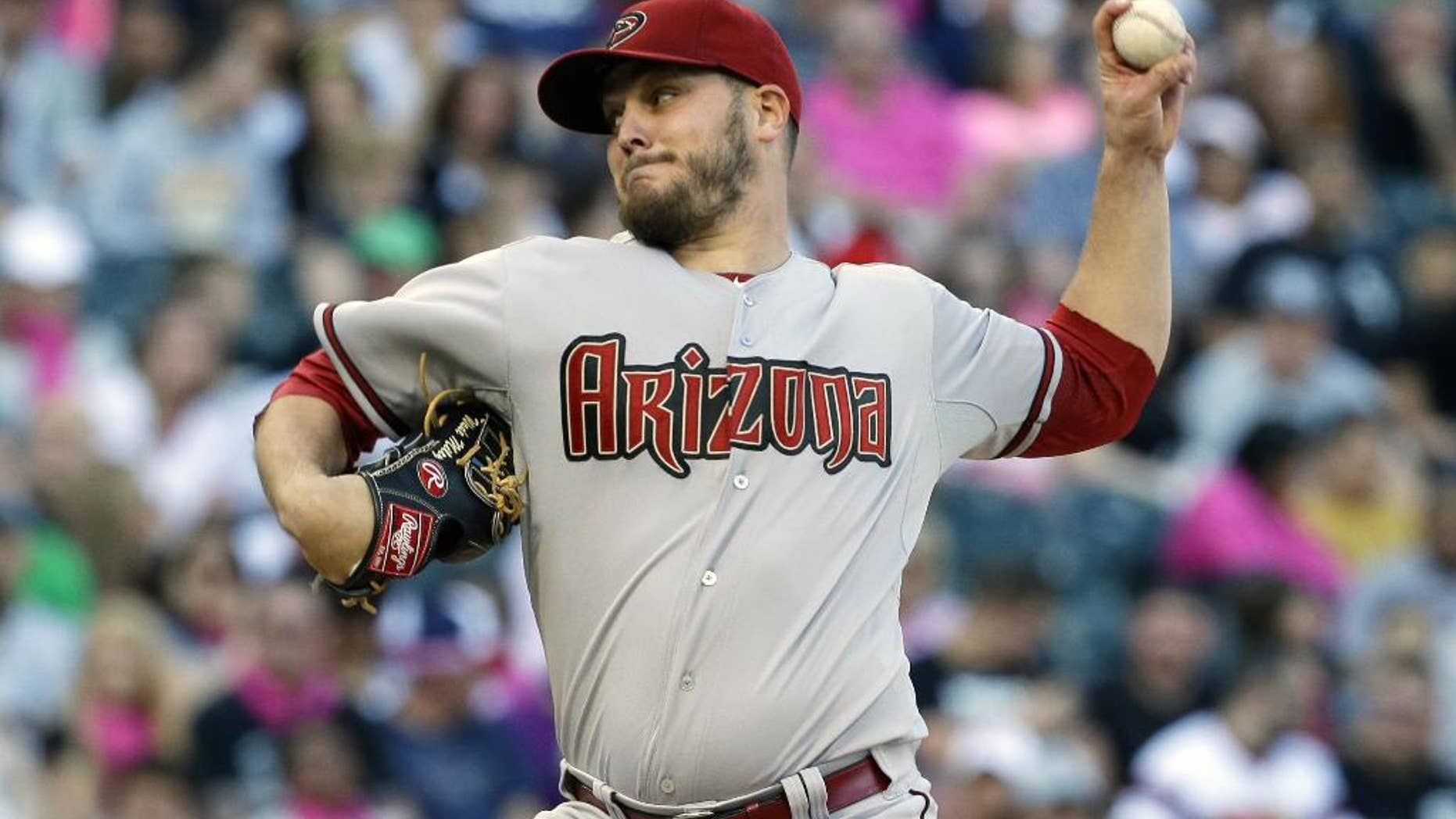 CHICAGO – Paul Konerko's first home run of the season wasn't enough to lift the Chicago White Sox to victory.
After winning five of six, the White Sox, leading the American League in runs scored, were shut down by Arizona Diamondbacks' starter Wade Miley 4-3 Saturday night.
But it went down to the final out with Konerko at the plate, but he couldn't duplicate his success from earlier in the game, grounding out with the tying run on second.
Konerko, who is playing part time in his 18th and final season, hit a two-run line drive over the left field fence to bring Chicago to within 3-2 in the fifth. It was his 435th homer of his career, moving him past Juan Gonzalez and Andruw Jones for 43rd on the career list.
"When you're not playing as much, you kind of want to try and get as much as you can out of one game," Konerko said after his eighth start of the season. "It was a real good swing. I was happy with it," Konerko added.
As Konerko rounded the bases, the fans began the "Pauly chant.
"That was really good," White Sox acting manager Mark Parent said. "The fans really appreciated it and I know we do."
He was playing first base for Jose Abreu, who is nursing an ankle injury while hitting in the DH spot. Abreu had a rare off night at the plate, going 0-4 with three strikeouts. Chicago left only three men on base, as they had few scoring opportunities.
"I wasn't going to let him (Abreu) beat us," Miley said. "We pitched him like it was 0-2 from the start. We were able to get him to swing at some breaking balls down."
This marks the 14th time that the White Sox (19-19) have hit the .500 mark. They have been no more than three games under and two games over the break-even point.
Miley pitched seven strong innings and Cody Ross had three hits.
Miley (3-3) allowed two runs on four hits while striking out six and not allowing a walk. His only mistake came on an 0-1 pitch to Konerko.
Former White Sox closer Addison Reed flirted with disaster in his first meeting against his former team before getting his 11th save in 12 chances. Reed, who was traded to the Diamondbacks from the White Sox in the offseason, gave up a leadoff single to pinch-hitter Conor Gillaspie, who ended up scoring on Alexei Ramirez's two-out single. Ramirez stole second but was stranded after Reed got Konerko to bounce out to second.
The White Sox lost for just the second time in seven games.
White Sox starter Jose Quintana (1-3) went six innings, allowing three runs on seven hits with five strikeouts and a walk. The left-hander was done in by a rough fifth inning.
Alfredo Marte hit an RBI double in the fifth and scored on A.J. Pollock's single. Martin Prado extended the Diamondbacks' lead to 3-0 with an RBI sacrifice fly. The Diamondback hitters worked the count, forcing Quintana to throw 29 pitches in the inning.
Miley faced the minimum through the first four innings. He consistently got ahead of White Sox hitters and got help from a double play in the fourth.
Konerko's homer was his first of the season and 435th of his career, moving him past Juan Gonzalez and Andruw Jones for 43rd on the career home run list. Konerko, playing his 18th and final season, has been used as a bench player. He was playing first base for Jose Abreu, who is nursing an ankle injury while hitting in the DH spot.
Arizona picked up an insurance run in the seventh. With the bases loaded and one out, Miguel Montero lined a single off the mitt of right fielder Moises Sierra to give Arizona a 4-2 lead. White Sox reliever Zach Putnam escaped further damage by getting Aaron Hill to ground into a double play.
NOTES: Before the game, White Sox LHP Chris Sale threw a successful simulated game. He threw 50 pitches pain free. He will likely make two rehab starts before returning with the White Sox in two weeks. He's on the 15-day disabled list with a strained flexor muscle near his left elbow. He hasn't pitched in a game since April 17. ... The White Sox purchased the contract of reliever Frank Francisco and designated Maikel Cleto for assignment. ... Arizona starter Chase Anderson is scheduled to make his major league debut Sunday. ... White Sox bench coach Mark Parent filled in for manager Robin Ventura, who missed the game to attend his daughter's graduation.