Klinsmann: Brooks, Yedlin in line for Mexico playoff, not Olympic qualifiers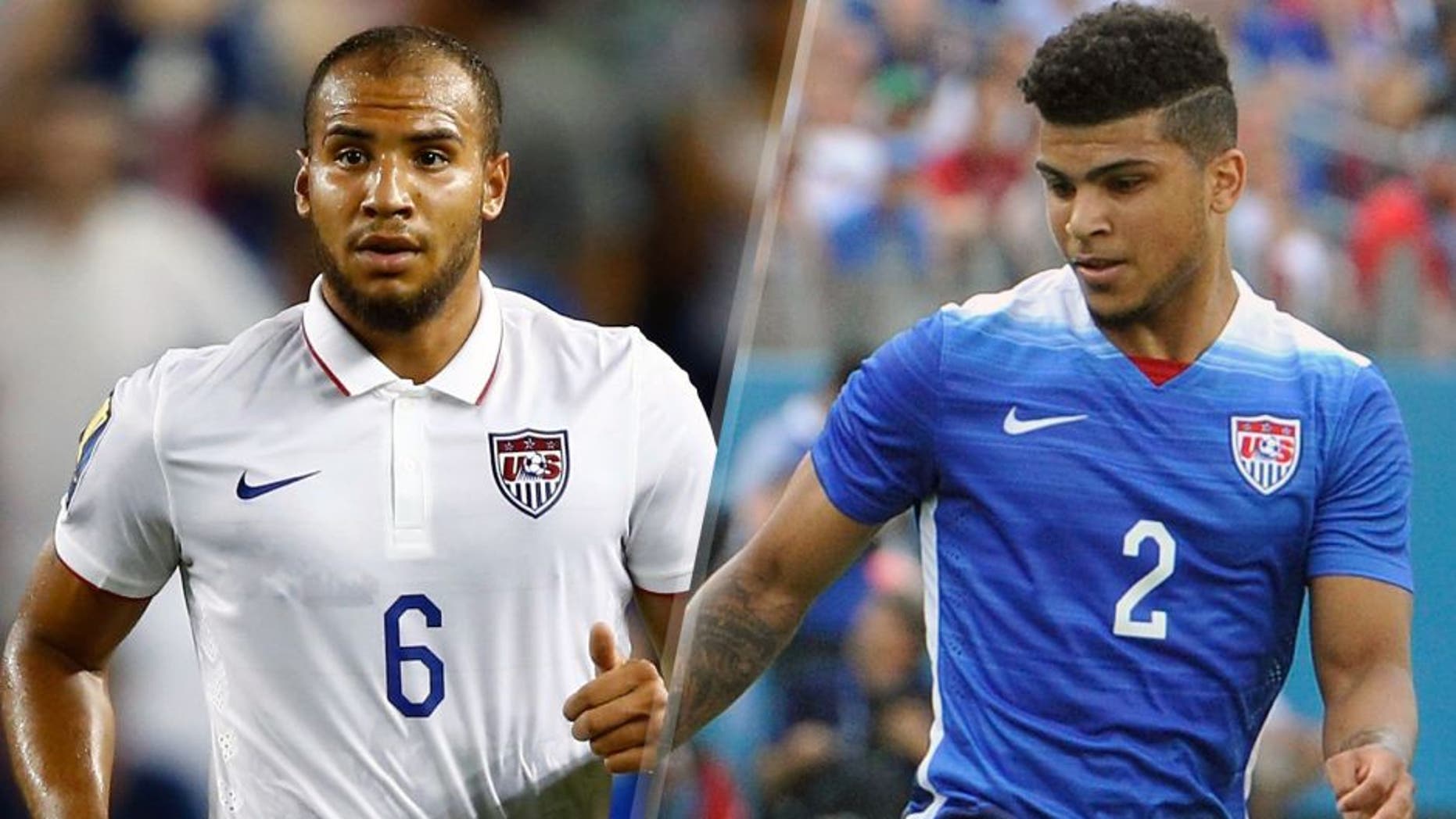 BOSTON --
John Brooks and DeAndre Yedlin will remain with the United States senior team for the Confederations Cup playoff against Mexico instead of featuring in Olympic qualifying, U.S. coach Jurgen Klinsmann confirmed on Monday.
Brooks and Yedlin are both age-eligible to feature for the under-23 Olympic team, but the qualifying tournament to determine the two guaranteed CONCACAF berths in Brazil next summer conflicts with the vital senior team match against Mexico on Oct. 10.
Klinsmann confirmed Brooks and Yedlin remained firmly on the senior team radar for the one-off encounter at the Rose Bowl, not the potentially decisive semifinal encounter for the Olympic side in Sandy, Utah on the same day.
Both players always loomed as likely choices for the senior team given their regular places in the setup and the potential complications of asking for their releases from European club teams. Clubs are mandated to release players for senior team fixtures during FIFA match dates, but they are not required to do so for age-group matches, according to FIFA regulations. Olympic qualifying begins on Oct. 1, four days before the start of the FIFA window (Oct. 5-13).
There are no such hurdles with Stanford forward and potential Olympic qualifying linchpin Jordan Morris, but Klinsmann said Morris' status for that international window remains uncertain.

"We haven't made the decision yet on Jordan Morris yet if he joins us toward the Mexico game or goes with the Olympic team, but definitely John Brooks and DeAndre Yedlin will be with the senior team," Klinsmann said in a press conference.
Morris earned a late call-up to the senior team for the friendly against Brazil in Foxborough, Mass. tomorrow. Klinsmann said his staff monitored Morris carefully at the start of the college season to track his recovery from leg surgery earlier this summer.
Klinsmann said he planned to include Morris with the squad for a couple of days anyways, but he summoned him to play a part on the roster after Seattle forward Clint Dempsey stayed with Sounders FC to continue his recovery from a hamstring injury.
"Jordan is just getting better every game right now with Stanford," Klinsmann said. "We've had people out there watching his games. We called him in based on Clint not being with us."
It is a decision that offers Klinsmann more depth up front as he contemplates his choices for the date against the five-time World Cup winners at Gillette Stadium. Klinsmann said he also expects to have Brooks at his disposal in defense after an injury scare over the weekend.
Brooks exited the training field yesterday after a brief jog. He subsequently left the field with ice tightly packed around his right hamstring as his teammates went through the rest of the session.
Klinsmann confirmed Brooks experienced tightness in that hamstring, but he noted that Brooks should recover in time to place his name into contention to feature against the Selecao.
"With John, we left him out because he had muscle tightness," Klinsmann said. "He just stiffened up. He should be alright [to play Brazil]."