Khabib Nurmagomedov and Diaz brothers get into brawl in Las Vegas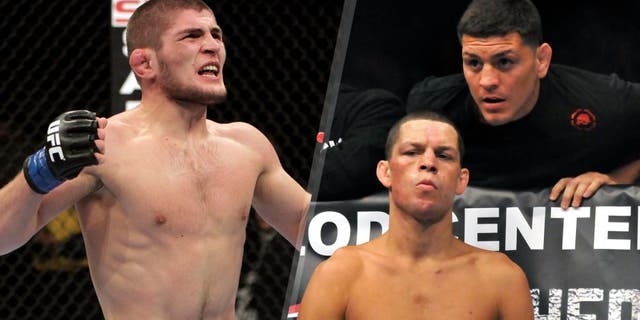 While Ronda Rousey was in Brazil destroying yet another opponent in record time, there was another fight happening in Las Vegas between top-ranked UFC lightweight contender Khabib Nurmagomedov and Nick and Nate Diaz.
Unfortunately, it was a brawl in the middle of a mixed martial arts card that eventually ended up in the middle of Planet Hollywood with dozens of police officers being called to the scene.
The melee started when Nate Diaz and Nurmagomedov had a heated talk behind the stands at the event. The two lightweights have been embroiled in a war of words via interviews and social media, and the bad blood finally boiled over on Saturday night.
According to World Series of Fighting vice president Ali Abdel-Aziz, who helped break up the fight, it was Diaz who threw the first punch before the brawl pulled in dozens of onlookers who got involved in the melee as well.
"Nate went to Khabib and they just got talking," Abdel-Aziz told MMAFighting.com. "They exchanged words and Nate threw a punch. I saw Nate throw a punch."
After the initial brawl between the two fighters, Nate's brother Nick got involved and a video surfaced after the event appearing to show the elder Diaz brother chucking a beer at Nurmagomedov before another fight breaks out between the two factions.
It appears tensions didn't cool down after the event either with another huge fight breaking out in the Miracle Mile section of Planet Hollywood in Las Vegas. A separate video appears to show the younger Diaz brother involved in yet another altercation.
While it's unclear how this one erupted, Nate Diaz apparently can be seen in the video mixing it up with somebody before a metal sign is thrown in his direction as police intervene.
The incident happened thousands of miles away from UFC 190 in Brazil. Still, UFC president Dana White said he was made aware of the brawl but didn't have enough information to make any kind of statement about what happened.
"I heard about it but I don't know enough about it to speak about it," White stated at the UFC 190 post-fight news conference.
As of now it doesn't appear any charges have been filed by police in the matter, and the fighters' names aren't listed on the incarceration list for Las Vegas. The UFC still holds the right under the fighter code of conduct policy to levy fines or suspensions on any or all of the athletes involved considering they are under contract to the promotion.
Abdel-Aziz also stated after the brawl that the Diaz brothers would no longer be allowed to attend World Series of Fighting events.