Keselowski reveals how surgery saved infant daughter's life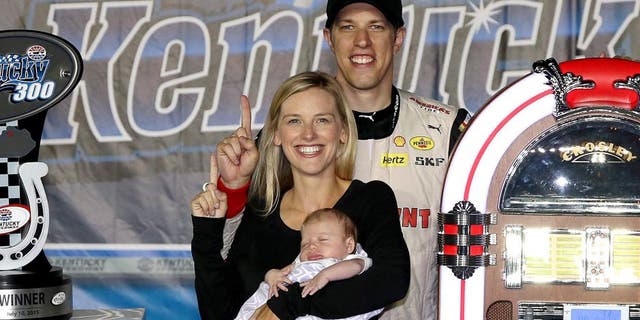 Since Brad Keselowski and girlfriend Paige White became first-time parents on May 20, the couple have been hesitant to share many details about their infant daughter, reluctant to even disclose her name publicly.
That all changed, however, when Keselowski revealed on his personal blog late Wednesday that his daughter Scarlett was given "a fatal diagnosis" less than a month after birth.

Keselowski, the 2012 Sprint Cup Series champion, wrote that Scarlett was having trouble breathing on June 14 while the Sprint Cup Series raced at Michigan International Speedway. After taking their daughter to the track's infield care center to be evaluated, the new parents returned home to Charlotte, N.C., where Scarlett underwent further medical evaluation.
Told by an ear, nose and throat specialist on June 16 that Scarlett would eventually lose the ability to breathe and eat, Keselowski and his girlfriend panicked, as any parents would.
"It's fair to say that those hours were among the worst in my life and Paige's," Keselowski wrote on his blog. "As a parent, this was pretty much your worst nightmare. We went into full freak-out mode."
After contacting more doctors, the couple decided to take their daughter to the world-renowned Mayo Clinic in Rochester, Minn., where doctors diagnosed Scarlett with laryngomalacia, a weakness in the muscles of the throat that's fairly common in infants. Although Scarlett's case was atypically severe, the doctors believed they could save her life through emergency surgery, which they performed the day after her diagnosis.
It just so happened that Scarlett's visit to the Mayo Clinic coincided with a rare off-week for the Sprint Cup Series. On Father's Day, when the Sprint Cup Series was idle, Keselowski and Paige were able to take Scarlett home. She has since made a full recovery.
"Our extended family came over to see her," Keselowski wrote. "I kept thinking about how lucky we were that everything happened during an off week, and that Paige and I were in the same place when it all began. I thought about how lucky we were for the doctors at the Mayo Clinic, and that we had gotten there in time for the surgery. The whole thing was an incredible emotional roller coaster."
When Keselowski won the XFINITY Series race at Kentucky Speedway on July 10, Scarlett and Paige were both there with him in Victory Lane. It was a moment the driver will forever cherish, especially when thinking about what might have been.

"Reaching Victory Lane always involves overcoming some kind of adversity, and that adversity makes you appreciate the success that much more," Keselowski wrote. "Just winning a race on its own is hard enough. The odds are always stacked against you. But they'd never been stacked the way they were against Paige, Scarlett and me in the weeks before that race.
"When the media was done asking me questions, I had a short break before the next Victory Lane activity. I went over to Paige. Just seeing Scarlett in her mother's arms, smiling and healthy, was surreal and overwhelming. I'd never had my personal and professional lives come together like that. It was something else."
The most emotional part for Keselowski came when Paige handed Scarlett to him in Victory Lane.
"All I really wanted to do was sit down next to the car, and hold Scarlett for a while," Keselowski wrote. "I only got a minute or so, and then it was time to move on for pictures or whatever else was next. But just being there, holding Scarlett -- it was the culmination of one of the most powerful experiences of my entire life. I honestly can't think of anything to compare it to. It felt like its own victory. It really did."