Julio Cesar Chavez Jr Wins Middleweight Title in El Paso Fight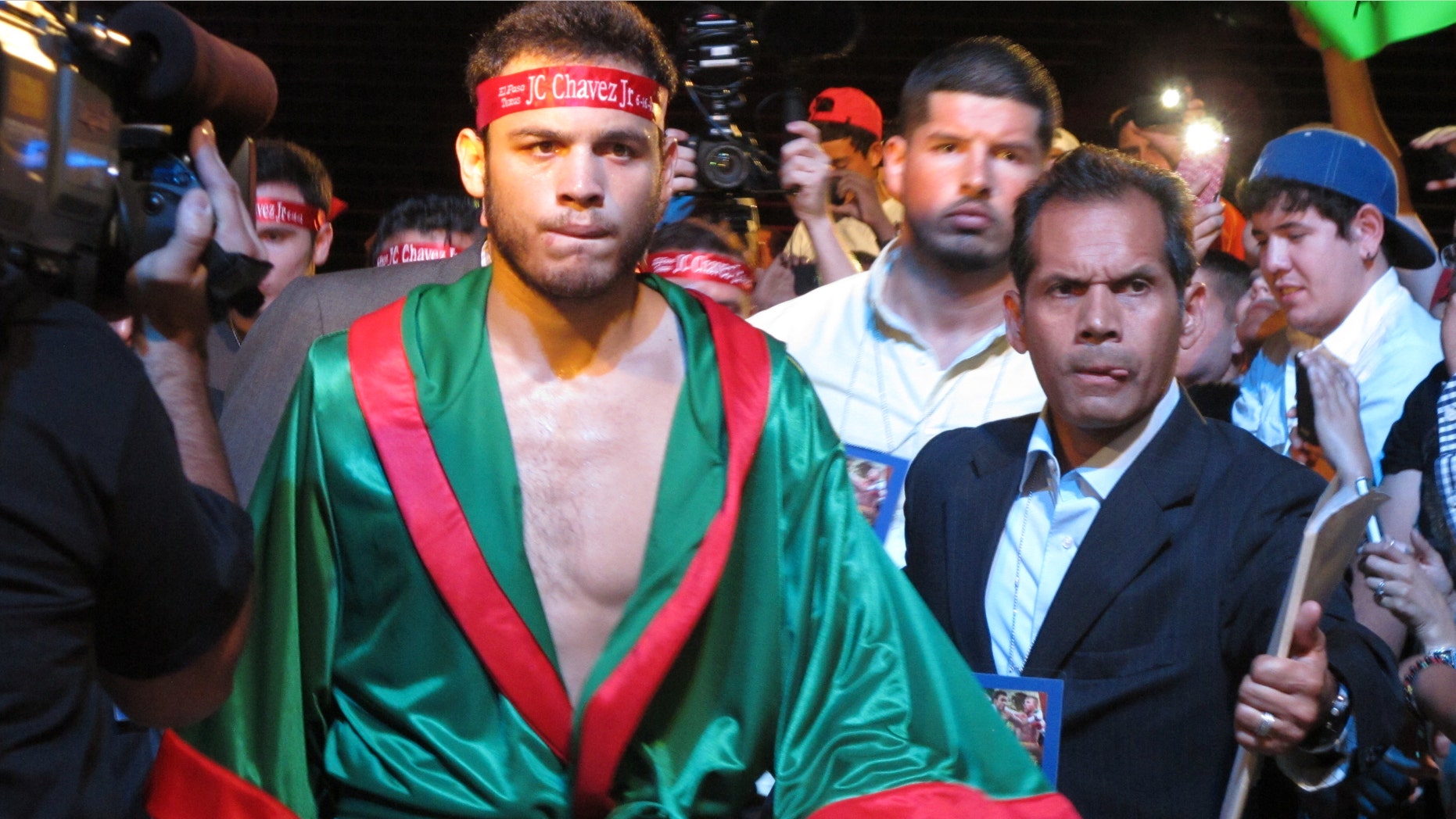 El Paso, Texas – Julio César Chávez, Jr. defeated Andy Lee for the World Boxing Council's middleweight title in El Paso Saturday evening, in a fight that had raised security concerns after federal investigators warned rival Mexican drug gangs may show up.
Chávez, now 46-0-1 with 32 knockouts, was declared winner during the seventh round. Lee is now 28-2.
The fight brought in 13,467 fans to the University of Texas-El Paso's Sun Bowl stadium.
Lee hails from Limerick, Ireland. Chávez, whose father is a retired professional boxer, is from Sinaloa, Mexico.
Traditional Mexican music blared as the fans fired themselves up for the match.
"Go Chávez! Go Chávez!" yelled Angelica Esparza as she and her large family entered the Sun Bowl.
El Paso mayor John Cook welcomed the crowd before he performed the National Anthem by singing and playing the guitar.
Both Chávez and Lee arrived at the stadium in stretch Hummer limousines. They both entered the area with serious, confident-looking demeanors.
"During the first round, my legs were bothering me," said Chávez, who nevertheless took ownership of the ring.
Many were thrilled to have El Paso host the championship and to see a Mexican man up for a second-run at winning the WBC middleweight title.
"Nothing like this has ever happened! Nothing this big, especially someone who (is) Hispanic like César Chavez," said Maggie Garcia of El Paso.
The match brought an international audience. Not only was it televised into millions of homes around the world, but many fans also crossed from Ciudad Juárez, Mexico, just across the border from El Paso.
Enrique López, who studies at the university and commutes from Juárez, waved a Mexican flag in the air with his friends in the stands. Some Irish flags were also scattered throughout the Sun Bowl.
"He's the son of a legend, Julio César Chávez." López said. "I followed him since I was little."
López had anticipating the match for months. When the University of Texas temporarily called off the fight in April over Chancellor Francisco Cigarroa's security concerns, López was among the many El Paso fans left furious.
Cigarroa feared the rival Juárez and Sinaloa drug cartels would attend the match, raising the possibility of violence.
But López wasn't worried.
"I was pretty upset. I actually came to the (press) conference, and I was yelling: 'please keep the fight!'"
The stadium is about 500 yards from the U.S.-Mexico border.
"I know there's a lot of security, it's not a big deal," said spectator José Aguino.
Yet Chávez supporter Garcia wasn't entirely certain of her safety.
"I am a little worried. You never know," Garcia said.
The university's police department ran security. Many other law enforcement agencies also provided heavy patrol.
"It's not uncommon for special events, like the Sun Bowl, stadium concerts we have here, boxing matches, events like that, to have this type of security. It's not just El Paso, it's large cities with large events," said Veronqiue Masterson, spokeswoman for the university.
Spectators were inspected at the door by a wand and were patted down. No alcohol was sold, despite Mexican beer maker Tecate being a sponsor of the event.
Now Chávez will face off lineal middleweight champion Sergio Martínez for the WBC championship on September 15th in Las Vegas.
"It's (going to be) hard fight for Sergio," Lee said after the match.
Chávez looks forward to going up against Martínez and he's proud of his performance on Saturday.
"It's a dream and I am living the dream," said Chávez in a press conference following the match. "Everything is a gift for my dad," concluded Chávez, in honor of Father's Day.
Lee was not present at the press conference.
Fox News Latino reached out to the University of Texas-El Paso public information office on Saturday for comment of any security issues that may have occurred during the event. They did not immediately respond.