Joseph Duffy heartbroken to miss Ireland fight but only got better since then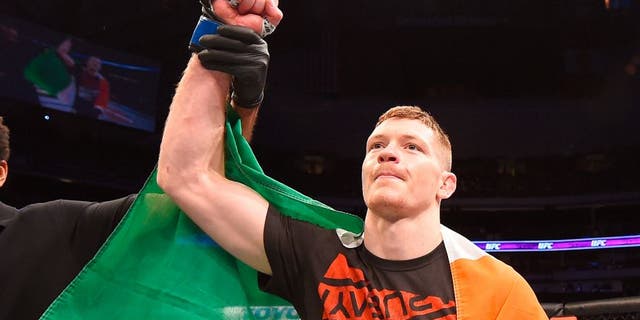 As excited as Joseph Duffy is to fight at UFC 195 on Saturday night, a part of him can't help but still feel heartbroken after he was forced to withdraw from his last scheduled bout in October, where he would have headlined a card in his native Ireland.
Duffy is considered one of the sport's fastest-rising stars and a headline bout against Poirier in front of his home country fans would have been a high point for the lightweight contender. But just days before he was scheduled to compete, he suffered a flash knockout in training that resulted in a slight concussion.
Duffy traveled to Ireland with the intention of fighting, but once doctors heard about the incident and checked him out, he was pulled from the bout for precautionary reasons.
"It was really a bit of a whirlwind I suppose. I'm glad to be on the other side and got the fight rescheduled. It was tough. Obviously getting the news was heartbreaking and missing the opportunity to fight on home soil, especially being my first main event. That was tough to take," Duffy told FOX Sports.
"I was really looking forward to it but unfortunately it just wasn't meant to be."
Duffy isn't exactly thrilled to relive the moment where he got caught with an accidental blow in sparring that caused the concussion, but he's also making it clear that it wasn't some irrational training session just days before his fight that caused him to drop out.
When Duffy's head injury was revealed, many questioned why the Irish lightweight was sparring that close to the fight in the first place.
Duffy says it wasn't anything out of the ordinary except for the glancing blow that just happened to land right on the button that led to a slight concussion and his eventual exit from the fight.
"It was just a freak accident. I moved the wrong way and the shot came and I didn't see it," Duffy explained. "These things happen. We're in a contact sport and these accidents are always going to happen. Even if it happened within 30 days of the fight, as far as I'm aware, the fight wouldn't have taken place anyways.
"There's always a cooling off period when you're talking about concussions. You can't stop sparring four weeks before a fight. Now and again these things happens unfortunately."
Duffy says he spoke to Poirier in Ireland after he was yanked from the main event and despite their shared disappointment, he appreciated that the American Top Team lightweight handled the entire situation with class.
He also defended Poirier's decision not to fight that same weekend, and it all worked out for the better so they are now able to meet this Saturday at UFC 195.
"I spoke to Dustin when we were there and it was a fight we were both interested in. I totally understand the position he was in. He was putting everything on the line taking that fight on three days' notice," Duffy said. "I understood his decision and gladly we managed to get the fight rescheduled so we can get back to doing our thing."
Since that fateful week in Ireland, Duffy has traveled back across the pond to Montreal, where he does his training camps under the watchful eye of head coach Firas Zahabi and the staff at Tri-Star in Canada.
If there's one positive he can take away from the entire experience over the last few months it's that Duffy has actually gotten better since the last time he was scheduled to meet Poirier.
It's just one more stepping stone for Duffy to make his eventual push into title contention, and he plans to show off a few new tricks when he faces Poirier at UFC 195.
"I feel like there's so much room to grow. The more time I'm spending at Tri-Star, my game is just going through the roof," Duffy said. "We got more time to grow again so by the time the fight comes, you're going to see an even better Joe Duffy and hopefully the best Dustin (Poirier) will show up and we'll have a great fight for the fans."