Joseph Benavidez reveals how he tore his ACL and timeline for return to the UFC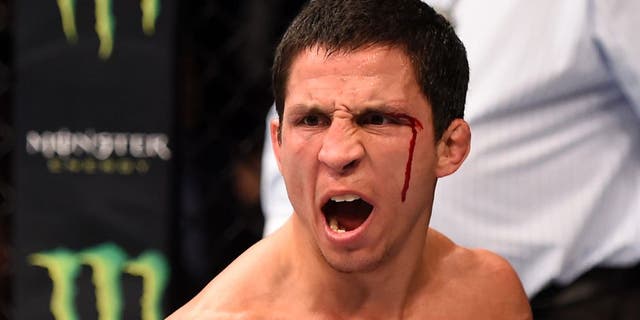 NEWYou can now listen to Fox News articles!
Joseph Benavidez had never pulled out of a scheduled fight during his career, so it was a heartbreaking call when he had to tell the UFC matchmakers that he was not going to be able to compete at this weekend's UFC Fight Night card in New Zealand.
Benavidez was scheduled to meet Ben Nguyen on the card, but he suffered a knee injury in training that was ultimately diagnosed as a torn ACL that put him into surgery two weeks ago.
According to the two-time flyweight title contender, the injury happened without any contact on his knee but instead just one of those freak occurrences where one wrong step led to a serious injury.
At first, Benavidez says he didn't actually think anything was wrong because while his knee gave way for a moment he didn't feel any pain whatsoever so he stood back up to start his sparring session again.
That's when he realized something was seriously wrong and this was going to require a trip to the doctor.
"It didn't hurt or pop or anything. It was really weird," Benavidez explained. "Got back up and was like 'that was weird' and my coach was like 'what happened?' I was like I don't really know but I felt fine, my knee felt good, I was bending it and I was like all right I got up again.
"Got up again, literally exploded off it again and it just crumbled again."
An MRI revealed that Benavidez had suffered a torn ACL an injury that typically puts an athlete on the shelf for the better part of a year, which is never an easy diagnosis to receive.
Once Benavidez went in for surgery, he says his doctors actually found more damage done to his knee that also got repaired.
"I tore my ACL was the injury and then when I went in for surgery, they had to fix my LCL, my meniscus and another tendon on the back," Benavidez revealed. "It was all just thrashed, too and they said it could have been old stuff. So they fixed it all up. Recovery, it's challenge. That first week was one of the most challenging of my life, my career
"It was a little different because I had my ACL initially and then once they went in and clinically test me and cut me open, they saw everything else that was wrong. So honestly, I think it's the same long term, it's a little bit different short term. My first six weeks is a little harder than if it was just my ACL."
Thankfully due to advances in sports medicine, an ACL injury in 2017 is far different than the same surgery that was done a decade ago with recovery time much faster now than ever before.
Conor McGregor suffered a torn ACL during his fight with Max Holloway in 2013, but he was able to return to the Octagon nine months later thanks to a quick recovery and rehabilitation.
Benavidez expects his timeline to be somewhat similar so he can resume his career in less than a year.
In addition to the surgery he received in Los Angeles, Benavidez has also been able to take advantage of the new UFC Performance Institute that just opened in Las Vegas.
Benavidez says all of his physical therapy and treatments are being handled at the Performance Institute with no cost to him out of pocket as the UFC has provided him that care while he's recovering.
"We have physical therapy there now so any fighter with an injury in the UFC can come to Vegas and get treatment every day. Fighters in Vegas can go in. Your back, your ankle, anything, then you go in get [physical therapy] with a world-class physical therapist who worked 10 years at the Olympic training center," Benavidez explained.
"I'm in good hands. I get to go there every day. That place is incredible. They're going to give me meals every day and then [the physical therapist] is going to work on meevery day, and she's literally done thousands of ACL [injuries]. It's really cool. It's cool to see that Performance Institute already play a role in people's lives. Like I saw a ton of people in there. I won't mention any names. That wasn't treatment any of us could get, you were just kind of left on your own if you had an injury. Now with all the insurance that came in a few years ago and now all this, it's incredible."
As busy as Benavidez is staying by working on rehabbing his knee, it's still a tough road ahead because he's never been forced to the sidelines with an injury like this before. Right now, Benavidez is just keeping a positive attitude and making the most out of every day until he can return to action.
"It's tough. I'm doing what I can do and concentrating on that," Benavidez said. "It's literally a day-by-day, night-by-night thing. Get in bed, hopefully, have some good sleep tonight, wake up, hopefully, it's a good time today. Other than that, doing the best I can."