Jose Mourinho in mid-season trolling form at first press call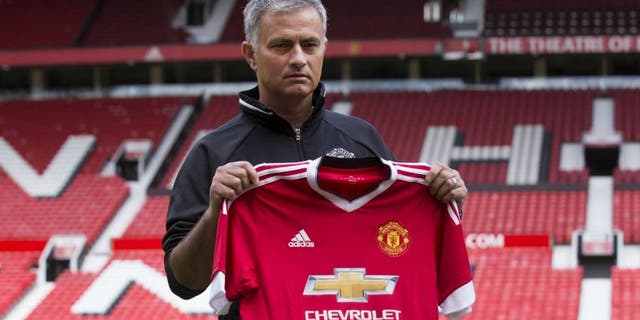 NEWYou can now listen to Fox News articles!
Jose Mourinho conducted his first press call as Manchester United manager on Tuesday, and it contained everything you'd expect from the self-anointed "Special One."
Mourinho did what most new managers would do upon their introduction: laid out his goals for the Red Devils, addressed staff questions and so on. In typical Mourinho fashion though, the Portuguese couldn't help himself and took another dig at rival Arsene Wenger, who last won a title with Arsenal in 2004.
"There are some managers that the last time they won a title was 10 years ago. Some of them the last time they won a title was never. The last time I won a title was one year ago, not 10 years ago or 15 years ago so if I have a lot to prove, imagine the others," Mourinho said.
It's the latest barb in a feud that dates back to Wenger questioning Chelsea's squad and tactics under Mourinho in 2005 and the Portuguese responding by likening Wenger to a voyeur.
The two have been at odds ever since; from the 53-year-old Mourinho deeming 66-year-old Wenger a "specialist in failure," to the infamous touchline "shove." To put it plainly, here are two grown men that have been sniping each other for the better part of a decade.
While Mourinho's last season with Chelsea was largely forgettable, he's promised to get Manchester United back the summit of the Premier League. If he's as effective managing United as he is at trolling, the league had better watch out.
MORE FROM FOX SOCCER: