Jose Bautista HR leads Blue Jays romp over Texas Rangers in ALDS opener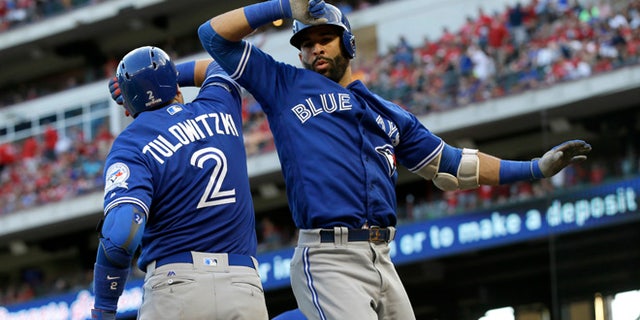 ARLINGTON, Texas (AP) – Jose Bautista hit another long, punctuating home run for the Toronto Blue Jays in the playoffs against the Texas Rangers.
This time, Bautista dropped his bat softly near home plate and rounded the bases after a 425-foot, three-run blast in the ninth inning of the Blue Jays' 10-1 romp Thursday in Game 1 of the AL Division Series.
"I have a couple of home runs in my career and I think I've only flipped it once," Bautista said. "Just kind of been blown out of proportion because of the moment last year. So I don't think there was anything too special about laying it down the way I did, because that's the way that 99.9-plus percent of the time I do it."
Bautista had that emphatic bat flip after his tiebreaking homer in the ALDS Game 5 clincher last October against the Rangers, and got punched the last time the Blue Jays played in Texas in May. He drove in four runs this time, including an RBI single in Toronto's five-run third off All-Star lefty Cole Hamels.
Marco Estradatook a shutout into the ninth inning. The All-Star right-hander with an impressive changeup, who won Game 3 in last year's ALDS after Toronto lost the first two at home, struck out six without a walk.
"He's mastered his craft," manager John Gibbons said. "He's a very calm guy. ... He doesn't get down on himself. As well as he's pitched in two years here, really no need."
Estrada has never pitched a complete game in the majors and the Blue Jays didn't throw one this season. No matter, Estrada gave them all they needed to start this best-of-five series.
"Who cares. We won," Estrada said.
The last of the Rangers' four hits off Estrada was Elvis Andrus' leadoff triple in the ninth. Gibbons removed the right-hander after Shin-Soo Choo's RBI grounder ended the shutout bid.
Troy Tulowitzki hit a bases-loaded triple for the Blue Jays. Toronto has won four straight overall, including an 11-inning, 5-2 victory over Baltimore in the AL wild-card game Tuesday night.
Bautista was booed heartily during pregame introductions and while he batted in the first inning. There also were chants of "Rougie! Rougie!" — those were for Rougned Odor, the second baseman who punched Bautista and ignited a bench-clearing brawl in their last meeting May 15. Odor was suspended seven games.
By time Bautista led off the seventh with a walk, the ballpark was quiet with the Rangers down 7-0. After he homered, a fan threw the ball almost back to the infield.
Hamels, the MVP of the 2008 World Series and NLCS for Philadelphia, threw 42 of his 82 pitches in the third. He allowed seven runs (six earned) with three walks in 3 1/3 innings.
"When you give up the amount of runs that I did early in the game, it can kind of deflate anything and everything of what home-field advantage really is," Hamels said. "It was a major letdown for what I was able to not do."
Ezequiel Carrera was on second base with two outs in the third when Josh Donaldson hit a liner toward third base. Donaldson, who had four hits, had even stopped running, assuming that Adrian Beltre would catch the ball — instead, the rising liner ricocheted off the mitt of the four-time Gold Glover and into left field for an RBI double that made it 1-0.
Encarnacion then had a single on a liner off Hamels' outstretched glove, before Bautista's run-scoring single and Russell Martin's walk to load the bases.
Tulowitzki followed with a triple deep into the right-center gap on a ball that All-Star center fielder Ian Desmond might have lost when running out of the sun and into the shadows while getting close to the wall during the late afternoon.
"We'd be talking about how great a play it was if he made the catch," Texas manager Jeff Banister said.
Melvin Upton Jr. homered starting the Toronto fourth before Andrus' one-out throwing error from shortstop allowed leadoff hitter Devon Travis to reach. Donaldson's RBI double chased Hamels, and Alex Claudio then pitched 3 2-3 scoreless innings.
When Texas had errors on three consecutive plays in that shaky seventh inning of Game 5 last October, leading up to Bautista's homer, Andrus had two of them. Andrus had misplayed a grounder to start that frame, and dropped an easy toss on what would have been a sure force out.
UPON FURTHER REVIEW
There were two replay challenges early in the game, and the umpire calls stood on both. Elvis Andrus made a back-handed snag and a jump-step throw to get Kevin Pillar out by the slimmest of margins to end the second, and the out stood after a nearly 2-minute review.
On Donaldson's double off Beltre's glove, Banister challenged whether Donaldson was tagged out at second base. Donaldson had been called safe, and the play stood.
NO SWEET HOME
The Rangers are 1-10 in ALDS home games. This is the seventh ALDS in their history. Texas started the last year's ALDS with two wins in Toronto, before losing twice at home and then the clincher at Toronto.
TRAINER'S ROOM
Blue Jays: Closer Roberto Osuna came out of the AL wild-card with shoulder soreness, and it was never clear beforehand if the right-hander was available for the ALDS opener. He was never needed. "If not today, there should be no limitations tomorrow," Gibbons said before the game.
Rangers: Choo was on the postseason roster, batting ninth in the opener and went 0 for 3. He had four stints on the disabled list this season, and had missed 39 games with a fractured left forearm before returning for the last three games of the regular season.
UP NEXT
Blue Jays: LHP J.A. Happ, a 20-game winner, allowed one run in seven innings in a win against the Rangers on May 5. He stars Friday afternoon at Texas.
Rangers: Yu Darvish starts only his second postseason game in his five seasons with Texas. The right-hander from Japan lost the 2012 AL wild-card game against Baltimore, and missed last season after Tommy John surgery.