Jon Jones cited for drag racing, calls cop a 'pig' during traffic stop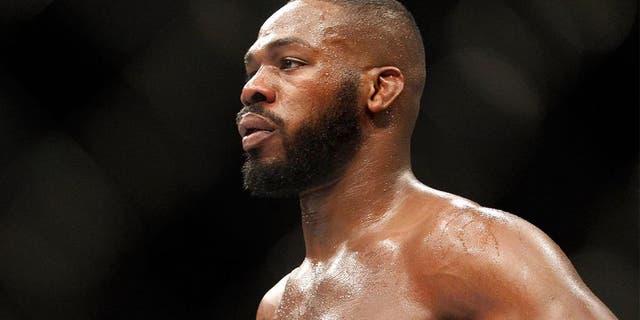 Just days after Jon Jones wrapped up a traffic violation in New Mexico, the former light heavyweight champion was cited for five different tickets including drag racing late last week in Albuquerque.
Jones revealed the traffic stop while speaking to the "MMA Hour" and Albuquerque police confirmed the citations when speaking to FOX Sports on Monday.
Police stated that Jones was cited for drag racing, exhibition of speed (which translates to revving his engine with the intention of speeding), a modified exhaust system, an issue with his license plate (which Jones explained was a cover over his plate that obstructed part of the information from being seen), and failure to maintain a lane (swerving).
Jones denied any wrongdoing, saying he revved his engine to acknowledge a fan who was alongside him on the road, before revealing that he got very emotional and lashed out at the officer who made the stop.
WARNING EXPLICIT LANGUAGE:
"I was obviously very upset. I asked him how was it possible to be drag racing in a 35 MPH zone? He said 'I never said you were speeding but I'm going to ticket you for drag racing'. Knowing that I just got a deferred sentence, knowing this was the last thing I needed to be associated with a drag race, knowing that I wasn't drag racing, I freaked out. I totally freaked out," Jones said about the traffic stop.
Just minutes after Jones revealed this information, TMZ obtained the body cam footage from the police officer who stopped the former champion in his Corvette last Thursday.
Jones was immediately upset when he was told that he was stopped for drag racing and he became irate at the officer for ticketing him.
"You and I both know that I was not drag racing," Jones said to the officer. "(Expletive) yeah, I'm going to testify to what you know. You and I both know that I was not drag racing. You and I both know that I did not speed. You and I both know that I freaking revved my engine at the red light and I never took off racing at all nor was the car next to me ever took off racing. I simply revved my engine.
"You are an absolute (expletive) liar. How do you sleep with yourself? Harass me like this. Can't wait till you get out of my face. You're despicable. Pig. You disgust me."
Jones apologized for the language he used during the traffic stop while stating that he got heated after he believes he was erroneously pulled over for something he didn't do.
"I got really emotional and said a whole bunch of things that I totally should have never said to a police officer but getting accused of something really pissed me off. I definitely regret some of the things I said to the guy," Jones said.
Jones said he plans to contest the tickets in court.
This latest run-in with law enforcement couldn't come at a worse time for Jones.
He was stopped in late January and flagged for driving without a license, registration or proof of insurance, but was not officially charged under the agreement that he wouldn't receive any further tickets for another 90 days.
This latest traffic stop happened just a day after his previous court hearing so there's no word on what could happen to Jones based on the new tickets he just received.
Jones is currently in training camp preparing for his UFC 197 showdown with Daniel Cormier with the light heavyweight title on the line.