Johnson vs. Dodson II: UFC 191 Crystal Ball Predictions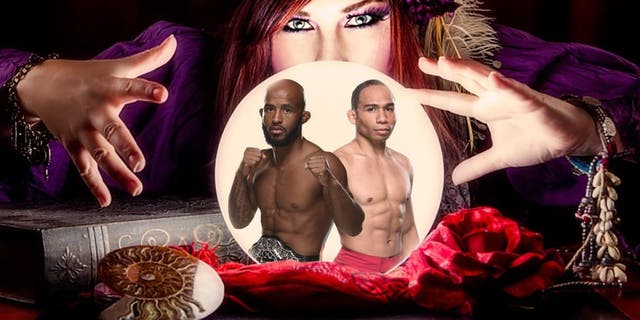 Saturday's UFC 191 card is an appealing melange of top talent at many different weight classes. At the top of the pay-per-view is a world championship rematch between two of the very best athletes in the world, Demetrious Johnson and John Dodson.
In the co-main event, Dodson's teammate Andrei Arlovski takes on fellow former heavyweight champion Frank Mir in a fight fans have looked forward to for more than a decade. The rest of the excellent bill is filled out by men and women looking to move up the rankings in close, hard to call match-ups.
Still, we did our best in anticipation of the big event. So, read on for our analysis and picks, then let us know who you're picking on Twitter and on Facebook!
Demetrious Johnson (21-2-1) vs. John Dodson (18-6)
If Demetrious Johnson isn't the best fighter in the UFC, he's pretty close. He's also closing in on history, specifically Anderson Silva's record for consecutive UFC title defenses.
Furthermore, Johnson is becoming more and more dominant and exciting, finishing most of his challengers. All of that said, John Dodson at his very best stands a very good chance at taking Johnson's belt this Saturday in the main event of UFC 191 in Las Vegas.
What we can't know, of course, is whether Dodson will be anywhere near his very best. Two-and-a-half years ago, he nearly knocked Johnson out, before ultimately losing a decision.
Dodson countered well and gave the champ lots of problems with his speed. Following that bout, Dodson finished two straight high-quality opponents before tearing his ACL.
One long recovery later, Dodson got back in the cage, and won this past May, but did not look nearly as good as he did before. If it was just rust or an awkward match-up against the very good Zach Makovsky, Dodson could very well come out swinging and stinging again this weekend.
If there's a more serious issue with his knee recovering, Johnson could catch him more easily this time, take him down and grind Dodson down. As if his knee problems and time away from competition weren't enough, Dodson is also juggling the birth of a new child this week.
In fact, he flew back home to New Mexico shortly after arriving in Las Vegas for UFC 191, this week. That's a joyous occasion and he must be a dedicated father and partner.
But none of that can be good for maintaining the singular focus most fighters find useful when competing. Dodson's body and mind will be tested more than usual, at UFC 191.
He could have the stuff to make it work, but we have to go with Johnson in this one. The champ is getting better with each fight and he's probably focused on Dodson like a laser.
Prediction: Johnson by decision.
Andrei Arlovski (24-10) vs. Frank Mir (18-9)
Frank Mir is more confident in his striking skills than ever, and that makes him dangerous in ways that he never was earlier in his career. The submission master is a knockout artist as well, now.
Andrei Arlovski has occupied that space for a lot longer, however. The Belarusian is simply a better offensive boxer and stands a good chance at being able to use his hand speed and power to knock out Mir in this co-main event.
If Mir is as aggressive as he was in his previous fight and charges forward, Arlovski will have to have technical defensive answers other than backing straight up, which has gotten him trouble in the past. Well, either that or he just needs to beat Mir to the punch.
That is very possible. It is also very possible that Mir could catch Arlovski in a wild fire fight or submit him on the ground.
Fortunately for Arlovski, he has the sprawl-and-clinch skills to defend takedowns from Mir. If the Brazilian jiu jitsu black belt finds a way to pull guard on Arlovski, "The Pitbull" should try to stand up and get away.
As dangerous as Arlovski is on his feet and the ground, he needs this fight to stay up for as long as it takes for him to hurt Mir, badly. We think he can.
Prediction: Arlovski by decision.
Anthony Johnson (19-4) vs. Jimi Manuwa (15-1)
Jimi Manuwa is a powerful, technical striker. Anthony Johnson is a wrecking machine.
Chances are, Johnson will touch Manuwa. If the Brit can hold on and last until the third round, he could tire out "Rumble".
That's going to be a tough task, of course. He needs to either touch Johnson's chin, early, or out-last him.
If he needs to, Johnson should also be able use his wrestling to take down Manuwa, if need be. Manuwa is a live dog, here, but Johnson has more ways to win.
Prediction: Johnson by decision.
Jan Blachowicz (18-4) vs. Corey Anderson (6-1)
Jan Blachowicz is tough and underrated. He's also got a lot more pro experience than Corey Anderson.
That said, Anderson may have the higher ceiling in terms of talent. If he can stay safe on his feet, score a bit himself, and then work his way into wrestling range, Anderson should be able to grind out a win.
Prediction: Anderson by decision.
Paige VanZant (5-1) vs. Alex Chambers (4-2)
We love this fight. Alex Chambers has the edge in total years spent training, but Paige VanZant is fresher, naturally heavier and may be a tad more fluid on the feet.
Still, the underdog Chambers can win this if she is able to survive some damage and tough spots early on from the hyper-aggressive VanZant, early. The better conditioned athlete may very well win this one.
That's usually VanZant. We like Chambers' punching power, however, and we're hoping that she can match VanZant's gas tank.
Prediction: We'll take Chambers by upset decision win.
Ross Pearson (19-9) vs. Paul Felder (10-1)
Both lightweights have fight-stopping power in their hands. Pearson is more proven against top competition, but Felder may prove to be more well-rounded.
We're betting that either someone goes out, hard, or that the fighter who ends up being the better grappler will win a decision.
Prediction: Felder by decision.
Francisco Rivera (11-4) vs. John Lineker (25-7)
Now that we've seen Francisco Rivera's eye hold up after it was injured by pokes from Urijah Faber, we're most curious how well Lineker will fight at bantamweight. The Brazilian had nasty KO power at flyweight, but he was forced to move up in weight after repeatedly missing the flyweight limit.
One thing is almost certain --€" these two aggressive fighters are likely to let their fists fly.
Prediction: Rivera by decision.
Jessica Andrade (13-4) vs. Raquel Pennington (5-6)
There's probably no one in the UFC whose record doesn't do them justice as much as Raquel Pennington and her career mark. She's still young, so hopefully she continues to get a chance to develop and improve, but as is, she's already pretty freaking good.
Her last fight was a decision loss to Holly Holm that was very close and that I personally could have seen going for Pennington. Keep in mind that Holm is undefeated, a former world champion boxer and the number one challenger who is next challenging bantamweight champion Ronda Rousey, next.
So, Pennington is a tough out. She'll need to be as good or better as she was against Holm in Feb. to take out Jessica Andrade, though.
Andrade is a little wrecking machine of muscle and aggression. Pennington will have to be smoother, and sharper to overcome the Brazilian's brute strength, but she does have it in her.
If Rocky can use her height and reach to pepper Andrade and keep her at bay until she's ready to unleash her own combos, and defend takedowns, she could prove too slick.
Prediction: Pennington by decision.
Clay Collard (14-6) vs. Tiago Trator (19-5-2)
Here's what we do know – both of these young featherweights have dynamite in their hands. Whoever wins may just come down to whoever lands hardest, first.
Prediction: Collard by first round stoppage.
Joe Riggs (40-16) vs. Ron Stallings (13-7)
Stallings needs to stick to Riggs like glue for three straight rounds, and work him to the ground. Riggs needs to keep Stallings off of him for long enough to land his powerful punches.
Prediction: Stallings by decision.
Joaquim Silva (7-0) vs. Nazareno Malegarie (27-3)
Malegarie may have the submission advantage, here, in addition to the vast experience once. Silva's own striking power and ground finishing, as well as his young age, make him dangerous as well, though.
Prediction: Malegarie by submission, third round.