Johan Santana: No Hitter Makes Him a 'Hero' in Mets History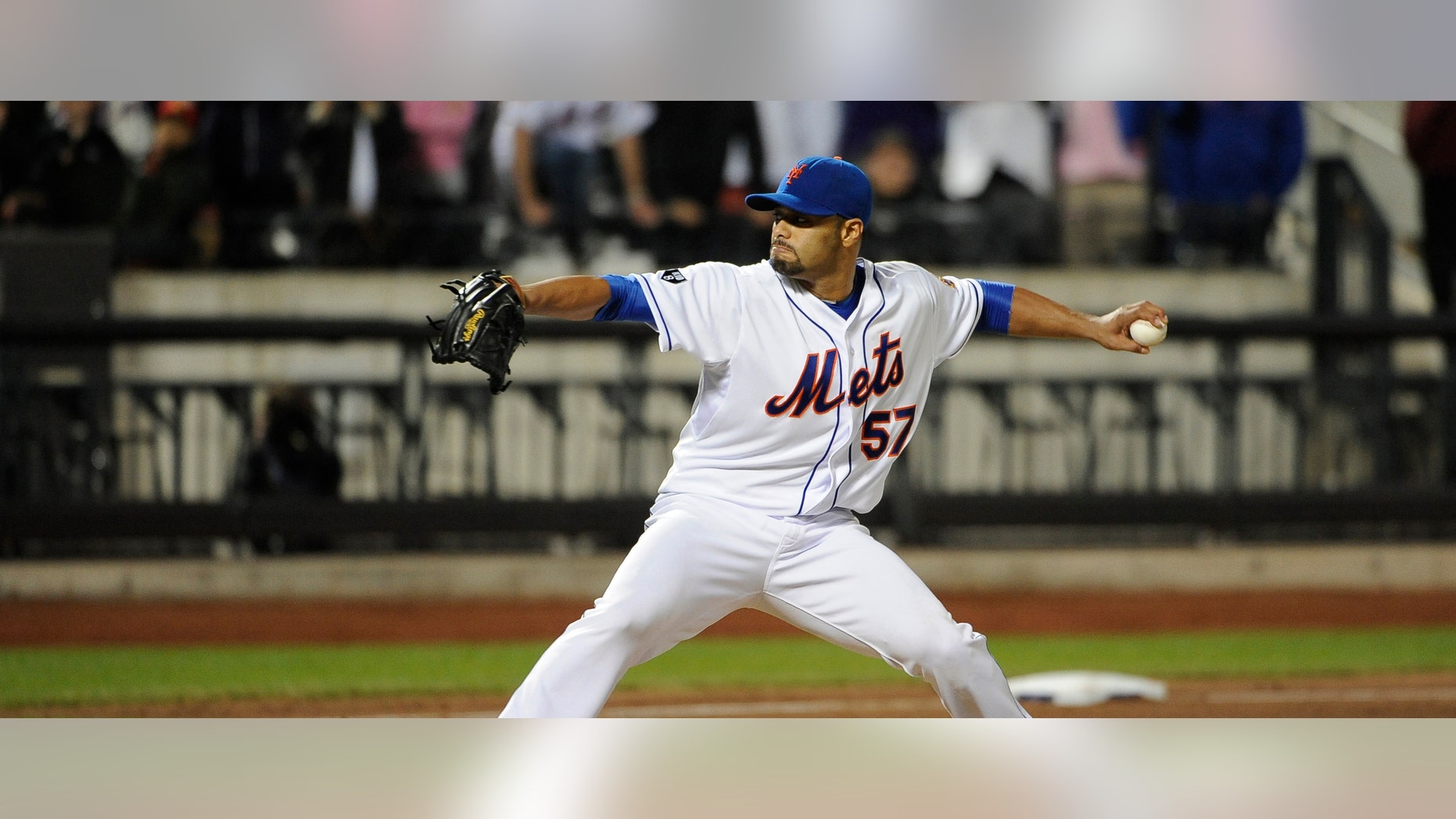 New York – Johan Santana was sitting in the dugout after another hitless inning when Mets manager Terry Collins approached his ace and told him he was his hero.
Santana, who was making his 11th start of the season after coming back from a shoulder surgery that few pitchers have successfully returned from, accomplished for the first time in his career what countless pitchers in the team's history had come short of doing.
"I knew that the Mets had never had a no-hitter. I never had one. This is very special. I knew this means a lot to New York," Santana said while his shoulder was wrapped up in ice to ease it after he threw a career-high 134 pitches.
Santana even joked that not even in a video game had he ever thrown a no-no.
It was just fitting for Santana to be the one to accomplish the feat for a team that's been around for more than five decades and has endured its share of low points during the last few years, including memorable September collapses in 2008 and 2009 and the Bernard Madoff scandal that rocked the owners.
I knew that the Mets had never had a no-hitter. I never had one. This is very special. I knew this means a lot to New York.
For one night Santana made everyone put that in the past and savor what had never happened in the team's previous 8,019 games.
"It's an honor," Santana said. "We have been through a lot of things but I'll never give up. We always been together. We win, loss together and to been able to accomplish this, it's an honor. "
For some reason Mets pitchers in the previous years had the distinction of throwing no-hitters after leaving the franchise. Nolan Ryan, Tom Seaver and Dwight Gooden are three of seven former Mets to have done so.
Ron Darling, a Mets pitcher during the team's glory days of the 1980's and now an analyst for the team on SNY, was proud it happened to a guy like Santana.
"For me ... a guy that wore this uniform, a guy that was proud to be a New York Mets starting pitcher, you wanted it to be someone of royalty that did it," Darling said. "You wanted it to be someone who was Seaver-like, Gooden-like. Someone like that. Thank God it was Santana.
Mets play-by-play man Gary Cohen on SNY was a Mets fan from the beginning of the franchise's days. Like most Mets fans, he just believed the Mets would never have a no-hitter.
"As someone who has been watching the Mets since 1964, part of being a Mets fan has always been the fact that no Mets had every thrown a no-hitter. That the Mets had always had the greatest pitching in history be it Seaver or (Jon) Matlack or (Gary) Gentry or Ryan or Gooden or Darling or (Sid) Fernandez and yet it never happened," Cohen told Fox News Latino.
Cohen said he tried to stay in the moment once Santana got the last out.
"I think not only was it a special night to be a Mets fan, but for it to be this guy who is such baseball royalty and has comeback from an injury few pitchers had ever comeback from before made it even more spectacular."
Every no-hitter has its plays that makes it even more memorable.
The baseball gods were clearly on Santana's side.
It was Carlos Beltrán's homecoming after the Mets traded the Puerto Rican outfielder to San Francisco last summer. His grounder in the sixth inning went over the third base bag and caught part of that white chalk line that separates the field from foul and fair territory. But third base umpire ruled it a foul ball even as replays showed the dusty, white powdery substance rise as soon as the ball landed on it.
"I don't think anybody expected that tonight. Everything came out perfect for him," Beltrán told reporters. "It should mean a lot for him after battling last year with injuries. I'm not happy about it, but at the same time he's a good man and I'm happy for him."
Pinch-hitter Shane Robinson flicked his bat away and took steps towards first base in the eighth inning when his hand was grazed by pitch on 1-2 count but the home plate umpire ruled otherwise. Replays also showed the ball had hit him.
But it was Mike Baxter's play, the local kid from Whitestone, who saved the day when Yadier Molina laced a pitch to left field.
Baxter, who cheered on the Mets during his youth, crashed into the left field wall after making a catch. He laid on the warning track in pain and Mets players and trainers ran out to make sure he was alright.
"Really glad I was able to make it. It's a great night. Johan was incredible tonight. It was just a good night for the Mets," Baxter said.