Jimmie Johnson wins pole at Phoenix; Kurt Busch leads Chase drivers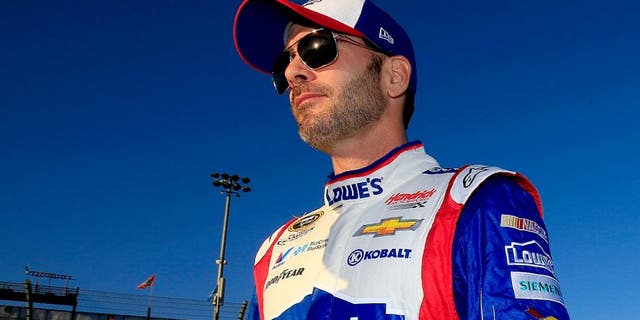 Six-time NASCAR Sprint Cup Series champion Jimmie Johnson may be out of championship contention, but he's still got plenty of speed.
Under the setting sun Friday afternoon in the Sonoran Desert, Johnson won the pole for Sunday's Quicken Loans Race for Heroes 500 at Phoenix International Raceway on Friday.
Johnson, the race winner last week in Texas, lapped the one-mile PIR track at 143.168 miles per hour to score his first pole of the year and 34th of his career, all in the No 48 Hendrick Motorsports Chevrolet.
"Qualifying has never really been my sweet spot," said Johnson. "It's nice to get one. I definitely wanted one this year. … I'm just so thankful that everybody on this No. 48 team and everybody at Hendrick Motorsports have been working so hard to get better. We picked up a lot in many places or a little in a lot of places I should say and it's turned into a lot."
Kurt Busch qualified on the outside of Row 1 in his No. 41 Stewart-Haas Racing Chevrolet at 142.880 mph.
"We know we need to win," said Busch. "The car, the crew and everybody we are all clicking on eight cylinders. We just didn't quite get the pole, Johnson put down an awesome lap, so congrats to him. We are outside pole and we will go from there."
Row 2 will consist of Dale Earnhardt Jr. and Carl Edwards, with Martin Truex Jr. fifth.
Earnhardt said he was happy with the team's qualifying progress. "That is two weeks in a row I think we made the last round," he said. "I don't know if we done that all year long."
"We had a fast car and I'm excited to go race now," said Edwards, who comes into the race fifth in points. "We have a good starting spot, which was our first mission."
Six of the eight drivers in championship contention qualified in the top 12, including Busch, Edwards, Truex, Kevin Harvick (8th), Kyle Busch (10th) and Jeff Gordon (11th).
In a bit of a surprise, neither of the two Team Penske drivers advanced to the final round of time trials, with Joey Logano qualifying 14th, three positions ahead of Brad Keselowski.
With both drivers in must-win situations on Sunday, their qualifying efforts were disappointing. "I just wish we were a little faster," said Logano. "… Didn't go fast enough. We've got two practices tomorrow to work on it."
Danica Patrick qualified 21st.
The Phoenix race is the third and final one in the Eliminator Round of the Chase for the NASCAR Sprint Cup. Jeff Gordon has clinched a spot in the one-race, Championship Round next week at Homestead-Miami Speedway, while the Phoenix race will determine the three drivers who will join Gordon in the final round and which four who will be eliminated.