Jim Mora on UCLA's Josh Rosen: 'He would have been the best QB' in the 2016 NFL draft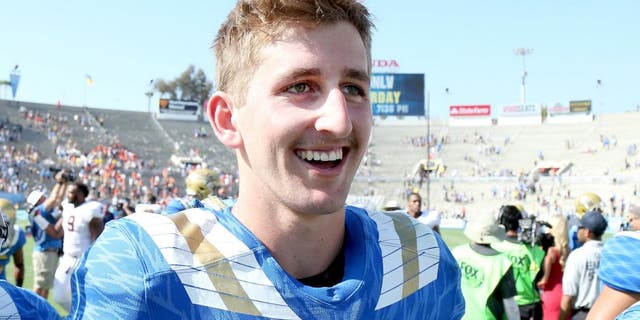 NEWYou can now listen to Fox News articles!
As hard as it might be to believe, the start of the college football season is right around the corner. Media days begin in earnest next week, which means that games aren't far behind.
And while all the focus in the college game this season will be on guys like DeShaun Watson, Leonard Fournette and Christian McCaffrey, here's the simple truth: When it comes to long-term NFL upside, the guy that everyone in the pros will be keeping their eyes on is Josh Rosen.
Although he's only a true sophomore, the UCLA quarterback is already listed as a Heisman favorite entering the 2016 season, an incredible accomplishment given both his age, and the fact that he lost his three top receivers and top running back off last year's team.
That's right, "The Rosen One" is that good, and that's not just our opinion, but that of his coach Jim Mora as well. Here is what Mora told the MMQB.com via text message about his star QB:
"His potential is unlimited," Mora said of Rosen. "He would have been the best QB in the draft this year. There's no question about his ability, only experience and, at this point, maturity. He's special. And he is smart, a leader, and very well respected by his teammates. He works hard and gets it. Just needs to continue to grow and not think he's arrived."
Talk about incredible praise, huh? Call me crazy, but in saying 'he would have been the best QB in the draft this year' isn't Mora essentially saying 'I already think he's better than Jared Goff and Carson Wentz?' It seems like it, and that's an incredible thing to say, especially from a guy like Mora, who has actually served as a head coach in the NFL in the past.
Of course for all the long-term praise, there's also the short-term stuff, and it seems interesting that Mora referenced the fact that Rosen still has some maturing to do off the field. After all, there was the famed Donald Trump hat he wore earlier this summer and his comments about the NCAA overall, meaning that for all his immense talents, Rosen isn't immune to putting himself in the headlines for all the wrong reasons.
It also means that as we enter the 2016 college football campaign it will be interesting to see two things surrounding Rosen: How does he handle the on the field expectations? And can he keep himself out of the headlines off the field as well.
If he does, it seems like his future is seemingly unlimited.