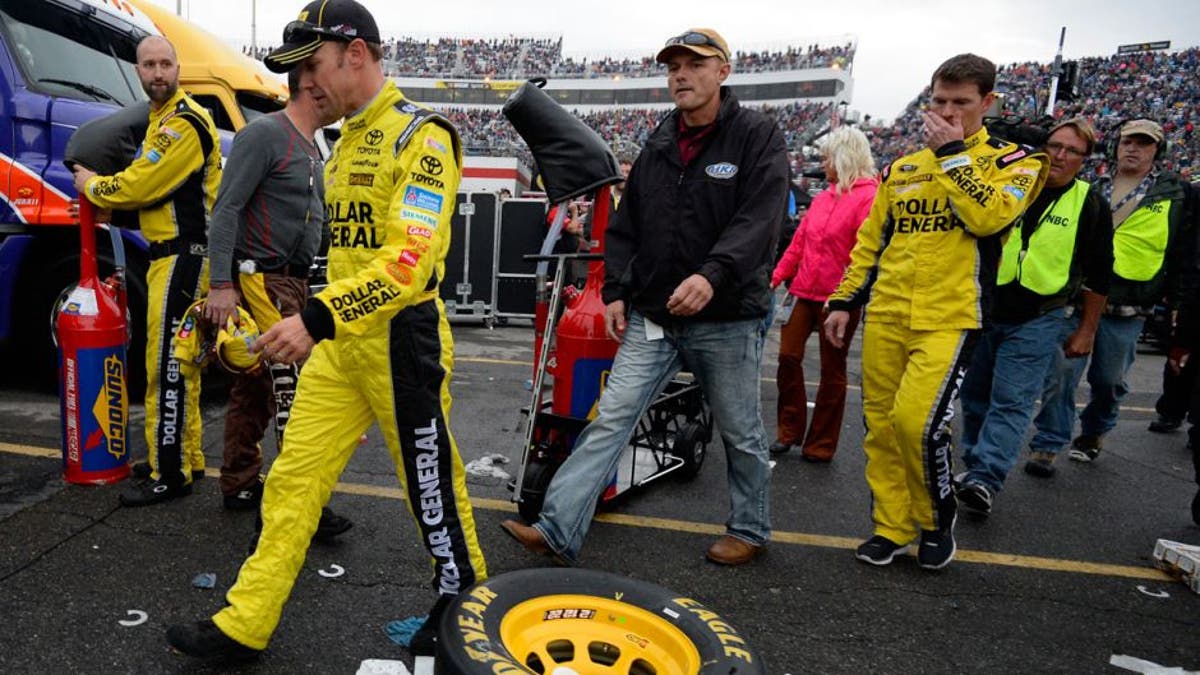 Following NASCAR's announcement Tuesday evening that it has suspended NASCAR Sprint Cup Series driver Matt Kenseth for two races for his role in an on-track incident with Joey Logano Sunday at Martinsville Speedway, FOX NASCAR analyst Jeff Hammond and former NASCAR Sprint Cup Series champion Brad Keselowski joined "NASCAR Race Hub" on FS1 Tuesday to discuss the penalties. A transcript is below:
On the penalty:
Hammond: "There's no consistency. That's the only thing that worries me. Everybody's been hollering 'Get Matt's head' because of what he did, and it looks like NASCAR has definitely done that. They've now set a new precedent. Look back at situations like this in the past -- they definitely didn't follow suit. They dropped the hammer on him and dropped it hard ... Where is the rule that says you can't do this? Look at past history, the way things have evolved. There is not been a rule in place that would tell a driver and his crew chief 'You cannot do this because you're going to get this.'"
On whether NASCAR is sending a clear message:
Keselowski: "It's a pretty clear message that you can't intentionally wreck the leader when you're six or seven or however many laps down, especially not in the Chase. I think that was a pretty clear message beforehand. I would have been surprised more so if there wasn't a penalty than if there was."
On whether drivers should settle the score themselves or whether NASCAR had to step in:
Keselowski: "There's always a way as a driver to settle the score, and that way can be a lot of different things. You can just race that guy really hard. You cannot cut him any slack on pit road. There's a lot of other ways to kind of exact revenge without intentionally wrecking someone and the car, and I feel like, personally, that's the message NASCAR is trying to get across here -- that this is beyond what they consider payback."
On whether there are different "rules" for Chase and non-Chase drivers and situations:
Keselowski: "I definitely feel like the Chase is being set up as having a different set of rules as far as what's acceptable and what's not. What NASCAR sent as a message is you can't intentionally wreck someone in the Chase and ruin their day when you're not in the Chase. They're going to come down hard, and that's the message they sent today."
On what case Joe Gibbs Racing can present to the appeal board:
Hammond: "It's going to be really easy. They can go back and cite the fact that Jeff Gordon wrecked Clint Bowyer and probably hurt his chances to win the championship just a couple of years ago. There are several incidents. Go all the way back to the Carl Edwards/Brad Keselowski incident at Atlanta. So, they have a lot to argue about that NASCAR, in these situations, either did nothing or assessed points and fines. Joe Gibbs Racing will argue it's very inconsistent. Incidents like the Edwards/Keselowski incident are the kind of stuff that, back then, NASCAR had an opportunity to make a statement."
On where the line is for 'Boys have at it' when drivers want to self-police themselves versus needing someone to step in and maintain control:
Keselowski: "Every driver has a different code. You can't go off of driver codes because one driver's code is different than another driver's code, and they're going to clash. That's just been the story of racing from day one and will continue to be. So, the line is, and always will be, in the NASCAR trailer and in the NASCAR headquarters in Daytona Beach and in Concord, North Carolina. That's the line. Whatever they decide, and that's what we found out."
On the penalty in light of Kenseth's reputation as typically calm and cool on-track:
Keselowski: "It shouldn't matter. It shouldn't matter if it was me. It shouldn't matter if it was your favorite driver. It shouldn't matter if it was Dale Jr. There always have to be limits and it shouldn't matter who's driving the cars. We have to have some kind of rules to keep the racing intact. We need guidelines. NASCAR racing was built on hard, side-by-side racing for the win, and by allowing payback to go on like this, basically what you're saying is 'What Joey did at Kansas was wrong and racing hard for the win was wrong,' and if you do that, you're going to allow someone else to come out and intentionally wreck you later in the year or whenever. That keeps you from racing as hard, and in the long term, it hurts the sport, and I think NASCAR sees that part."
On whether these types of incidents are a product of the new Chase elimination format and the ensuing pressure on drivers:
Keselowski: "It's almost all a part of this new format. I really do believe that without this format, Matt Kenseth gets away from Kansas, he's disappointed he finishes 12th but he keeps moving forward. But in his mind, after Kansas and not getting the win, he knew he had to win Talladega. That didn't come together and he got eliminated with a car that has won five races this year. That's a phenomenal season in any other type of format. But not under this format, and it doesn't work. You get so frustrated."