Jay Cutler taking on leadership role with help of Chicago Bears' new staff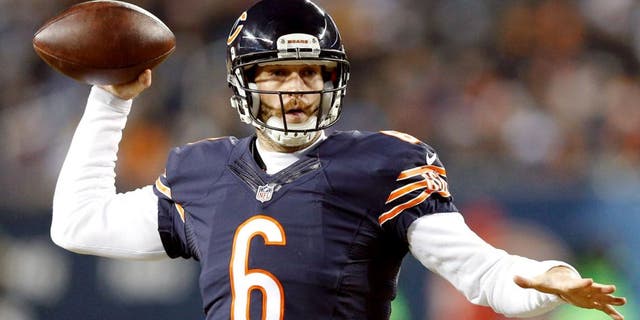 NEWYou can now listen to Fox News articles!
BOURBONNAIS, Ill. -- The re-imaging of Jay Cutler began in the spring with a tour of the Chicago Bears' facility that had little to do with football.
It was a way for Cutler to reintroduce himself to some of the folks in the building, football and non-football employees alike -- the people who maybe had an impression of the franchise quarterback that wasn't necessarily accurate.
Cutler huddled with new offensive coordinator Adam Gase to discuss everything from his physical appearance to his actions that might be misinterpreted. It had been an issue for Cutler for years, as his body language caught by cameras had given viewers and fans the idea that one of the most competitive players in the NFL simply didn't care.
Gase made it clear to Cutler there were a lot of people who didn't like him because he didn't give them a chance to like him. It wasn't about changing who Cutler was as a person; it was more about communicating it better to teammates and other Bears employees.
And it was about building trust between a quarterback in need of direction and an assistant coach eager to provide some.
"They're pretty tight. They just vibe," guard Kyle Long said the other day after another hard-hitting practice in what's been a physical camp for the Bears this summer. "I think 'Goose' really calls him out on his crap and it's reciprocated."
That was a semi-facetious comment from Long, who is one of Cutler's best friends on the team and a big-time defender of his quarterback. But there was an element of truth in what he said because Gase arrived in Chicago earlier this year intent on employing a tough-love strategy on the player many have dubbed a coach killer.
And with the way things have panned out so far in camp, maybe that's what Cutler's needed all along.
Based on comments from Cutler's teammates, indications are the formerly disgruntled star seems as content and comfortable in Gase's offense as he's ever been at this level. He's adapted well to Gase's scheme, barks out signals at the line of scrimmage to get his teammates on the same page and coordinated workouts with his receivers and tight ends both at his alma mater Vanderbilt and at the Bears' facility in the dead period between minicamp and training camp.
Cutler appears, for once, the leader every player is ready to follow.
"I think myself, the rest of the quarterbacks and the rest of the offense for that matter really like what we're doing right now," Cutler told reporters Tuesday. "We really enjoy the coaches, being around them. There's a lot of energy from this group. So it's fun day-in and day-out."
It's evident now Cutler and former Bears coach Marc Trestman were simply a terrible mix of personalities. Cutler wasn't shy about letting his frustrations show on the field and would often chew out offensive linemen during games. Trestman was more cerebral and tried to keep his emotions in check both on the sidelines and off the field.
There were also scheme issues that bothered Cutler and the rest of the offensive players, who are happy Gase plans on running the ball more often.
"Last year, we didn't do as much downhill. It was more scat-back stuff," tight end Martellus Bennett said, adding the blockers "were just trying to get in the way of guys" instead of power run blocking like they will this year.
Long, in reference to both the offensive playcalling and managing Cutler, said: "I really feel like they hit the nail on the head with this coaching staff and the guys that are in this building right now."
There was an NFL Network report last year that said the coaching staff was frustrated with Cutler because he wouldn't check to run plays when the defensive look called for it. (Then-offensive coordinator Aaron Kromer later identified himself as the source of that story and apologized to the team.) During one game, a camera caught Cutler coming to the line of scrimmage, looking at the defense and showing his disgust by rolling his eyes instead of confidently making a check to a different play.
Now, contrast that with the Cutler that's approaching the line of scrimmage lately.
"I've never seen Jay like this. His huddle presence is just complete composure and confidence," guard Matt Slauson said. "He steps in, he calls the play, we walk to the line and as soon as we make our ID, he's just boom, boom, boom, 'Hey, guys, you've got this over here, you have here, you're hot off here, here and here,' and boom, 'Let's go.' That confidence is awesome to see."
Bennett is a pretty smart guy. Even he admitted during an interview, "I just can't help but to be intelligent. That's who I am, you know?"
Still, the offense is so new even Bennett gets confused.
"Sometimes they call a play and you're like, 'What the f--- is that?'" Bennett said. "(Cutler) does a great job getting guys in the right direction. So he's been doing a good job quarterbacking, not just when he has the ball in his hand but verbally as well."
This is the Cutler everyone has wanted to rally around. He actually made his first appearance last year after he got benched late in the season. At his next press conference, Cutler was relaxed, introspective and professional.
He was, finally, himself.
"He's so old-school. He's family and football; If it isn't those two things, he's not really giddy about it," Long said. "You get him in a press conference and he acts like himself for once and everybody's like, 'Who is this guy?' But that's the guy we see every day. ... You gravitate toward a guy like that."
Few would say Cutler has been the center of gravity in any locker room during his career. Former Bears wide receiver Brandon Marshall, now with the New York Jets, certainly wouldn't. He said last week he was the only one with the "huevos" to stand up to Cutler last year.
Asked about Marshall's comments, a few Bears teammates defended Cutler. Bennett called it "ex-girlfriend-type (stuff)" that doesn't concern him. But the point is Marshall may be referring to a Cutler that's since changed. Under Gase, and with the rocky Trestman/Kromer era behind him, perhaps the 32-year-old Cutler has found some semblance of contentment that will translate to the field both in yards and wins.
Though Cutler is quick to caution it's far too early to draw any conclusions.
"I think everyone in the league is excited in their offense and defense at this point and we're no exception," he said. "We like where we're at right now, we like the guys we have out there. It's just a matter of working with the coaches, working with each other, trying to jell and trying to improve."