Jacob Markstrom debuts awesome throwback goalie mask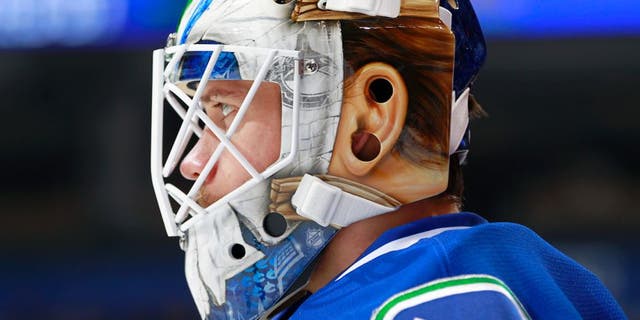 Canucks goalie Jacob Markstrom is seeing an increased role between the pipes with the Vancouver Canucks this year. He's hasn't quite taken over the starting job, as he's still splitting time with Ryan Miller, but it's important to dress for the job you want, not the job you have.
That's why Markstrom debuted an awesome new mask on Tuesday night in Vancouver.
As you'll notice, the new headpiece has ears and hair painted along the sides to give the impression of an old-school goalie facemask. Though Markstrom isn't the first to do such a thing -- Steve Shields and Carey Price have both commissioned similar artwork in the past -- this one is pretty gorgeous. It's a very cool throwback lid that pays homage to hockey's history, and that's something the game's older fans will certainly appreciate.
Here's another look at the mask in action:
Unfortunately for Markstrom, the debut didn't go so well. He surrendered seven goals on 25 shots to the New York Rangers in a blowout loss. Hopefully he doesn't blame the mask, because that beauty is too good to be cast aside at the expense of superstition.