Jack Hawksworth making Indy 500 debut; NASCAR champion Jimmie Johnson on a 13-race skid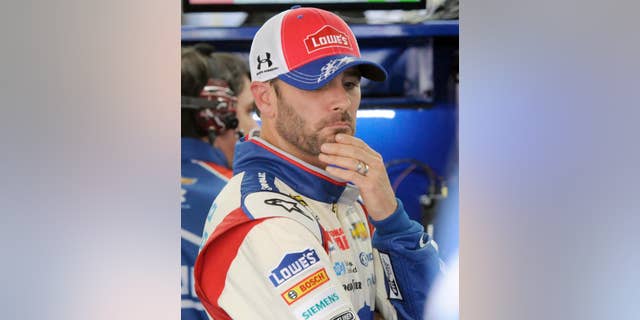 Jack Hawksworth would be out $500.01 if the IndyCar Series rookie wagered on his own career.
Turned out, he can keep the change.
"I wouldn't have bet a penny I'd race this year. Not one penny," Hawksworth said during preparations for the Indianapolis 500.
Hawksworth took a hit to his wallet when he put down a nonrefundable $500 deposit for personal trainer classes. An unemployed driver, Hawksworth had his eyes on Plan B, a little something to keep him in the Indianapolis area and quench his interest in physical fitness.
There's no need for Hawksworth to update his resume — he never made it to his classes. Instead, the British driver will make his debut Sunday in the Indy 500.
Like so many unknown drivers before him, Hawksworth has made a name for himself in May at Indianapolis Motor Speedway. He started second in the Grand Prix of Indianapolis, led 31 laps and finished seventh. He was the top rookie in 500 qualifying not named Kurt Busch and starts 13th on the inside of row five.
In his first season with Bryan Herta Autosport, Hawksworth expected to be in the mix for wins this season — and the 500 would be a great first one.
"I think there's a belief we can really take it to the big guys," Hawksworth said. "We don't see ourselves as underdogs, we see ourselves as contenders."
Hawksworth started racing karts at age 13. In 2010, he joined the Formula Renault U.K. Winter Series, finished third in the points and was the series' top rookie.
In 2011, he started moving up the American open-wheel ranks. He dominated in the 2012 Star Mazda Series, setting records for most wins, poles and fastest laps in a season. Last year, Hawksworth competed won three times and finished fourth in the Firestone Indy Lights points.
Hawksworth, though, found those checkered flags came with a price.
"I didn't have the best relationship with the people I was working with," he said, refusing elaboration. "Some things didn't go the way I thought they should have."
He had soured on racing relationships and was out of work for a chunk of the winter, so he decided to become a personal trainer. But he tested for Herta's team at Sebring in February and was good enough to impress Herta, who drove in the series before starting his own team.
He was due to start his new career in March, shortly before the start of IndyCar season, then lost his $500 deposit when he ditched training for racing.
Hawksworth, who crashed during Indy 500 practice, was a surprise leader during the Grand Prix. The 23-year-old Hawksworth took the lead early in the race and held it until a pit stop dropped him to ninth.
"This is the place you want to lead your first race," he said. "You go down the back straight on the road course, and you think, 'This is pretty damn cool.' But you have to refocus and get yourself back in the zone."
___
JIMMIE'S SKID: All of Jimmie Johnson's visits to Victory Lane this season have been to congratulate other drivers. The six-time and defending NASCAR champion hasn't won a race since last November, a 13-race losing skid.
He's not getting any sympathy.
"I don't feel bad for him," said Carl Edwards. "I've felt bad for him before and he turns it right around."
Johnson goes into the Coca-Cola 600 on Sunday at Charlotte Motor Speedway a surprising 0-for-11 on the season. It's the longest drought since 2002, his second season in the Sprint Cup Series, when Johnson needed 12 races to pick up his first win of the year.
A 13-race losing streak may not seem like much, but it feels like an eternity when talking about Johnson.
"That's like a 72-race slump, almost, for him," laughed Dale Earnhardt Jr., Johnson's teammate at Hendrick Motorsports.
The Coca-Cola 600 comes at the perfect time for Johnson, who won the longest race on the NASCAR schedule three consecutive times from 2003-05. In all, Johnson has 10 wins at Charlotte — six in points races, and four All-Star wins. He won the 2012 and 2013 runnings of the All-Star race, and finished sixth on Saturday night.
"I know the track has been strong for myself and Hendrick Motorsports, really, if you look at their history. I want to keep those winning ways alive," said Johnson, who is tied with NASCAR Hall of Famers Bobby Allison and Darrell Waltrip for most wins at Charlotte.
While he's still seeking a win, Johnson's season isn't too shabby. He's seventh in the standings, had six top-10 finishes and his 527 laps led trails only Kevin Harvick, a two-time winner this season who has led 672 laps.
"They'll figure it out," said Earnhardt. "He'll go out and just wax everybody and then everything is fine for the rest of the year. They'll just hit on it and keep going."
___
CASTING A VOTE: Jimmie Johnson became the first active competitor to vote on a Hall of Fame class on Wednesday as the voting panel expanded to include a slot for the reigning Sprint Cup Series champion.
It's a job Johnson took seriously.
"That is a huge honor," he said. "I've enjoyed studying up on everybody. I have a huge booklet with 30, 35 names in it."
___
AMERICAN SALUTE: NASCAR has continued its annual tribute to military servicemen and women with the launch of the "NASCAR: An American Salute" campaign.
The seven-week initiative is designed to rally teams, tracks, fans and partners to recognize retired and active troops. The entire industry will participate in a number of activities beginning this weekend at the Coca-Cola 600 at Charlotte Motor Speedway through Independence Day weekend at the Coke Zero 400 at Daytona International Speedway.
At Charlotte, many cars will have special 'Salute' paint schemes for the race. Goodyear will replace the "Eagle" sidewall design with desert camouflage lettering that reads "Support Our Troops" on all NASCAR tires through its "Giveback" campaign.
NASCAR, the Armed Forces Foundation and Bank of America will be hosting military families for customized at-track race experiences through its Troops to the Track program.