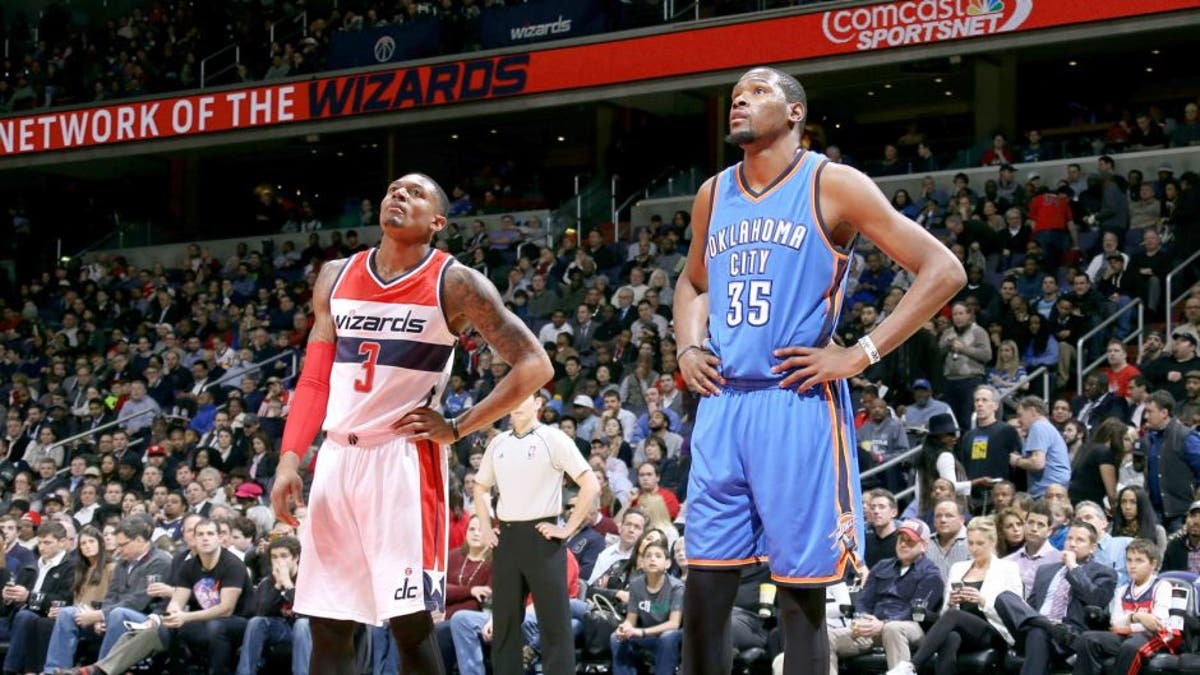 The Washington Wizards have a "good" problem staring them in the face: Bradley Beal's next contract. The 22-year-old shooting guard has battled injuries throughout his first three seasons, but also has serious talent, a three-point stroke and plays at a high level on both ends of the floor.
Is he worth a max extension? Will the Wizards cough up as much as they can before the October 31st deadline or let Beal hit restricted free agency then immediately match his offer sheet?
It's a tricky situation; again, a "good" problem. Here's Grantland's Zach Lowe with what he thinks might go through Washington's mind when they sit down to negotiate:
"The Wizards need about $25.5 million in room to fit Kevin Durant on a max contract, and if they sign Beal to a max-level extension, they would have almost precisely that amount left over. Playing the math that tight is dangerous, and makes it hard to fill a workable roster unless ring-chasers come aboard at massive discounts. The Wiz would be safer following the path San Antonio took with Leonard, only they haven't built up the cachet that allowed the Spurs to say, essentially, 'Trust us. Hold tight as a cheap cap hold, and we'll make it worth your while.' Washington needs to nurture the good vibes, and that means at least coming to the table. Beal may want his money now, and his side will surely propose a max-level extension. He hasn't played up to that level yet, but 22 year olds with silky strokes and some grit on defense don't readily accept less."
The Wizards are in the unbelievably fortunate position to potentially land Kevin Durant next summer, so their absolute priority is making sure they have enough cap space to offer him a max contract.
Holding off on Beal's deal makes this easier, in a vacuum, but locking him up first could also show Durant that they're serious about building something special in D.C., and if he signs with his hometown team he'd pair up with an incredibly gifted backcourt.
There's no wrong answer here, but it'd be wise for the Wizards to have all their ducks in a row before sitting down to talk with one of the top three player's in the entire world.
(h/t: Grantland)