IMSA enjoying strong and steady start to sports car season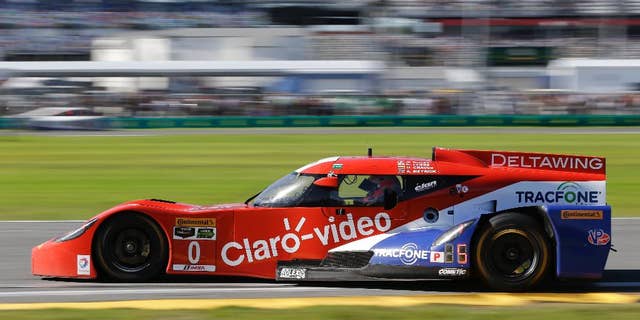 CHARLOTTE, N.C. – The way Scott Atherton views it, things couldn't be much better for IMSA right now.
The CEO of the sports car series is enjoying stability in the first year of a long-term entitlement partner in WeatherTech, which is aggressive in its promotion of IMSA. The series has 41 full entrants this year, has developed the GT Le Mans class into the most competitive of its type in the world and has seven manufacturers in the GT Daytona class with Lexus set to come on board as an eighth brand later this year.
In all, IMSA has 13 official automotive partnerships.
The television partnership with Fox Sports has allowed for more than 100 hours of racing to be aired this year, including the entire Contintental Tire SportsCar Challenge schedule. IMSA also competes at 12 of the most prestigious road racing venues in North America.
"I think we'd be hard-pressed to have a better start," Atherton said in a telephone interview with The Associated Press. "Across the board, all the measures of competition, the spectators, the introduction of new cars, new manufacturers, a new title sponsor — if we were looking at a dashboard of all the appropriate measures, we'd say 'all the needles are in the green.'"
Among the story lines in IMSA this year is the strength of the odd-looking DeltaWing, which led laps in the season-opening Rolex 24 at Daytona. Competing in the prototype class alongside the Corvette DPs, Riley DPs and the LM P2 cars — Honda HPD/Ligier, Mazda Prototype, Nissan/Ligier — Atherton has been pleased to see the DeltaWing hold its own.
"They are overdue for the overall win they have been knocking on the door over the last several events," he said. "It's entertaining, if nothing else, to see that car race with the other more traditional prototypes."
In the factory-supported GT Le Mans class, the new Ford GT has debuted and will return to the 24 Hours of Le Mans with a four-car effort from Chip Ganassi Racing. Drivers Nick Tandy and Earl Bamber won 24 Hours of Le Mans overall in 2015 in a Porsche 919 Hybrid, and the Corvette, Ford, Porsche and Ferrari teams from the WeatherTech Championship all will compete in June.
Atherton believes Le Mans will give IMSA a chance to show its talent.
"It is a great opportunity to showcase how competitive and how professional the American teams and the American drivers are on truly the global stage," he said.
He's also pleased with the GT Daytona class, which shifted this year to full FIA GT3 technical regulations. With Aston Martin, Audi, BMW, Dodge, Ferrari, Lamborghini and Porsche already competing, Lexus will be in the mix before the end of the season.
"Some would say it's an embarrassment of riches because we have 13 manufacturers actively involved," Atherton said. "It doesn't mean that they are just participating, it means they have a full commitment from that manufacturer to activate their program. It's a good problem to have."
___
STEWART-FINE: Tony Stewart will not use donations from the NASCAR Sprint Cup Drivers Council to pay his recent $35,000 fine.
The three-time NASCAR champion said Wednesday he'll pay his own fine, and donate to charity the money the other eight drivers on the council pledged to him.
The $35,000 from the Drivers Council will go to Autism Delaware, founded by NASCAR on Fox coordinating director Artie Kempner.
"I appreciated the Drivers Council support, but I didn't want them to pay the fine. We decided as a group to donate the money to charity," Stewart said in a statement.
Stewart was fined by NASCAR last week for criticizing the series' lack of policing lug nuts on wheels. He said in not requiring teams to apply all five lug nuts NASCAR was allowing teams to play "games with safety to win races."
NASCAR fined Stewart under its new behavioral policy, even though it has since said it will require teams to apply all five lug nuts.
___
SERVIA-INDY 500: The last time Oriol Servia raced in the IndyCar Series, he had less than a day of notice. Before that, he was called in four days ahead of the race.
Now he's got a full month to prepare for his return to the Indianapolis 500. Servia will drive a third entry for Schmidt Peterson Motorsports, which was made possible by a partnership with Marotti Racing.
"It feels great to have a little more than one night to prepare to jump in a car," he said.
Servia was called in the night before the season-opening race at St. Petersburg as a possible replacement for Will Power, who was ill. He didn't know he'd race Power's car until the day of the event.
Last season, Andretti Autosport summoned Servia to Sonoma as the replacement for Justin Wilson, who died earlier that week from injuries suffered when a piece of debris struck him in the helmet during a race in Pennsylvania. Servia flew from London to the California track for the responsibility of piloting Wilson's car.
Since then, Servia has been working hard to put together a ride for next month's 100th running of the Indy 500.
"I have respected Oriol's performance in the 500 for many years when we've been against him," Schmidt said. "We've been working on trying to put this together for a long time."
Schmidt has been preparing the third entry since October. Servia has been working since then to get in shape for the race.