Hurricanes unleash 'Crying Jordan' meme to mock Blackhawks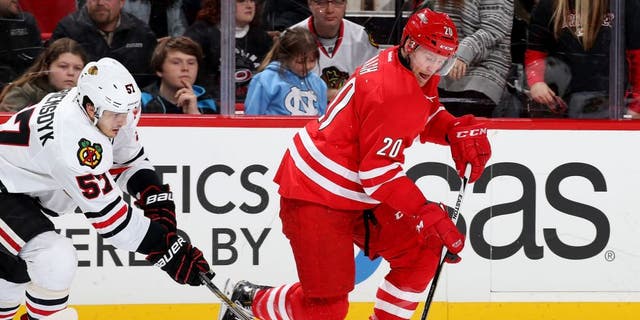 NEWYou can now listen to Fox News articles!
The Jumbotron operator at PNC Arena and the Carolina Hurricanes' official Twitter account took great pleasure in the team's resounding 5-0 victory over the Chicago Blackhawks on Tuesday.
How so? Well, the Jumbotron opted to rub salt in the wound by featuring a photoshopped meme of the "Crying Jordan" on select members of the crowd. The Hurricanes' official Twitter account followed suit with the meme of the legendary basketball player, who famously broke down toward the end of his Hall of Fame acceptance speech in 2009.
Sure, Carolina (23-20-8) completed a two-game season sweep of Chicago (33-16-4) and handed the club its worst defeat since a 7-2 setback to the Nashville Predators on Nov. 16, 2013. And yes, the Hurricanes are entering the All-Star break on an impressive 7-2-1 run.
Then again, the Blackhawks have won three Stanley Cups in the last six seasons.
As for Carolina, well, it will be celebrating its 10-year anniversary since the franchise won its only Stanley Cup.
Well played, Hurricanes. Well played.