Hurricanes not taking Arkansas State lightly in a Week 3 nonconference test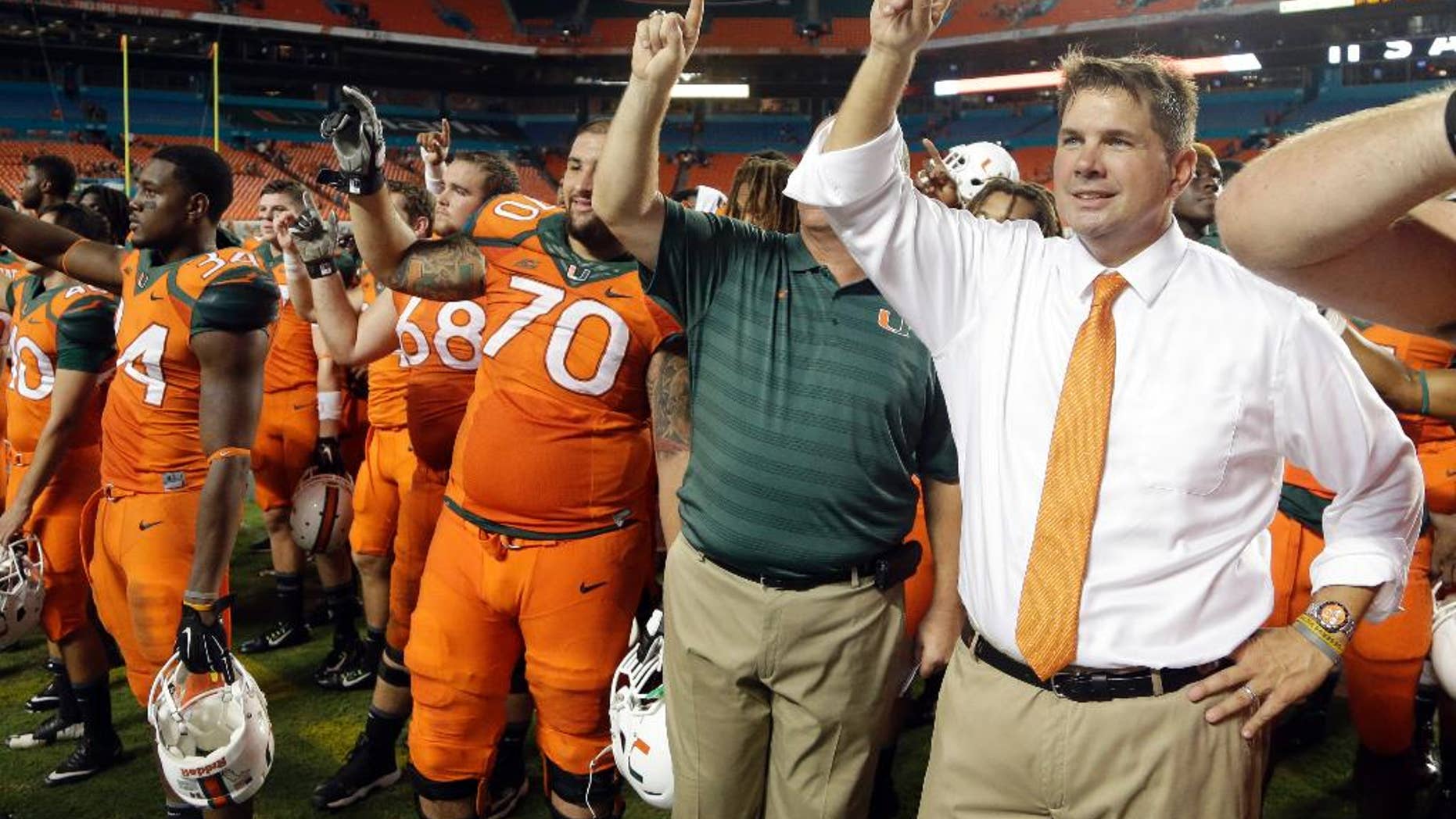 MIAMI GARDENS, Fla. – Miami visits Nebraska next week, the first meeting between those schools since the Hurricanes won their fifth and most recent national championship to end the 2001 season.
Absolutely no one around the Hurricanes seems to be thinking about that yet.
Miami (1-1) plays host to Arkansas State (1-1) on Saturday afternoon, and Hurricanes coach Al Golden has made it clear that overlooking the Red Wolves could come with some embarrassing consequences. He's sounded leery all week when talking about Arkansas State, one of those under-the-radar clubs that's had some shots in recent years to knock off one of college football's big-time programs.
"They're a defensive group that can get after you," Golden said. "They can play man-to-man, they can press and get up in your face. ... Going to be a great test for us."
It only sounds like coachspeak. He's not exaggerating for effect.
Arkansas State has finished no worse than tied atop the Sun Belt in each of the last three seasons and has plenty of experience playing against college football's bigger programs. The Red Wolves played before a crowd of nearly 100,000 at Tennessee last week and in recent years they've squared off with Auburn, Nebraska, Oregon and Virginia Tech.
"I see a very, very aggressive defense," Miami running back Duke Johnson said, adding, "it's going to be a tough football game."
Arkansas State was within five of Tennessee late in the first half last week, and the theme Red Wolves coach Blake Anderson has stressed this week has revolved around better execution and taking advantage of chances.
"I think we're close," Anderson said. "I think it's a very close-knit team. I think they want to play hard for each other. They want to play hard for us. I think they're confident we can improve on the things where we made mistakes. It's all fixable."
Miami is looking for a positive end to its week. The Hurricanes learned Friday that they will be without defensive end Al-Quadin Muhammad for the remainder of the season, after the university suspended him for an off-the-field conduct issue. Muhammad did not play in either of Miami's first two games, but had been permitted to practice with the Hurricanes while his fate was decided.
___
Here's what to watch when Miami and Arkansas State meet Saturday:
TWO-BACK CANES?: Johnson (97) and Joseph Yearby (95) combined to do something in last week's win over Florida A&M that Miami hadn't seen in more than seven years — two backs with at least 95 yards in the same game. It wouldn't surprise anyone if Miami did a bit more with two-back sets going forward, and Arkansas State says it will be ready for both Johnson and Yearby.
SCOUTING ARKANSAS STATE: QB Fredi Knighten has 543 yards of total offense so far this season, and is a threat with both his arm and his legs. A young offensive line will have to be ready for an improved Miami front seven, and the offense — which has scored on opening drives in both of its games this season — is planning to be without injured RB Michael Gordon. The defense is big on swarming, and CB Andrew Tryon seems to make plays all over the field.
CANES AT HOME: Miami has won 33 of its last 36 non-conference games at home, the average score of those games being 37-13. Miami and Arkansas State have played only once before, the Hurricanes prevailing 42-10 — and a quarterback who faced Miami that day was Cleo Lemon, who would eventually be a starter for the Miami Dolphins.
FIVE FOR FIVE: Success has come at a price for Arkansas State. Anderson is the team's fifth coach in five seasons, with the last three all winning fast and moving on to more lucrative paydays. Despite the constant turnover the team keeps winning — 29-12 since the start of the 2011 season, tied for the 20th-best record in the nation over that span.
30 FOR 30: First to 30 points wins? Maybe. The Hurricanes are a staggering 179-4 since 1985 when scoring at least 31 points, while Arkansas State has scored at least 30 points in 26 of its last 40 games. And when the Red Wolves get to 30 points, they're extremely tough to beat — going 24-2 in the last three years when scoring that many.