Honduran Carlo Costly Hopes To Score In MLS Cup Final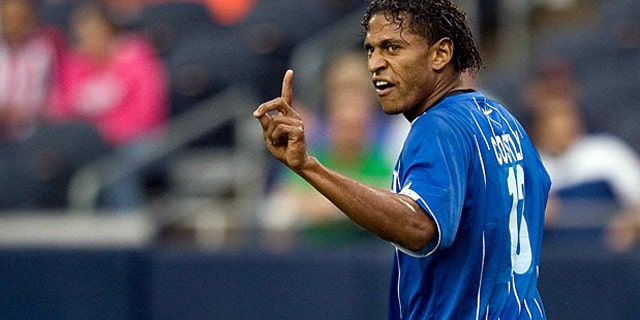 Now, try to figure this head scratcher out.
Carlo Costly has a better strike rate with his country than for his club.
Usually it is the other way around because it is more difficult to score internationally than for your club.
But the numbers don't lie.
When he puts on the blue and white jersey for Honduras, Costly connects at a 39.2 percent strike rate on the strength of 20 goals in 51 appearances.
When he performs for his club side, whether it has been Platense (Honduras), Birmingham (England), SC Vaslui (Romania), Club Atlas (Mexico), GKS Belchatów (Poland) or most recently the Houston Dynamo, it is an entirely different story. Costly has 32 goals in 121 matches for a 26.5 clip.
"I can attribute that to a variety of factors, one of which is the quality of the players we have on our National Team," Costly said in an interview earlier this week. "In the Honduran National Team we have a good group of players who not only play in the local league, but also abroad. Some of the players on the National Team have also been together for a considerable period of time. Because of this, we have a good sense of continuity and a solid feeling of camaraderie. We all know how each other plays, and we complement each other well."
This might explain Costly's lack of production for the Dynamo. Since joining the Major League Soccer team on July 4 the 29-year-old striker has found the back of the net only twice -- once in the regular season as he headed the ball home in a 3-1 victory over the Los Angeles Galaxy on Oct. 23 and second time as an insurance goal for Houston in its 2-0 win at Sporting Kansas City in the Eastern Conference final.

"I think I've done well in spite of the fact that I hadn't been able to score prior to my last few games," Costly said. "I wouldn't say that my performance has been excellent, since I haven't scored as much as I'd like to. However, so far I think I've played well enough to contribute to the success my team has had."
For the most part, Costly has had a reserve role since joining the Dynamo.
Given that veteran midfielder Brad Davis will miss Sunday's MLS final against the Galaxy at the Home Depot Center (ESPN, Galavision, 9 p.m. ET) with a quad injury, Houston coach Dominic Kinnear is considering using the Honduran in a starting role. However, Kinnear won't telegraph what he will do.
"I'll keep that one to myself, if you don't mind," Kinnear said.
The Dynamo obtained Costly on loan from Club Atlas. Given Costly's international strike rate, more goals were expected from the highly-touted striker. He participated in 11 regular-season games, starting over 576 minutes. Besides the low goal total, the most damning statistic was that Costly was called offside 16 times. That means he has been too aggressive or hasn't been able to get his timing down with his teammates.
Carlo is an excellent player and we will be aware of him in any position they choose to use him.
Asked if he was disappointed in Costly's production, Kinnear replied, "I think he's been OK. I will say one thing: He's well liked in the locker room."
"On the field, he's had a couple of chances where he could have taken a little pressure off himself. He puts pressure on himself every game," Kinnear added.
"You just have to see how the game goes on Sunday to see what his effect will be. We'll see. We're still talking about some certain lineups. I'm not going to tell you who we're going to play because that definitely would tip our hand to LA. All I can say is I think he will see the field, whether it's the first minute or coming off the bench. I know he's going to play."
So does Galaxy coach Bruce Arena.
In fact, as it turns out, Costly's lone regular-season goal was scored against the Galaxy in a 3-1 Houston victory over the Galaxy.
"He has been a proven goal-scorer," Arena said. "He has shown in the MLS playoffs how dangerous he is off the bench. . . . He scored an excellent goal against us. He's a big target, He's good on the ball, left-footed, good in the air, strong with his back to the goal. I wouldn't be surprised if he started.
"Carlo is an excellent player and we will be aware of him in any position they choose to use him."
Despite playing professionally for almost a decade, Costly has never had the opportunity to take a victory lap. He has never played for a championship team. His best showing was a second-place finish in Poland in 2007.
"I want to win the MLS Cup because I've never won a championship anywhere while playing at a club level," he said. "It would be something beautiful for me. It would be a dream come true to come here to play and win a championship in my first season. It would be very fulfilling, not only for me, but also for the team."
Of course, the Dynamo will have to do it without its playmaker and MLS assist leader, Brad Davis.
"We know that Brad is an excellent player," Costly said. "He's always been a stalwart for the team, and is especially dangerous on set pieces. Having said that, we also have players who can make a difference and can do what Brad does. I believe that if he doesn't play we'll be more motivated to come out, perform, and play a good game on Sunday."
Despite his bumpy start with Houston, Costly wants to return in 2012.
"Personally, I'd love to be back," he said. "However, I think that to think about next season right now would be getting ahead of ourselves. I like the team and the treatment I've gotten, but the timing is still premature. I still have a year left on my deal with Atlas, so we need to get that resolved first."
Regardless where he plays, 2012 promises to be a busy one for Costly, thanks to six World Cup qualifying matches for Honduras from June through October.
"Honduras is a team that's doing well," he said. "It's true, we haven't won the last few games, but [coach] Luis Suárez is doing all he can with the team. Every day we're getting better by getting to know him more as a coach and understanding what it is that he wants and expects from us all. We're hoping to reach a good level soon so we can qualify for the World Cup in 2014."
If the Hondurans accomplish that, they would clinch a World Cup berth for the second consecutive time and third overall. They played in Spain in 1982 and at South Africa last year.
Honduras will compete in Group C, which consists of Panama, Cuba and Canada.
"It's a strong group, very complicated like the rest of them," Costly said. "The key here is to be consistent and cohesive as a group. We have a lot of young players who need to benefit from the experience of veterans like me so that in the near future we can have a strong team.
"In my view, the strongest team in our group is Canada, as they play well whether they're home or away. Luckily, as I mentioned before, we're also strong, with good players who play in the Honduran first division and abroad. We just have to be physically and mentally prepared to perform."
But Costly will be the first one to admit that World Cup qualifying isn't the primary thing on his mind these days. It's about securing his first championship and perhaps getting that club strike rate improved against the Galaxy on Sunday.
Michael Lewis, who has covered international soccer for three decades, can be reached at SoccerWriter516@aol.com.
Follow us on twitter.com/foxnewslatino
Like us at facebook.com/foxnewslatino