Holm endorses company reportedly linked to banned PEDs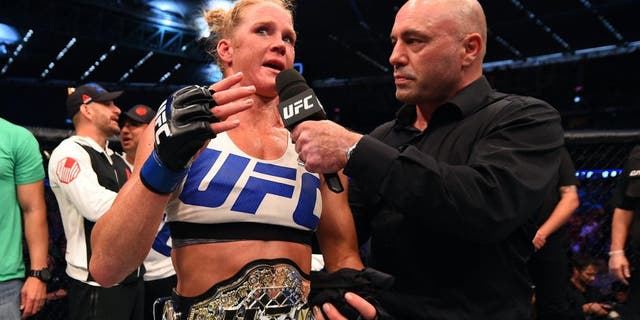 Athlete sponsors understandably love when their athletes win big. It gives them a chance to show that people who endorse their products are successful and, in some cases, give the impression to consumers that use of their products helped lend a hand in the athlete's victory.
That makes sense and is par for the course. So, it isn't surprising to see a sponsor of Holly Holm's like supplement brand Intel Pharma congratulate the new UFC bantamweight champion on the home page of their website.
"Congratulations," a message reads, accompanied by a photo of Holm.
"We always believed!"
JAK Nutrition, a vendor of Intel Pharma and other Selective Androgen Receptor Modulators (SARMS), also made a congratulatory post on their Facebook page saying, "Congrats to Holly Holm and Team Intel-Pharma!! Check out our full line of Intel-Pharma products!!"
However, USA Today reports Intel Pharma has made -- at least up until earlier this year -- products that appear to be banned by the World Anti-Doping Agency (WADA). SARMS, like multiple products made and sold by Intel Pharma, are known steroid replacements and listed in the S1., section 2 portion of the 2015 prohibited substances list as anabolic agents. JAK Nutrition, which also publicly congratulated Holm and implored consumers to purchase the Intel Pharma products she endorses and they sell, calls itself the "SARMS Superstore."
A new UFC champion endorsing a company that has produced products banned by WADA may not be a violation of any regulation, but it sure isn't a good look for Holm and her promoter. USA Today contacted a number of principles involved, including Landon Suggs, the CEO of Intel Pharma.
Suggs told USA Today that "his company stopped producing and selling the SARMs products no later than June -- before the company started sponsoring Holm -- and has issued a recall for such products."
Holm's manager Lenny Fresquez didn't help matters in addressing the situation.
"The first question I asked [Intel Pharma] was how many of these products were banned, and they were up front about it,'' Fresquez said.
"Holly didn't really use them so it's not a big deal."
Then, he went on in a different direction saying, "I'm sure she didn't use any of them. She might have taken a picture with one."
Holm's management didn't appear to think much about the issue, but told USA Today that they will pay better attention to such matters. "My job is to get whatever the best thing is for Holly," Fresquez said.
"Now that you've raised this concern we'll definitely take that into consideration more carefully in going forward."
Read the full report here.