Herschel Walker wouldn't let bullying block his way to stardom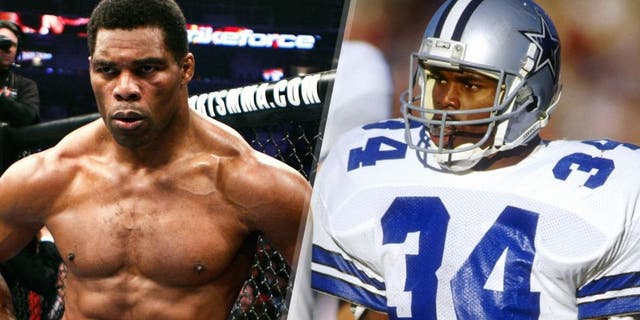 Herschel Walker hardly evokes the image of someone who could ever be bullied.
One of the most imposing physical specimens to ever line up at running back, the former Heisman Trophy winner and two-time NFL Pro Bowl selection told NESN.com that the way he was treated poorly and belittled as a youngster provided the inspiration for his future success.
"I grew up a fat kid, overweight, where a lot of kids in my school at the time wouldn't give me the time of day. They wouldn't even play with me. For four years I never went out for recess," Walker said. "And I used to have a speech impediment where the teachers used to put me down. They didn't think that I could ever learn.
". . . I started training, I started doing these things to feel good about myself and I think that's when it took off," Walker added. "Today, I don't ever want to go back to that place. That's the reason I speak out against bullying."
The Herschel Walker who burst onto the college scene as a man-child at the University of Georgia appeared to be the most unlikely candidate to be bullied.
A breathtaking blend of sprinter's speed and sheer power packed in a 6-foot-1, 225-pound frame, Walker rushed for 5,249 yards and 49 touchdowns in three years at Georgia, culminating in his 1982 Heisman Trophy-winning season. That was the prelude for a 15-year professional career that included 12 seasons in the NFL and three in the now-defunct United States Football League.
Still a workout warrior who competed -- and won -- on the MMA circuit at the age of 48, Walker recalled the tipping point of his young life, when he receiving a pummeling from a classmate in the eighth grade.
"He beat me up and I remember going home crying and all the kids thought it was funny," Walker said. "As soon as I got home, I can remember this voice saying, 'Enough was enough. That won't happen again.' "
Walker said that's when he developed a workout regiment that eventually expanded to 1,500 pushups and 2,000 situps daily, admitting "it almost became like a drug to me." He uses his life -- and that of a certain NBA superstar -- as examples in extolling the value of hard work when he speaks to today's youth.
"That what I tell all kids," Walker said. "That they have something to offer, but they got to be willing to work. Everyone thinks Stephen Curry was born to shoot that 3-pointer . . . and I say, 'Guys, Stephen Curry has been doing this since he was like 5 years old.' . . . So don't think you can pop up and start doing these things. You've got to work at it. And sometimes it's not going to go your way, but that's OK.
"It is OK to get into the crossroads of life, but what you got to do is make a decision, because if you stand there you will get run over."