Henry Cejudo ready for Demetrious Johnson but focused on Jussier Formiga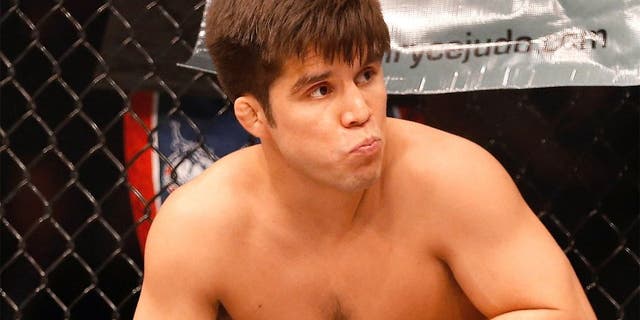 PHOENIX, AZ - DECEMBER 13: Henry Cejudo is introduced during the UFC Fight Night event against Dustin Kimura (not pictured) at the at U.S. Airways Center on December 13, 2014 in Phoenix, Arizona. (Photo by Christian Petersen/Getty Images) Christian Petersen Getty Images North America
The flyweight division may crown a new No. 1 contender this weekend when Henry Cejudo takes on Jussier Formiga at UFC Fight Night in Monterrey, Mexico. But as much as the Olympic gold medalist wants to beat Demetrious Johnson, he knows looking past the present could cost him in the future.
Cejudo has been on every flyweight's radar ever since he arrived in the UFC, and with a 3-0 record and a top 10 ranking, it's impossible to ignore the fact that he's one of the last contenders in the division who hasn't had a crack at Johnson's belt yet.
Cejudo is ultra-confident that he has the weapons to put Johnson down and end his reign as champion. However, he's cautious to say too much about it with a fight coming up this weekend against Formiga.
"If you could name somebody that could beat Demetrious then I'll say let him take the fight, but I believe I'm the kryptonite," Cejudo told FOX Sports. "I believe my solid base in wrestling, my explosive hands and my ability to defend shots and have good defense is what makes me dangerous.
"But before we get to Demetrious, I'm focused on this guy that's a tough competitor who's ranked No. 3 in the world named Jussier Formiga."
Despite being ranked No. 5 while his opponent is ranked No. 3, Cejudo is currently around a 5-to-1 betting favorite to win the fight. That might account for part of the reason why the conversation immediately shifts to Johnson considering a win this weekend likely lands Cejudo a coveted title shot.
Cejudo says whether he's a massive favorite or a slight underdog, none of that matters once he gets down to business. Thanks to his prolific wrestling career, where he targeted Olympic gold fresh out of high school rather than go to college, Cejudo knows about pressure and expectation but neither rattle him in the least.
"I think for me because I've had success in wrestling, I never allow pressure or the headlines to affect my performance," Cejudo said. "I have a very carefree mentality. I don't care if Oprah's in the house or (Barack) Obama, or Dana White feels like I'm going to be the next champ, I just have to do it.
"I feel like I'm doing it because I'm a competitor and if I have the right coaching and the right training partners that I can become the best in the world. The limelight or not, I'm going to do my job and I'm going to do it right."
If there's one guarantee about being in the spotlight it's that Cejudo knows every time he fights, he's going to get the absolute best out of his opponents. Formiga is a veteran and one of the best flyweights in the world, but who wouldn't want to add an Olympic gold medalist to the win column on their resume?
The only problem is Cejudo doesn't think on Formiga's best day that he'll get a win on Saturday night.
"I'm getting the best Jussier Formiga. They're ready for me, they understand that if they beat me it's huge, it's an Olympic champion," Cejudo said.
"He's a competitor and he's tough but at the same time I do see a lot of flaws in him. He probably feels the same way about me. He's going to try to expose them and I'm going to try to expose them. I think his game plan is to take me down, probably shoot and get me coming in aggressive and I believe he's going to try to kick my lead leg and kind of get me aggressive and come forward but I'm ready for all that."
Cejudo isn't going to make any predictions in his fight with Formiga other than saying he's going to win. Following the victory, Cejudo will waste no time getting back in the gym to prepare for what's next -- whether that's Demetrious Johnson or not -- because there's always more work to do as he hopes to one day become the face of the flyweight division.
"These guys have done their job," Cejudo said about the flyweight division. "Demetrious (Johnson), (Joseph) Benavidez, (John) Dodson, they've all fought each other and now it's time to get somebody who has an elite background that's a fearless human being and has the power to knock somebody out."