Hawks relishing new underdog role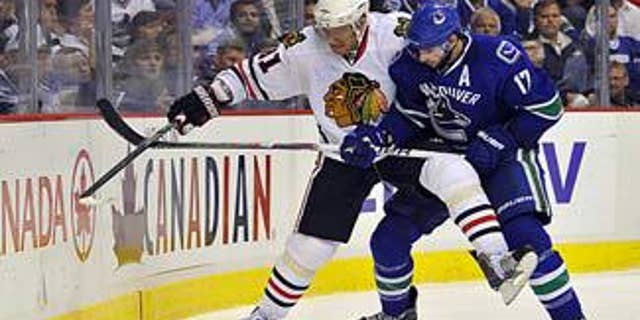 CHICAGO -- After needing help from the Minnesota Wild just to qualify for the playoffs this season, there are plenty of people using the term "backed in" to describe the defending Stanley Cup champion Chicago Blackhawks' bid to repeat.
Yet, the Hawks didn't seem to care too much on Monday at O'Hare International Airport before heading northwest to start a Stanley Cup Playoff quarterfinal series on Wednesday against the Western Conference's top team, the Vancouver Canucks.
When asked if the term "backed into the playoffs" bothers him, Hawks captain Jonathan Toews sort of hunched his shoulders and said: "I haven't heard that term yet."
About 30 minutes later, Chicago defenseman Duncan Keith was asked the same thing -- only he seemed to have heard it and didn't exactly agree. The Hawks (97 points) did need the Wild to defeat the Dallas Stars (95 points) on Sunday -- or get the game into a shootout -- but the way Keith sees it is pretty plain and simple math.
"We thought we could've been better (this season), but having said that, we're in," Keith said. "I don't really take offense to (saying we backed in), but the bottom line is we had more points than Dallas and that's why we're in. We deserve to be there, and I think it's going to be fun and it's going to be a challenge playing against Vancouver."
It's also going to be somewhat different from all 82 games Chicago played this season. After winning the franchise's first Stanley Cup in 49 years last season, the Hawks played every game this year with a pseudo-target affixed to their backs.
Every team was gunning for them, looking to take down the defending champs. Now, however, it's the Hawks putting a target on the Canucks -- whose incredible 117-point season earned them the Presidents' Trophy.
Despite Chicago ousting Vancouver in each of the past two postseasons, the Hawks are heavy underdogs in this series in the eyes of many -- and that's perfectly fine by them.
"Everyone's been gunning for us ever since we won," said star forward Patrick Kane, who convinced his barber to open the shop after hours on Sunday night in order to bring his playoff mullet back following the Wild's upset win. "And even last year, too, when we had such a good team -- I think everyone kind of expected us to win. Obviously we fulfilled those expectations, but you still have them on you. I think now we are the underdog and we are in a good position -- where it really feels like we have nothing to lose, especially after what happened (Sunday) with maybe being out the playoffs. Now you get a second life."
Sunday was quite an interesting day for the Hawks, to be sure. After losing 4-3 to the Detroit Red Wings in the afternoon, their only hope of being able to defend their title rode on the backs of the Wild -- whom most felt were just going to cash it in and call it a season.
Most people were wrong and now the Hawks suddenly find themselves playing with found money in Las Vegas.
"It almost felt like it was over already after that (loss to Detroit)," said Toews, who didn't even watch the first half of the Minnesota-Dallas game because he was so down. "So, you go from the feeling that your season is over and you don't know what you're going to do for the next several months to Minnesota playing a great game and giving us a chance to play in the playoffs again. Then the whole dream of winning a Stanley Cup comes right back in. It was kind of one of the weirder days I've been through in a long time."
Now, all of a sudden, the focus has to be on slowing up the highly-skilled Sedin twins, getting traffic in front of Vancouver goalie Roberto Luongo and going back to what helped them defeat the Canucks in their previous to playoff series matchups.
Among the good news was injured center Dave Bolland -- a checking-line pest against the Sedins -- making the trip while recovering from concussion symptoms along with injured Vancouver native Troy Brouwer (shoulder). One or both could play in this series -- and play early on in it.
That would be a big boost of confidence, but the biggest help might've been shedding all the expectations of getting back to the playoffs the Hawks played with most of the season. The slate is wiped clean, as they say -- and now a new season is about to begin.
"We feel like we have a second life and there's no pressure," Toews said. "The biggest pressure was probably to get back to the playoffs, and what people don't necessarily realize at first is how tough it is to get back there. It wasn't an easy season. It wasn't as smooth as it was last year, but we're here and I think all you need to do is get in -- whether you're one or eighth. It doesn't really matter."