Hard to pick champ from Chase field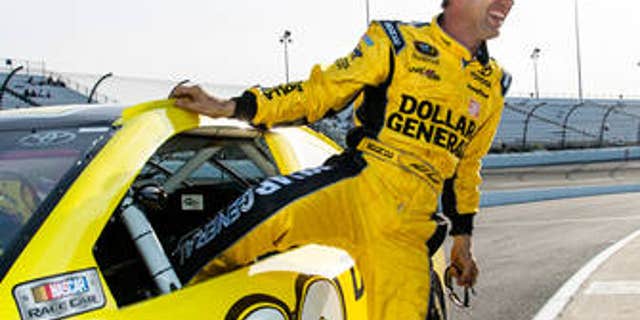 It's winning time, time for the 12 drivers and teams in the Chase for the Sprint Cup to prove they are worthy champions.
One will succeed, 11 will not.
I will preface my predictions on the final NASCAR Sprint Cup points order with a couple of disclaimers:
First, it would not surprise me in the least if any of the top six picks listed here wins the championship; on the other hand, I would be well and truly startled if the eventual champion comes from positions 7-12.
Only twice in nine years of the Chase format has the champ come from further back than the No. 4 seed at the start of the Chase. And seven times in nine Chases, the eventual runner-up began the playoff round seeded first or second.
Second, that said, Tony Stewart's miracle run from 2011 proves anything is possible. During the '11 season, Stewart had no victories and only three top-five finishes in the 26 regular season races, then went on to win five of the 10 Chase races. If someone catches lightning in a bottle like Stewart did, all bets are off.
Last but not least, IMHO not a single driver has shown the combination of speed and consistency over the course of the 26-race regular season to set himself apart as a clear favorite. This is the closest field in recent memory.
With all that said, here's how I see the Chase ending:
1. MATT KENSETH -- OK, this isn't exactly a revolutionary pick. Kenseth comes into the Chase leading the points on the basis of his series-high five race victories in the regular season. He is experienced and won't get rattled if he has a bad race or two. The biggest worry for Kenseth might be the Toyota engines, with which finding a sweet spot balancing power and reliability has been vexing at times. What tilts the balance ever-so-slightly in Kenseth's favor is the fact that four of his victories are on tracks of 1.366-1.5 miles in length, and there are five 1.5-mile tracks in the Chase.
2. KURT BUSCH -- Speaking of grabbing lightning in a bottle, the elder of the Busch brothers has had a remarkable 2013, his first and only season with Furniture Row Racing. Busch's unique mix of skill and fire helped Furniture Row become the only single-car team in history to make the Chase. Busch won the first Chase in 2004 and has finished in the top four in four of the last six races this season. He's talented, confident and has been fast at every type of track. The only weakness with the team has been the occasional poor pit stop.
3. KYLE BUSCH -- Historically, Busch has never been a strong finisher. Since joining Joe Gibbs Racing, Busch's best Sprint Cup points finish was eighth in 2010. He should do a good bit better than that this year. Busch has matured tremendously and has to be encouraged by last year, when he didn't make the Chase but posted seven top-five finishes in the final 10 races, including four finishes of fourth or better to end the year. He will be very tough to beat this year.
4. CARL EDWARDS -- There are some clear pluses for Edwards: He tied for the championship with Tony Stewart in 2011, he won this year's regular season title by one point over Jimmie Johnson and he's coming off a victory at Richmond last weekend. He is in excellent position to make a championship run. Two tracks could prove problematic: Martinsville, where he has only one career top-five finish, and Talladega, where he has two, including the spring race this year. The remaining tracks, which are all 1-1.5 miles in length, should be money for Edwards.
5. JIMMIE JOHNSON -- From 2006-10, Johnson made plenty of prognosticators -- myself including -- look like idiots for betting against him to win the championship. He could well do that again. After the second Pocono race, Johnson had an astounding lead of 77 points, nearly two full races, over second place. And yet, Johnson ran so poorly that over the last five races that he lost the entire lead to Edwards, who ended the Richmond race one point ahead of Johnson before the Chase reset. Kyle Busch said Johnson and the No. 48 Hendrick Motorsports team will simply flip a switch and be good as new come this weekend. Maybe, maybe not.
6. JOEY LOGANO -- Over the past five races, no one has earned more points than Logano, who has rallied brilliantly to make his first Chase. On the other hand, his car was awful in Richmond and his team now is dealing with controversy from that race. As good as Logano has run recently, he likely is a year away from making a serious championship run.
7. KASEY KAHNE -- Some of Kahne's numbers are very strong; others are awful. He has two victories and eight top-five finishes, although he gets no bonus points for the victories because he's a wild card driver, not a top-10 driver. The bads? Kahne has seven finishes of 32nd or worse and he's only led laps in four of the last 22 races. Without consistency and without laps led, winning a title will be tough.
8. KEVIN HARVICK -- Yes, Harvick has a pair of race victories this year, capturing the spring Richmond race and the Coca-Cola 600 at Charlotte Motor Speedway. On the down side of the ledger, he ranks 22nd in laps led, worst among the 12 Chase drivers, and he's on his way out at Richard Childress Racing, which could be a negative. In his last eight races, Harvick has just one top-five finish. Historically, he scores a lot of top 10s but not many top fives in the Chase.
9. DALE EARNHARDT JR. -- Sorry, Junior Nation. But Earnhardt comes into the Chase with no bonus points, no momentum and no history of Chase success. Over the last five races, only Jimmie Johnson has scored fewer points among the Chasers than Earnhardt. And Earnhardt has fewer Chase top-five (13) and top-10 (27) finishes than any other Chaser except for Joey Logano, who is only in his fifth season.
10. CLINT BOWYER -- Under normal circumstances, Bowyer would be ranked much higher, as he was runner-up last year and consistently finishes well in the Chase. But with all the turmoil surrounding Bowyer and MWR right now, he's going to have an uphill battle.
11. RYAN NEWMAN -- It's going to be a tough path for Newman. He comes in with no bonus points, is a lame duck at Stewart-Haas Racing, has no teammates in the Chase and dissed his pit crew big time at Richmond. Worse yet, Newman ranks 18th in laps led this year.
12. GREG BIFFLE -- Over the last 11 races, Biffle's best finishes were eighth at Sonoma and a pair of ninth-place runs at Michigan and Bristol. Of the 12 Chase drivers, Biffle has the fewest top-five (three) and top-10 (10) finishes this season. And in 23 of 26 Sprint Cup regular-season races, Biffle has not led even a single lap. Can't win a title with numbers like that.