Harbaugh praises Rudock's progress as Michigan QB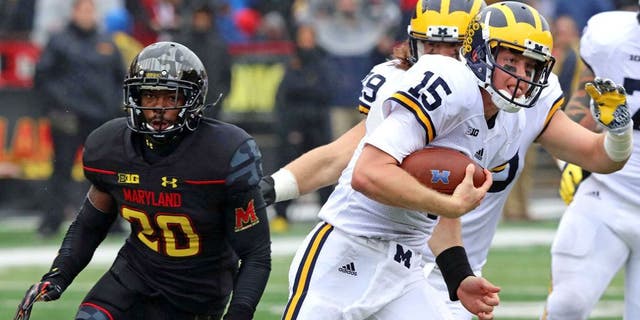 NEWYou can now listen to Fox News articles!
When asked about the recent play of quarterback Jake Rudock, Michigan coach Jim Harbaugh said this week "satisfied" and "comfortable" weren't words he likes to hear used when it comes to the game of football.
So if those feelings are factors in Rudock's play since a three-interception opening night, nobody knows, but the coach conceded Rudock has been playing winning football as the Wolverines.
"He's taking better care of the football," Harbaugh said. "Going through decision by decision, he's taking good care of the football. He's making good, accurate, appropriate throws."
The coach acknowledged that while Rudock's interception last week at Maryland came on a ball that deflected off his intended target's hands, it was also a throw back against the quarterback's body that is generally considered a no-no.
"We do coach that, but then, you know, guy makes that play and gets a completion and you're happy he did it, but the football gods got us on that one," Harbaugh said.
Rudock also had a 20-yard run that seemed to impress his coach, who conjured up comparisons to a pair of mobile NFL quarterbacks.
"Loved the way he ran --looked like Russell Wilson, Colin Kaepernick there," Harbaugh said, mentioning the quarterback for he Seattle Seahawks and his former signal-caller with the 49ers.
"I had a flashback of those two guys when he took that ball and got us a first down and cut across the grain and was heading toward the end zone and got tackled about the 12-, 13-yard line. That was a big play in the game."
(H/T MGoBlog)