HAMMOND: Top Teams Can Change Approach Now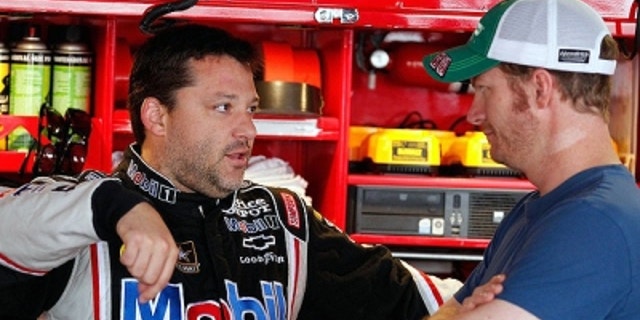 One of the guys I really want to watch this weekend in Pocono Raceway is the June winner there, Joey Logano.
I want to see if he can stand up against probably about five guys who are going to be hard to beat there. On top of all that, if Joey could pull off the Pocono sweep by winning both NASCAR Sprint Cup races there this year, it makes a big statement to Joe Gibbs Racing.
Joey would be saying he can do it if he is given the right equipment. It says he has the ability to return to Pocono and back up what he did the first time around. The reality is Joey is racing for his future. Where and who he drives for next year is up in the air. As if that wasn't enough, if Joey were to pull off his second win of the season, it changes the complexion of the Chase wild-card picture by moving Joey ahead of his teammate Kyle Busch.
The other guys I am going to keep a close eye on are Dale Earnhardt Jr, Denny Hamlin, Tony Stewart, Jimmie Johnson and Jeff Gordon. Being locked into the Chase like Junior, Denny, Tony and Jimmie are gives them the opportunity and the freedom to try new things this weekend.
Jeff Gordon, who is facing missing the Chase, has to get two wins in the next six races and there's no better place to start than this weekend at Pocono.
Even though he is locked in, Dale Jr. wants to win. He wants those extra bonus points. I know he and his team feel the first Pocono race sort of slipped through their fingers a few weeks ago because of the fuel situation. I don't know that we truly saw what Dale Jr. had at Pocono, so I am expecting him to be really tough.
With Denny, we already know how well he runs there. He is like Dale Jr. and is looking for wins. Wins equate to bonus points. If they lined them up right now for the Chase, at the top of the board would be Tony, Jimmie and Brad Keselowski. They would be tied at the top because of the nine additional bonus points each would have received from his three wins this season.
With the emotional high Jimmie is coming off from the win at Indianapolis, I am looking for a great run by he and his team. I don't believe you will see any letdown. In fact, I think you will see the opposite with that No. 48 team getting on a roll. They will be making their own statement to the Chase teams that the No. 48 is stronger than ever, rebounded from losing the 2011 championship, and that Jimmie wants that sixth championship ring.
Tony Stewart showed everyone in our sport the importance of wins. Remember that he and Carl Edwards tied in points following the season-ending race at Homestead-Miami Speedway last season. By virtue of having more wins than Carl, Tony became a three-time NASCAR Sprint Cup champion. My point is the emphasis on winning is greater than ever in NASCAR.
As I mentioned, drivers like Jeff Gordon are facing the bleak reality of being left behind when the Chase starts. We only have six races left until the 2012 Chase field is set, so that means Jeff needs to win at least one-third of those to make the Chase. He can't give a flip about a "good points day" any longer. That's irrelevant right now. It's all about winning.
Guys like Tony, Dale Jr. and the others that know they are in the Chase have a lot more freedom. They can go up and spin the roulette wheel with car setup, fuel-mileage strategy, etc. If they win then they get money and a trophy, but even more important to that, three more bonus points. But there is no downside because if they lose, they don't really lose anything. It doesn't affect their chances to be in this year's Chase.
When you get past the race at Richmond International Raceway and the Chase field is set, then you are going to see a different side of those top-five guys. When the first Chase race begins at Chicago in middle September, those guys will be laser-locked on one thing and that's winning races.